Should Political Debates Be on Pay TV?
Susan Crawford claims that "Cable-Only Presidential Debates are the New Poll Tax."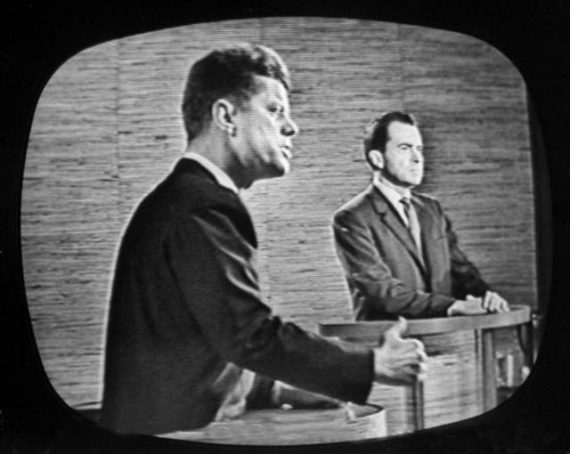 Susan Crawford, a visiting professor at Harvard Law, makes the hyperbolic claim that "Cable-Only Presidential Debates are the New Poll Tax."
The Fox News debate marked the moment when politics became indistinguishable from sport in more than just entertainment value. Just as we can't watch most sporting events (including large swathes of the Olympics) without a cable or satellite subscription, Americans couldn't watch the debate online unless they were part of the cable/satellite ecosystem.

As a matter of American history and civics, this should be shocking. But when I told a friend of mine that this bothered me, he said, snarkily, "Oh, right, because you can't pay for cable. Of course you can. What's your problem?"

So it seems to me maybe a little re-education (or myth-busting) might be useful. There are all kinds of public values at stake here, and we shouldn't glide past them. This is the place where the increasingly blurry public/private line should, for many people, stand out in sharp relief. There is no speech more central to civic life than a political debate. And yet we have allowed access to that speech by way of the common medium of our era — high-speed Internet access — to be controlled by a cabal of private actors.

The thing is that Fox News Channel owes its existence — completely — to a federal statutory regime aimed at supporting the "public trustee" role of traditional TV broadcasters. And yet all the "public-ness" of that deal has been washed away: Fox News felt no need to ensure that online viewers could watch the debate. That meant that cord-cutters and cord-nevers — basically, Millennials and an ever-increasing chunk of Americans — whose high-speed Internet access wasn't sold to them by a cable company had to wait for re-runs.
She continues in that vein for several more paragraphs. It is her chief argument. It is completely facile. With broadcast media, the rationale for a "public trustee" requirement was obvious: the spectrum is a zero-sum game and regulation by the government was essential. In exchange for the right to broadcast exclusively over that limited spectrum, we required conformity to various rules, including serving up a certain percentage of news, educational, emergency notification, and other public interest content free of charge. But there is no similar rationale for imposing those requirements on cable or satellite channels, for which there is essentially infinite bandwidth.
The much more compelling argument, implied by her opener and only vaguely made in her conclusion, is the notion is that certain content is sufficiently vital to the public interest that it shouldn't depend on one's ability (or even willingness) to pay for it. But that would require a whole scale adjustment of the American media environment.
Newspapers, arguably the most in-depth means of conveying political information to the public, have always charged money. In the Internet age, most papers are at least partially online and offer some of their content free of charge. But the most important American papers—the New York Times, Washington Post, and Wall Street Journal—are highly metered, increasingly walling off most of their coverage from those unwilling to pay for it. By Crawford's standard, they shouldn't be able to do that. But, given that it's incredibly expensive to maintain a world-class news organization, someone's got to foot the bill.
At the end of the day, the business of news has always been business. From days of Benjamin Franklin to the days of Megyn Kelly, the main goal has been to attract paying customers by some combination of news and entertainment. And the latter has always been more important than the former. There's a reason political coverage is so driven by scandal and horse races rather than substance: it's what most people are interested in.
Further, the "poll tax" argument[*] is as insulting as it is vacuous. While it serves the goal for which it was intended, drawing eyeballs in a hyper-competitive information environment, there's neither a fundamental right to watch political debates live nor any great harm in those unable or unwilling to pay having to wait a few hours for the highlights.
All that said, my preference aligns with Crawford's. In an ideal world, political debates, outstanding long-form analysis of politics, and the best public interest content would be readily available to all citizens regardless of ability or willingness to pay. I just don't think that it's up to Comcast, DirecTV, or Fox News to foot the bill. Public goods should be paid for by the public.
In theory, the debates could be held on PBS and simulcast on NPR and their websites. Those outlets could also be a free-access source for the best written news reporting and analysis, whether in the form of original content, licensed aggregation, or some combination. But we'd have to agree as a society that the tiny cost of funding such an operation was worthwhile.
Generally speaking, the highest quality broadcast news outlets are those not beholden to advertisers or even the whims of the audience. Public-supported venues like the BBC, PBS, and NPR can largely eschew sensationalism and over-coverage of "human interest" stories because they're unconcerned with maximizing their appeal to casual consumers of news who tune in mostly for natural disasters, true crime stories, celebrity gossip, and breathless "Breaking News" coverage of largely irrelevant events.
In essence, though, this means that the public at large subsidizes the interests of the elite. While NPR and PBS provide a wonderful service that's available to rich and poor* alike, they're mostly consumed by the rich and/or very highly educated.
Additionally, a public broadcasting model would have significant second- and third-order effects. Most notably, while there's something unsettling about Fox News or other commercial outlets deciding which candidates to invite to a national debate, it would be outrageous if it were the Federal government making that call. But not only would having all 17 "major" candidates for the Republican on the stage at one time make an already horrible debate experience even worse but there would be some question as to whether stopping at the "major" candidates was legally permissible were the government the arbiter.
_______________
[*] Two commenters rightly note that she does not explicitly make that argument in the posting itself. It's entirely possible that someone other than the author wrote the headline. That's generally the case with magazines and newspapers; I discounted that because this was a blog post but it's not a personal site and may therefore by edited.
*Of course, even if access to the signal is free, people still have to provide their own televisions, Internet-capable devices, and broadband signal. Unless we're going to give that all away for free, too.