Should SEALs Just STFU?
The Navy Special Warfare community is angry at SEALs exploiting their part in the bin Laden raid.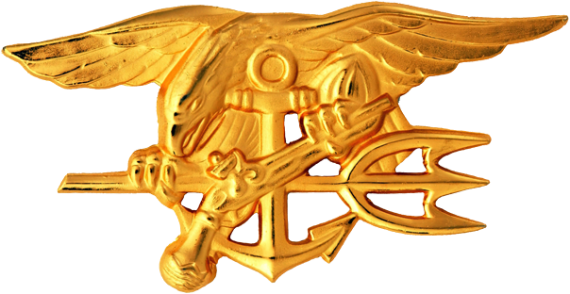 Rear Adm. Brian Losey, head of Naval Special Warfare Command, and SEAL Force Master Chief M.L. Magaraci have issued a blistering letter reminding their community that SEALs are supposed to be "quiet professionals" rather than seeking to capitalize on their heroics. The key passage:
A critical tenant [sic] of our Ethos is "I do not advertise the nature of my work nor seek recognition for my action". Violators of our ethos are neither teammates in good standing, nor teammates who represent Naval Special Warfare. We do not abide willful or selfish disregard for our core values in return for public notoriety and financial gain, which only diminishes otherwise honorable service, courage, and sacrifice.
The letter's release Friday was rather clearly aimed at former SEAL Matt Bissonnette, who participated in the Osama bin Laden raid and who has now released his second book on his exploits. As Daily Beast's Kimberly Dozier documents, Losey and Magaraci aren't the only SEALs angry at Bissonnette,
That's still not likely to win back many of his former comrades in arms, like his former SEAL Team 6 commanding officer, whom Bissonnette was told kept a mock tombstone in his headquarters office with the shunned SEAL author's name on it.

"They don't call it SEAL Team 6-Year-Old for nothing," Bissonnette said bitterly of the rejection by a man who up until then had given him top performance reviews and tried to persuade him not to leave the Navy after the Bin Laden raid in 2011.

Bissonnette believes it was some of his own former teammates who revealed his real name to Fox News, which first reported it after the release of No Easy Day. (Other reporters, including this one, named him after that.)

[…]

"There are people in the community who aren't talking to me anymore," he said, especially active-duty SEALs who fear their careers would be ended if caught communicating with him.

He speaks with wistful bitterness of how in the aftermath of No Easy Day's publication, he reached out to that SEAL Team 6 commander who fashioned the fake headstone to explain that he'd never intended to put out anything that would endanger his teammates.

The Navy captain responded to the text from Bissonnette with the words, "Delete me."
While apologizing for having illegally published classified information and failing to submit his first book for Pentagon review as required by his non-disclosure agreement (he complied with the law for the new book) Bissonnette is taken aback by the anger.
"Every SEAL I know read a book and that's why they became a SEAL. SEALs in Vietnam, Panama, Iraq were writing books," Bissonnette said "So I don't buy it when the old crusty dudes say 'Nobody should be talking. We're silent professionals.' So don't sponsor a movie where people are talking about it!" he said, his voice rising in frustration.

Bissonnette's latest book is a "here's how it happened" chapter-by-chapter summary of the highlights, and sometimes lowlights of his decade-plus career as a SEAL. It includes more detail about his humble Alaskan roots and how he was inspired to become a SEAL after reading Rogue Warrior, by Vietnam veteran and SEAL Team 6 founder Richard "Dick" Marcinko—who was also shunned by many in his community for writing a book.
Bissonnette rather clearly violated the public's trust and flouted the law with the publication of his first book. But I think he's right that the SEAL community is being hypocritical here. The notion that there's some longstanding SEAL Ethos of being quiet about one's exploits is laughable; their penchant for self-promotion is legendary. Marcinko is a veritable cottage industry in his own right.
Publicity seeking in and of itself simply can't be the problem here.  It's possible that many believe Bissonnette and the individual calling himself "the Shooter" released information about SEAL tradecraft that actually jeopardizes the safety of the community in future operations. Given that the SEALs heavily participated in a movie about the raid, though, that strikes me as unlikely. The most likely explanation is that are perceived as taking too much credit for work done by a whole team of men.