Obama, the Bin Laden Raid, and Secrecy
Charges that the Obama administration leaked classified information about the Osama bin Laden raid for political gain are bunk.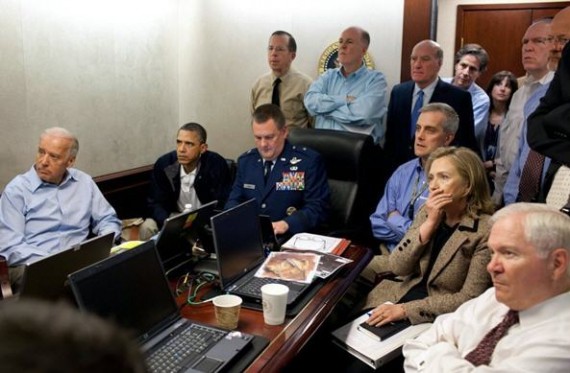 Last week, a group of former Navy SEALs put out a spot criticizing President Obama's handling of the Osama bin Laden raid, claiming he wasted valuable intelligence and put American lives on the line rushing to capitalize politically on the work of others. As already noted here, many of the SEALs in question are Republican operatives, which reasonably calls their objectivity into question. CNN's Peter Bergen, who has been covering al Qaeda since its formation and written four books on the subject, says most of the charges are bunk.
Obama and his national security team made every effort — successfully — to keep the intelligence about bin Laden a closely held secret for almost a year, from the time they first identified what they believed might be the al Qaeda leader's hideout in the city of Abbottabad, Pakistan, in August 2010 until May 1, 2011, when the raid was launched to kill him.

[…]

What precipitated the operation going public was not Obama's announcement of the raid but the crash of one of the Black Hawk choppers used in the raid, which turned what had hitherto been a covert operation into a very public event.

Pakistani journalists started arriving at bin Laden's Abbottabad compound soon after the helicopter crashed and started filing stories about the mysterious helicopter and its oddly shaped tail rotor. An Abbottabad resident even tweeted about the unusual sound of helicopters flying over the city in the middle of the night.

It wasn't much of a leap for reporters to ascertain that these helicopters had particular features that had prevented them from being detected by Pakistani radar.

Soon after the SEALs had raided the Abbottabad command, Pakistani officials on the ground were interrogating bin Laden's wives and children at the compound who told them that bin Laden had just been killed. None of this was going to stay secret for long.

Indeed, it was Gen. Ashfaq Parvez Kayani, Pakistan's top military officer, who sped up the Obama administration's announcement of the raid. A few hours after the raid, Kayani told his American counterpart, Adm. Mike Mullen, "Our people need to understand what happened here. We're not going to be able to manage the Pakistani media without you confirming this. You can explain it to them. They need to understand that this was bin Laden and not just some ordinary U.S. operation."

Mullen then told Obama and his national security team, "Kayani has asked for us to go public," which swayed Obama to announce the raid sooner than was planned. (Obama wanted to wait for 100% DNA confirmation that it was bin Laden. At the time of the president's announcement about the raid the confirmation was at 95%.)

During his speech to the nation and world, Obama did not divulge the name of SEAL Team Six, saying only that a "small team of Americans carried out the operation with extraordinary courage and capability."

It quickly leaked that SEAL Team Six had executed the raid, but this was hardly surprising as the SEALs are the principal Special Operations Forces in the Afghanistan/Pakistan theater, something that has been discussed in multiple news stories over the past several years and in bestselling books such as "Lone Survivor" by former Navy SEAL Marcus Luttrell.

And the SEALs have hargatedly kept a low profile of late, cooperating in a movie "Act of Valor" that was released in theaters this year, which actually featured real SEALs playing the parts of the heroes of the movie.

Perhaps if you had absolutely no knowledge of the U.S. military, or indeed access to Wikipedia where SEAL Team Six has had an entry since 2004, it would be news to you that SEAL Team Six, along with the Army's Delta Force, are America's premier counterterrorism units. Obviously, a mission to take out bin Laden would not be entrusted to any other than these elite units.
Furthermore, Bergen points out, there are still key details that have not been made public:
— How did the CIA find the real name of bin Laden's courier who was the key to finding him?

— How was the courier's cell phone first tracked down?

— How was he tracked to bin Laden's compound in Abbottabad?

— How did the CIA establish a safe house in Abbottabad? And who staffed it?
Now, as NYT reporter David Sanger's recent book points out, there was very real concern at the highest levels of the US national security team about the details that did come out. ABC's Jake Tapper summarizing in June:
After the raid, Pakistani military officers "got even more pissed as the Americans, who had been so disciplined in the months leading up to the raid, made the situation even worse with a series of triumphalist-sounding comments. There was a huge and understandable hunger among the media for a play-by-play of the hunt for, and demise of, the world's most wanted man. As day broke in a stunned Washington, John Brennan was rolled out in the White House press room to describe events that he only understood in fragmentary detail – much of it, as it turned out, suffered from the inevitable wild inaccuracy of first reports…

"At the Pentagon, top officers fumed at Brennan's blow-by-blow description of how the SEALs operated; they believed that the former CIA officer had given away operational secrets never shared outside the tribe. (In fact, it appears no real secrets were divulged.) No one was angrier than Mullen himself, who still fumed about that news conference nearly a year later…

"By Wednesday of that week, Gates went to see Donilon, offering up a barbed assessment of how the White House had handled the aftermath of the raid.

"'I have a new strategic communications approach to recommend,' Gates said in his trademark droll tones, according to an account later provided by his colleagues.

"What was that, Donilon asked?

"'Shut the f@*k up,' the defense secretary said."
It's quite reasonable, then, that operators several rungs down the ladder—including those who aren't Republican operators—would have shared these frustrations. Through the magic of scuttlebutt, these sentiments doubtless spread through the community. And, quite often, this sort of thing takes on a life of its own, living on long after the actual facts have been sorted out.
As it turns out, little if any information that was supposed to remain secret leaked out. As Bergen hints above, a lot of things that are theoretically classified as actually pretty widely known within informed circles. A lot of information simply becomes public information in bits an pieces, whether because formers divulge the information or because reporters learn about it and report it. Eventually, those who know what they're looking for can piece things together from "open source" documents.
Additionally, while protecting classified information and especially the sources and methods that lead to its collection is of huge importance—lives are quite literally at stake in many cases—the fact of the matter is that there are competing priorities. As Bergen notes, there was a huge amount of pressure from our ostensible allies in Pakistan to release information.  Once the announcement was made, there was also an enormous appetite from the American press for details. And, yes, Obama and his advisors do have the goal of getting re-elected. While none of those goals should trump protecting the lives of American or allied intelligence officers—and there's no indication that they did—they do create pressure to make decisions about what information to release in a shorter window than would happen absent those other considerations. That's simply the nature of the nature of high stakes decision-making.