SEALs Attack Obama For Politicizing Osama Raid, Leaking Intel
A group of former special operations and intelligence officers are criticizing President Obama for "Dishonorable Disclosures."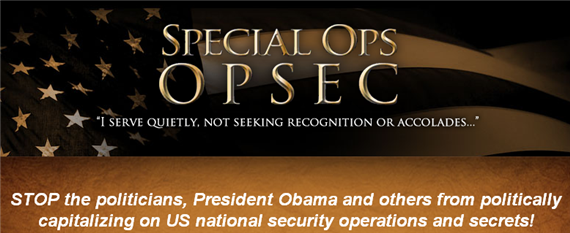 A group of former special operations and intelligence officers are criticizing President Obama for "Dishonorable Disclosures."
Reuters ("Special ops group attacks Obama over bin Laden bragging, leaks"):
A group of former U.S. intelligence and Special Forces operatives is set to launch a media campaign, including TV ads, that scolds President Barack Obama for taking credit for the killing of Osama bin Laden and argues that high-level leaks are endangering American lives.

Leaders of the group, the Special Operations OPSEC Education Fund Inc, say it is nonpartisan and unconnected to any political party or presidential campaign. It is registered as a so-called social welfare group, which means its primary purpose is to further the common good and its political activities should be secondary.

In the past, military exploits have been turned against presidential candidates by outside groups, most famously the Swift Boat ads in 2004 that questioned Democratic nominee John Kerry's Vietnam War service.

The OPSEC group says it is not political and aims to save American lives. Its first public salvo is a 22-minute film that includes criticism of Obama and his administration. The film, to be released on Wednesday, was seen in advance by Reuters.

"Mr. President, you did not kill Osama bin Laden, America did. The work that the American military has done killed Osama bin Laden. You did not," Ben Smith, identified as a Navy SEAL, says in the film.

"As a citizen, it is my civic duty to tell the president to stop leaking information to the enemy," Smith continues. "It will get Americans killed."

An Obama campaign official said: "No one in this group is in a position to speak with any authority on these issues and on what impact these leaks might have, and it's clear they've resorted to making things up for purely political reasons."

[…]

OPSEC spokesmen said the group has about $1 million at its disposal and hopes to raise more after the release of its mini-documentary, entitled "Dishonorable Disclosures," which aims, in spy-movie style, to document a recent spate of leaks regarding sensitive intelligence and military operations.

Following the film's release, OPSEC's spokesmen said, the group expects to produce TV spots on the anti-leak theme that will air in a number of states, including Virginia, Florida, Ohio, Colorado, North Carolina and Nevada – key battleground states.

Fred Rustmann, a former undercover case officer for the CIA who is a spokesman for the group, insisted its focus on leaks was "not a partisan concern." But he said the current administration had been leaking secrets "to help this guy get re-elected, at the expense of peoples' lives…. We want to see that they don't do this again."

Chad Kolton, a former spokesman for the office of Director of National Intelligence during the George W. Bush administration who now represents OPSEC, also said the group's message and make-up are nonpolitical.

"You'll see throughout the film that concern about protecting the lives of intelligence and Special Forces officers takes precedence over partisanship," he said.

Responding to criticism about the president taking credit for the bin Laden raid, an Obama campaign official pointed to an interview with CNN last month in which Admiral Bill McRaven, commander of the raid, said: "At the end of the day, make no mistake about it, it was the president of the United States that shouldered the burden for this operation, that made the hard decisions, that was instrumental in the planning process, because I pitched every plan to him."

"I think Admiral McRaven knows more about the President's role in the bin Laden operation than this group," the campaign official said.
Stephen Green leads off his post on the subject with the quip, "Osama bin Laden is dead? You didn't kill him. Somebody else did that." That's his coinage but surely the message of the 22 minute video production:
Here's a 30 second "trailer" version:
The obvious comparison is with the Swift Boat Veterans for Truth, the shady 527 organization that published a book and put out a series of attack ads against Senator John Kerry in 2004.  Thus far, the comparison is thin. The Swifties put out some outrageous claims about Kerry, accusing him of war crimes and claiming honors he didn't deserve, that were easily debunked and widely denounced even as some of the softer charges stuck.
The film is very slick n terms of production values, looking very much like something produced by one of the major television networks. But the pacing and message are rather weak, compounded by overwrought dialog and Shatneresque delivery.
The links between the importance of good intelligence of military operations, the sacrifices made by those who serve in the armed forces, and the Obama administration's leaks of classified information are, at best, tenuous. Nor, frankly, are they unique; politically motivated leaks have been standard operating procedure in Washington for decades.
It's true that some credible folks, including Obama's then Secretary of Defense Robert Gates, have gone ballistic over some of the leaks about the "Seal Team 6" mission to get bin Laden. Further, the central claim that the American military and intelligence community—not the commander-in-chief—deserve almost all of the credit for that raid is not in question.
The film charges that Team Obama gave away too much information about the mission and that, in any case, they should have waited several days before announcing that Osama was dead, in order to allow the exploitation of any intelligence gained on the raid and to allow our forces to capitalize on the confusion in al Qaeda while they scrambled to figure out what happened.
From an operational standpoint, that's probably true. I could imagine President George H.W. Bush actually heeding that advice if, say, Brent Scowcroft or Colin Powell had given it to him. But most presidents, certainly Bill Clinton or George W. Bush, would almost certainly have done exactly what Obama did: give a speech to the nation as soon as possible announcing the good news that they'd waited to long to hear.
Presidents wear many hats. In addition to being commander-in-chief of the armed forces, they're our head of state, national spokesman, and emoter-in-chief. Despite whatever tactical advantage that might have been gained by waiting to share the news, Obama would doubtless have come under heavy fire for not sharing the news as soon as feasible.
Judging from this first effort, OPSEC's effort here appears to be much better intentioned and honorably executed that that of the Swift Boaters.  But I can't imagine it having much of an impact on the race.