House Of Representatives Holds Eric Holder In Contempt
Congress has found Eric Holder to be in contempt. I am not entirely sure what that accomplishes.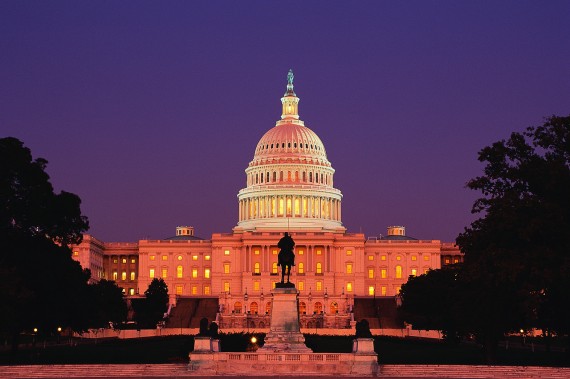 For the first time in American history, a sitting Attorney General has been found in contempt of Congress:
The House of Representatives on Thursday voted to hold Attorney General Eric H. Holder Jr. in contempt for failing to disclose internal Justice Department documents in response to a subpoena. It was the first time in American history that Congress has imposed that sanction on a sitting member of a president's cabinet.

The vote – 255 to 67, with one member voting present – followed an acrimonious and politically charged debate. Many Democrats walked out of the chamber in protest without voting, accusing Republicans of railroading the motion so they could inflict political damage on the Obama administration during an election year.

The politically and constitutionally charged dispute centers on whether the Justice Department must turn over e-mails and memorandums showing its internal deliberations last year as officials grappled with a Congressional investigation about the botched Arizona-based gunrunning investigation known as Operation Fast and Furious. President Obama has invoked executive privilege to block the subpoena.

In early jostling on Thursday, Republicans repeatedly invoked the death of Brian Terry, a Border Patrol agent killed in a shootout in December 2010. Two guns that had been purchased by a suspect in the gunrunning case the previous January were found near the scene.

"These contempt charges aren't about politics," said Representative Rich Nugent, Republican of Florida. "They aren't about Attorney General Holder or President Obama or anything else but this: A man died serving his country and we have a right to know what the federal government's hand was in that. It's clear this country somehow played a role in his death. We need to root it out, find the cause, and make sure this never, ever happens again."

Democrats dismissed the effort as an election-year witch hunt. They said previously disclosed documents and testimony had established that Fast and Furious was the work of Arizona-based law enforcement officials who were frustrated by the difficulty of bringing low-level gun cases, and they contended that Republicans were seeking to embarrass Mr. Holder for political reasons.

With Republicans in the majority in the House, there was little doubt that the final vote would be to cite Mr. Holder for contempt, as well as to authorize a lawsuit asking a judge to order the Justice Department to turn over the documents.

The only question was how many Democrats representing conservative-leaning districts would cross party lines to join in citing Mr. Holder. The National Rifle Association was pressuring them to do so, announcing that it would score the vote in its report card on how lawmakers approached Second Amendment gun rights.

In the end, 17 Democrats voted yes. They included some of the most endangered incumbents, among them Representatives Larry Kissell of North Carolina, Ben Chandler of Kentucky, and Kathy Hochul of New York. Representative Joe Donnelly of Indiana, who is running for the Senate, also voted yes. The gun group Gun Owners of America released a letter this week specifically demanding a yes from Mr. Donnelly.

The walkout echoed one by many Republicans in 2008, when the House, led by Democrats then, cited two Bush administration officials for contempt in a dispute over information related to a mass firing of United States attorneys.

"We're going to make it clear we're disappointed with the process and the superficiality with which this matter has been dealt with," Steny H. Hoyer, Democrat of Maryland, the House minority whip, said Thursday.

A citation for contempt of Congress carries symbolic weight, but its practical impact is limited because the executive branch controls prosecution decisions.
Indeed, the likelihood that the United States Attorney for the District of Columbia, to whom the criminal contempt finding will be referred for further action, is actually going to do anything about it is pretty low. After all, this guy is an employee of the department that Eric Holder is the head of, so there's a bit of a conflict of interest issue going on there. This is why Congress also voted on a civil contempt finding, which it also approved. With this finding, the House can apply directly to a Federal District Judge for appropriate orders requiring Holder to show cause why he has not complied with the House Committee's Subpoena. This will be the point at which the legal battle over the Obama Administration's claim of Executive Privilege will be joined and, much like similar proceedings during the Clinton and Bush 43 Administrations, it is quite likely that the vast majority of those proceedings will be sealed from the public. After all, it's rather difficult for a court to deal with a claim that certain things are entitled to a privilege of absolute secrecy if the proceedings talking about those matters are completely open to the public.
Realistically, though, those legal proceedings are months away, and most likely long past the election in November given the fact that both parties are likely to be spending a very long time filing dilatory motions, not to mention the fact that the D.C. Circuit Court of Appeals is notoriously, and somewhat understandably, slow when it comes to civil litigation matters. Which essentially means that this matter is going to be hanging out there for months. How that helps move the investigation in what happened in the Fast & Furious operation I am not entirely sure.
Before the votes were cast on the contempt resolutions, Chris Cillizza argued that today's contempt vote would more likely damage the reputation of  the political system itself (such as it is) than lead people to demand action on a story they've barely paid attention to:
Yes, partisan Democrats will cast today's vote as yet another example of House Republicans trying to score political points by embarassing the Administration rather than focusing on what's good for the American people.

And, yes, partisan Republicans will see today's vote as the only choice House leaders had given the Administration's decision to invoke executive privilege on the documents requested by the Committee on Oversight and Government Reform.

But, even before this vote partisan Democrats weren't voting for a Republican and partisan Republicans weren't voting for a Democrat. They are just not in play from a political perspective.

For the small sliver of people who remain undecided, the vote "Fast and Furious" — which they almost certainly hadn't heard about before today — simply reaffirms their belief that Washington is broken and neither party has any real solutions to fix it.
I tend to agree. Much like last year's Debt Ceiling debacle, this episode is only likely to appear to people who aren't heavily partisan and don't follow politics on a regular basis as yet another example of how all of "those bums" aren't really interested in working for their interests.
I feel the same way about Fast & Furious as I have from the beginning. The American people, and Congress, deserve the truth about what happened here, why it happened, and an accounting of what the damages are. Our neighbors in Mexico deserve it as well. However, the further along we get in this story, the more it seems like something that ought to be the subject calm and rational investigation is getting sucked up into hyperpartisan nonsense. That w0n't help anyone discover the truth, and it won't do any justice for Brian Terry or anyone else who died because of this debacle.