Pakistan After Bin Laden: Frenemies Forever?
Changing our relationship status to Complicated.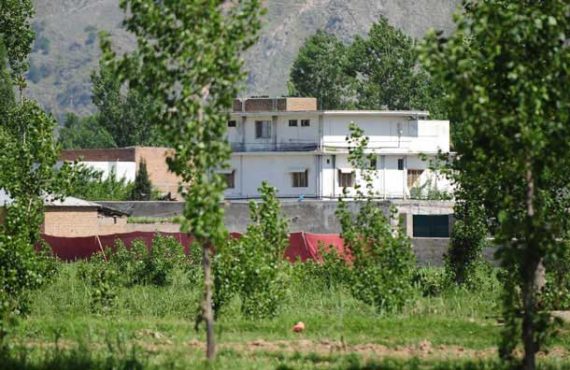 My first substantive analytic thought upon hearing about the details of our killing of Osama bin Laden this morning was about "how he managed to live all these years in a deluxe manor within spitting distance of the Pakistani military academy. You know: our ostensible ally in the war on terrorism." Dave Schuler built on that with "What Did Pakistan's Government Know?" And Doug Mataconis weighed in with "Pakistan, You Got Some `Splainin' To Do."
It turns out that the people who focus on the region for a living have similar thoughts.
Joshua Foust, fellow at the American Security Project and blogger at Registan.net, observes that, "The U.S. and Pakistan are at a low point in their relationship."
Over the last year, the CIA has operated inside Pakistan with increasing independence, infuriating the Pakistani government, which has insisted on oversight over all foreign operations on its soil. Now, less than five months after Raymond Davis' arrest, a U.S. special operations team has moved deep into Pakistani territory and killed Osama bin Laden. The location is significant: Abbottabad, the town in the northwestern province of Khyber-Paktunkhwa where the CIA found him, hosts the Pakistani Military Academy. It is the Pakistani equivalent of West Point, where many Army officers are educated and trained. A senior Obama administration official has said that the compound where bin Laden was killed was about eight times larger than the average home in the area, and built as recently as 2005. From the few reports we have so far, there were no Pakistani government forces involved in the nearly 40-minute firefight that eventually killed bin Laden.

It is difficult to imagine how bin Laden could have been living at a mansion in a town known primarily for its large population of military officers without anyone noticing. Recently released secret cables from Guantanamo, which identify Pakistan's ISI intelligence service as an active collaborator with al-Qaeda, make it even less believable that the Pakistani government did not know precisely where Osama bin Laden was hiding. From the very limited information available right now, it appears that the U.S. assumed the Pakistani government would have blown the operation by telling bin Laden about it, so they chose to keep it a secret until it was all over and they had a body to confirm the kill.

What comes next? If there is a coherent story out of Pakistan from the past year, it is that the CIA has disconnected its operations from the ISI, to stunning success: not only have drone strikes killed more terrorists, but now the U.S. has launched a raid to kill the most wanted terrorist in the world — in town controlled by the Pakistani military. This is surely humiliating for Pakistani President Zardari: he wasn't even given a courtesy call before the raid began.

Within Pakistan, it remains to be seen what effect bin Laden's death will have. While Tehrik-i Taliban — commonly known as the Pakistani Taliban — remains in denial, none of the terror groups operating against the Pakistani government relied on al-Qaeda for much beyond moral support. Ayman al-Zawahiri, widely considered al-Qaeda's chief of operations, remains at large. The threat of Pakistan-based terrorism will, unfortunately, largely go unaltered.
Steve Coll, president of the New America Foundation and author of the Pulitzer Prize-winning Ghost Wars:
Abbottabad is essentially a military-cantonment city in Pakistan, in the hills to the north of the capital of Islamabad, in an area where much of the land is controlled or owned by the Pakistani Army and retired Army officers. Although the city is technically in what used to be called the Northwest Frontier Province, it lies on the far eastern side of the province and is as close to Pakistani-held Kashmir as it is to the border city of Peshawar. The city is most notable for housing the Pakistan Military Academy, the Pakistani Army's premier training college, equivalent to West Point. Looking at maps and satellite photos on the Web last night, I saw the wide expanse of the Academy not far from where the million-dollar, heavily secured mansion where bin Laden lived was constructed in 2005. The maps I looked at had sections of land nearby marked off as "restricted areas," indicating that they were under military control. It stretches credulity to think that a mansion of that scale could have been built and occupied by bin Laden for six years without its coming to the attention of anyone in the Pakistani Army.

The initial circumstantial evidence suggests that the opposite is more likely—that bin Laden was effectively being housed under Pakistani state control. Pakistan will deny this, it seems safe to predict, and perhaps no convincing evidence will ever surface to prove the case. If I were a prosecutor at the United States Department of Justice, however, I would be tempted to call a grand jury. Who owned the land on which the house was constructed? How was the land acquired, and from whom? Who designed the house, which seems to have been purpose-built to secure bin Laden? Who was the general contractor? Who installed the security systems? Who worked there? Are there witnesses who will now testify as to who visited the house, how often, and for what purpose? These questions are not relevant only to the full realization of justice for the victims of September 11th. They are also relevant to the victims of terrorist attacks conducted or inspired by bin Laden while he lived in the house, and these include many Pakistanis, as well as Afghans, Indians, Jordanians, and Britons. They are rightly subjects of American criminal law.
Shuja Nawaz, director of the South Asia Center at the Atlantic Council, is more cautious:
"Over the years, I've repeatedly made clear that we would take action within Pakistan if we knew where bin Laden was. That is what we've done. But it's important to note that our counterterrorism cooperation with Pakistan helped lead us to bin Laden and the compound where he was hiding. Indeed, bin Laden had declared war against Pakistan as well, and ordered attacks against the Pakistani people."

With those words, President Barack Obama acknowledged Pakistan's role in the killing of Osama bin Laden in Abbottabad, a military cantonment, in a house that lay half a mile or so from the Pakistan Military Academy. It is unclear why, if Pakistani intelligence had the leads, it would not or could not follow up itself and do the job.

At a time when United States-Pakistan relations are going south in a hurry over aid, Afghanistan, and U.S. intelligence operations inside Pakistan, bin Laden's death leaves more questions on the table than answers. How could four U.S. helicopters operate some 120 miles inside Pakistani territory and three of them exit without being detected? Were they allowed to do so? And by whom? Or was it Pakistan's inability to intercept them that allowed the U.S. raid to proceed without a hitch? Clearly the civilian government was first informed when President Obama spoke with President Asif Ali Zardari after the operation was over. If Zardari's military was in the know, and he was not, this speaks volumes about the internal distrust within Pakistan's establishment. So far, it appears the United States kept the Pakistan military in the dark. What may be more troubling for the U.S. side is the likelihood that elements of the Pakistani establishment were aware of bin Laden's presence in Abbottabad and kept it hidden. However remote a possibility this may seem, this question will be asked in Washington D.C. in the weeks to come.
One problem with the Westphalian system is that it's based on a modern, Western conception of the nation-state. And, alas, Pakistan is simply not a state in the sense as France. Large parts of its ostensible territory are not even remotely under the control of the central government. And, even if Zardari is a true ally, he doesn't truly run his own government. Even the Pakistani military and intelligence elites are divided, with double games being run inside double games.
We've long known that Pakistan is an unreliable ally. And, truth be told, they've got longstanding reason to say the same for us–even as we pour billions into their economy.
But large segments of the Pakistan governance and security apparatus is beyond unreliable; they're actually on the other side. And, yet, other parts are actively killing our enemies and providing invaluable intelligence. Without them, we'd literally have no idea how to tell the al Qaeda and Taliban operatives from the peaceful locals. It's a dangerous, ridiculous game and I haven't come across anyone yet who has a satisfying explanation as to how to win it.