SEALs Swift Boating Obama?
Some Navy SEALs are weighing in on the brouhaha.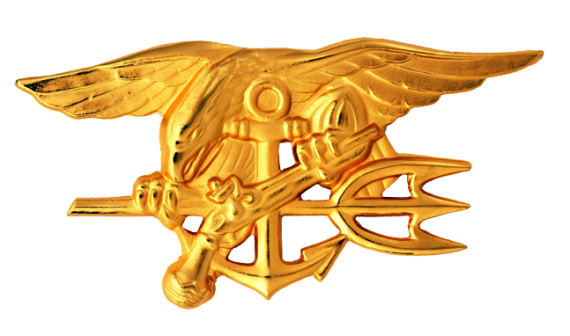 Some Navy SEALs are weighing in on the brouhaha over President Obama's campaigning on the raid that got bin Laden.
Toby Harnden reports ("SEALs slam Obama for using them as 'ammunition' in bid to take credit for bin Laden killing during election campaign"):
Serving and former US Navy SEALs have slammed President Barack Obama for taking the credit for killing Osama bin Laden and accused him of using Special Forces operators as 'ammunition' for his re-election campaign.

The SEALs spoke out to MailOnline after the Obama campaign released an ad entitled 'One Chance'. In it President Bill Clinton is featured saying that Mr Obama took 'the harder and the more honourable path' in ordering that bin Laden be killed. The words 'Which path would Mitt Romney have taken?' are then displayed.

[…]

Ryan Zinke, a former Commander in the US Navy who spent 23 years as a SEAL and led a SEAL Team 6 assault unit, said: 'The decision was a no brainer. I applaud him for making it but I would not overly pat myself on the back for making the right call. 'I think every president would have done the same. He is justified in saying it was his decision but the preparation, the sacrifice – it was a broader team effort.'

Mr Zinke, who is now a Republican state senator in Montana, added that MR Obama was exploiting bin Laden's death for his re-election bid. 'The President and his administration are positioning him as a war president using the SEALs as ammunition. It was predictable.'

[…]

A serving SEAL Team member said: 'Obama wasn't in the field, at risk, carrying a gun. As president, at every turn he should be thanking the guys who put their lives on the line to do this. He does so in his official speeches because he speechwriters are smart. 'But the more he tries to take the credit for it, the more the ground operators are saying, "Come on, man!" It really didn't matter who was president. At the end of the day, they were going to go.'

Chris Kyle, a former SEAL sniper with 160 confirmed and another 95 unconfirmed kills to his credit, said: 'The operation itself was great and the nation felt immense pride. It was great that we did it. 'But bin Laden was just a figurehead. The war on terror continues. Taking him out didn't really change anything as far as the war on terror is concerned and using it as a political attack is a cheap shot. 'In years to come there is going to be information that will come out that Obama was not the man who made the call. He can say he did and the people who really know what happened are inside the Pentagon, are in the military and the military isn't allowed to speak out against the commander- in-chief so his secret is safe.'
There are many more examples in Harnden's piece, almost all former rather than serving SEALs.
Michael Hastings wonders, "Will The Navy SEALs Swift Boat Obama?"
What was supposed to be an easy win—a victory lap on the anniversary of Bin Laden's death, trumping up the president's most militant moment—appeared to be slipping away.

The frustration—or, even anger—within the SEAL community is real, and has been brewing for months, particularly among a politically conservative core of operators. It started immediately after the raid, with questions among the Special Forces and intelligence community of whether the president should have waited to announce the kill to exploit the intelligence cache at Osama's compound. It simmered after a Chinook helicopter was shot down, killing 30 Americans, 22 of them Navy SEALs from Team Six.

Was it a coincidence, SEALs asked themselves, catastrophe hit Team Six so soon after being named as the team responsible for the killing? [Almost certainly. -jhj]

[…]

Over the past few days, I've reached out to a number of SEALs, both active duty and former. Most active duty SEALs were reluctant to go on the record venting or praising their boss, but one of the most interesting responses I received from an operator was to direct me to Leif Babin, a SEAL who left active duty last year.

Babin, who runs the consulting firm Echelon Front, wrote a little noticed op-ed in Rupert Murdoch's Wall Street Journal four months ago. The headline: OBAMA EXPLOITS THE NAVY SEALS. Babin took aim at "the president and his advisors, writing: "It is infuriating to see political gain put above the safety and security of our brave warriors and our long-term strategic goals."
While I think the Swift Boaters ultimately made some charges that stuck–namely those about John Kerry's anti-war activities after coming back from Vietnam–I thought their initial attacks and general disregard for the truth were slimy and libelous. While I opposed Kerry's election as president, he served honorably and heroically in service of his country and lies to the contrary were outrageous.
In this initial volley, at least, the former SEALs pushing back on Obama here aren't engaged in anything of that sort. While I don't think the attention given to SEAL Team Six (or DEVGRU, or whatever name they're going by these days) actually put men's lives in danger, I understand enough about the culture to believe the concerns genuine.
Nor, for that matter, do I see Obama touting his own command decision to order the raid as in any way claiming personal credit for the physical courage and tactical competence of the operators. Sure, he's hoping some of that attaches to him, but the real point is to disprove the "3 o'clock" thesis that Hillary Clinton trotted out in 2008, variants of which John McCain and other Republicans have used. Obama is just saying that he's got the balls to be a wartime commander-in-chief. But, again, I can see why a number of SEALs would take umbrage.
And, it should be noted, SEALs are, like most in the combat arms community, a Republican-leaning group. So they're likelier to be annoyed when a Democrat is seen as taking a victory lap than when a Republican does the same thing.
Whether this "SEALs against Obama" thing is a one-day story or one that'll have legs, I haven't the foggiest–although my guess is that it's closer to the former. But the Republicans clearly see this as an issue worth flogging some more.
Bush attorney general Michael Mukasey takes to WSJ's editorial pages. It begins with a cheap misreading of the mission orders that others have employed, claiming that "if the mission went wrong, the fault would be Adm. McRaven's, not the president's." That's both silly and outrageous. But this much is reasonable:
Abraham Lincoln, on the night after Gen. Robert E. Lee's surrender ended the Civil War, delivered from the window of the White House a speech that mentioned his own achievements not at all, but instead looked forward to the difficulties of reconstruction and called for black suffrage—a call that would doom him because the audience outside the White House included a man who muttered that Lincoln had just delivered his last speech. It was John Wilkes Booth.

The man from whom President Obama has sought incessantly to distance himself, George W. Bush, also had occasion during his presidency to announce to the nation a triumph of intelligence: the capture of Saddam Hussein. He called that success "a tribute to our men and women now serving in Iraq." He attributed it to "the superb work of intelligence analysts who found the dictator's footprints in a vast country. The operation was carried out with skill and precision by a brave fighting force. Our servicemen and women and our coalition allies have faced many dangers. . . . Their work continues, and so do the risks."

He did mention himself at the end: "Today, on behalf of the nation, I thank the members of our Armed Forces and I congratulate them."

That is not to say that great leaders, including presidents, have not placed themselves at the center of great events. But generally it has been to accept responsibility for failure.

Lincoln took responsibility in August 1862 for failures that had been attributed to General George McClellan—eventually sacked for incompetence—and Secretary of War Edwin Stanton. Lincoln told a crowd that McClellan was not at fault for seeking more than Stanton could give, and "I stand here, as justice requires me to do, to take upon myself what has been charged upon the Secretary of War."

Dwight Eisenhower is famous for having penned a statement to be issued in anticipation of the failure of the Normandy invasion that reads in relevant part: "My decision to attack at this time and place was based upon the best information available. The troops, the air and the Navy did all that bravery and devotion to duty could do. If any blame attaches to the attempt it is mine alone."

A week later, when the success of the invasion was apparent, Eisenhower saluted the Allied Expeditionary Forces: "One week ago this morning there was established through your coordinated efforts our first foothold in northwestern Europe. High as was my preinvasion confidence in your courage, skill and effectiveness . . . your accomplishments . . . have exceeded my brightest hopes.

Eisenhower did mention himself at the end: "I truly congratulate you upon a brilliantly successful beginning. . . . Liberty loving people everywhere would today like to join me in saying to you, 'I am proud of you.'"
The man who lost the presidency to Obama in 2008 was more succinct, if perhaps lacking in self-awareness*:
I've had the great honor of serving in the company of heroes.  And, you know the thing about heroes, they don't brag.
That, to me, is the real story here. While I've criticized President Obama for spiking the football on killing bin Laden and questioned whether giving the GO order on the bin Laden raid was as risky as claimed, I simply think Obama is misplaying his hand. It's unseemly, not outrageous. And mostly unnecessary; to the extent foreign policy is a factor in this election, Obama is likely the beneficiary.
Still, I'm not sure the Eisenhower comparison, in particular, is fair. Obama is a politician running for re-election, not a general. And it's 2012, not 1944. The 24/7/365 battle for public opinion is a new phenomenon and, while I don't approve, I at least understand why Team Obama is trying to remind people of his role in the bin Laden op.
And, yes, while Bush played the Saddam capture perfectly, he clearly overplayed the whole "MISSION ACCOMPLISHED"** thing in prematurely declaring the end of major combat operations in Iraq. My recollection is that Bush Senior was reluctant to play up the Desert Storm victory, seeing it as unseemly, but I could be mistaken; it's been a long time. Then again, he lost his re-election bid.
__________
*In fairness, John McCain showed the traditional reluctance to brag about his war hero status until late in the 2008 race, at which point desperation seems to have set in.
**Until it came up in discussion the other day, I had believed the initial story, that the banner was put up by the sailors of the LINCOLN in recognition of the end of their tour.  That's almost certainly not the case.