Should We Feel Obligated To Always Leave A Tip?
Is tipping a social obligation or an incentive/punishment related to quality of service?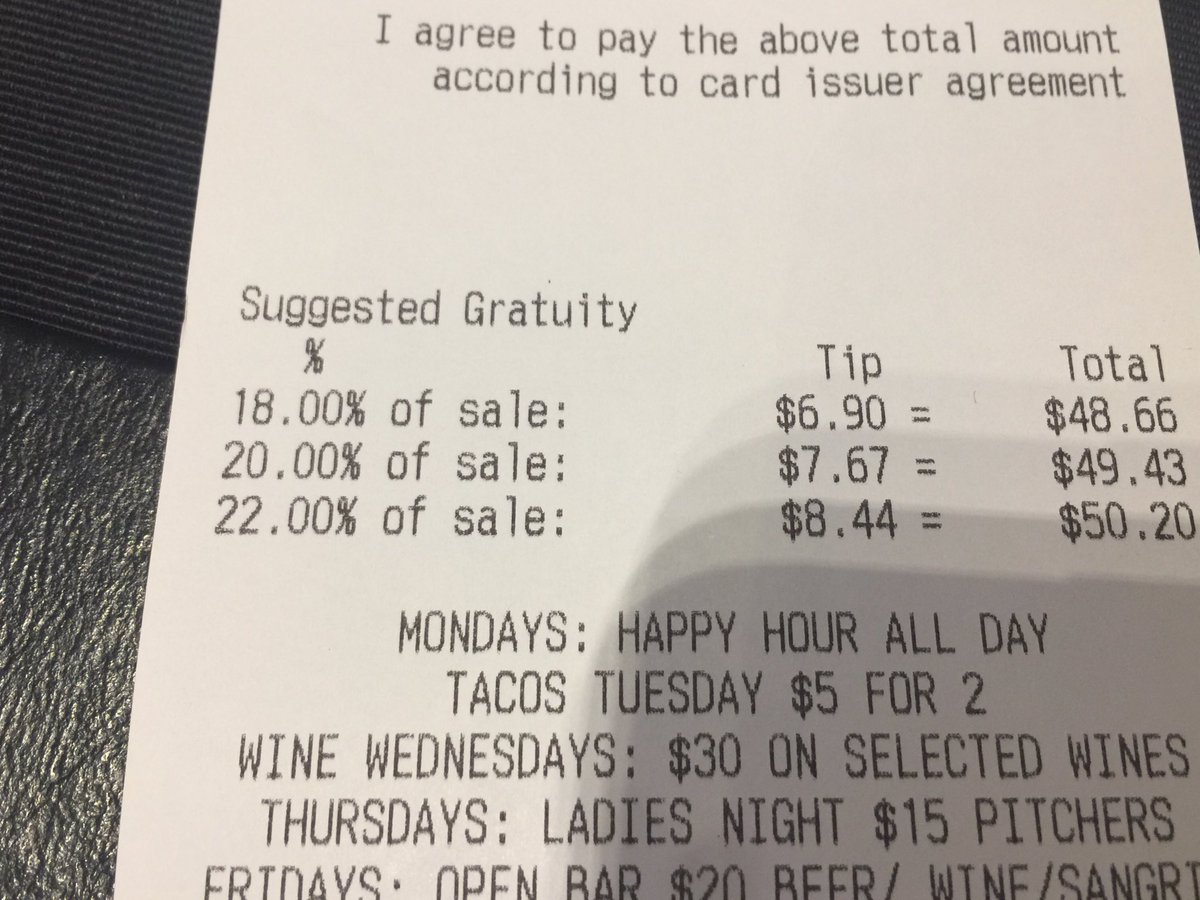 The Washington Post's Michelle Singletary argues that you should still feel obligated to tip service providers even if the service is crappy:
Tipping is not about you.

When eating out at a restaurant, many diners believe that they should tip on a sliding scale based on the service they receive — good or bad.

In keeping score, the scale may go something like this: Having to constantly ask for the water glass to be refilled? A deduction of one percentage point. Receiving the appetizer after the entree with no apologies? Three percentage points off the tip.

Can I be honest and convict myself?

I was on the side of the sliding-scale crowd. I tip, always. However, I hate the tipping system in America because it's not about rewarding someone for superior service. It's about guilt-tripping patrons to pay up.

Employers — either to increase their profit margins or out of concern they will lose business because of higher prices — force customers to supplement their employees' wages with tips.

But the price of my meal should include what it takes for the company to make a fair profit and pay its workers a living wage.

I'd rather pay more for my meal than deal with the discomfort of having to decide how much to tip based on my opinion of a job well done — or not.
Singletary also brought one of the Post's restaurants critics in to discuss the issue:
Q: How should diners tip when they get poor service for whatever reason?

Carman: I think there is a fundamental misunderstanding about tipping in America. Diners have been led to believe that tipping should be based on the quality of the service. But this is not the reason we tip. We tip because restaurateurs in America have shifted the burden of paying for some of their labor costs to diners. So when you don't tip, it affects the wages of servers.

Q: Really, you shouldn't deduct from the tip when you've received subpar service?

Carman: I think diners need to ask themselves a basic question: Do you get paid when you're having an off day? When you're not at your best? When you're in a bad mood?

What's more, waiting tables is hard work, and servers are only human. They may be having troubles at home, or they may be worried about a loved one. Or maybe they're just spacing out. Who among us has not done that at our desks?

(…)

Q: So, once and for all, what is the appropriate tip at the table — for now at least?

Carman: Bottom line: Diners should always tip 20 percent. Always.

If the service is terrific, you should add more to the tip. But never subtract from the 20 percent.

Carman won me over.

Like it or not, tipping isn't about me — or you. It's simply a responsibility placed on all diners in this country. And you need to factor that in as the full cost of dining out
I understand the economic arguments about tipping, and I also understand the extent to which restaurant owners use the quirks in the law that allow them to pay below the minimum wage due to the existence of tipping. Additionally, although I have never worked in a restaurant myself I think I have a pretty good understanding of how difficult the job can be and how customers can act like, well to be blunt about it, assholes and servers are expected to grin and bear it. I've also gotten to know many of the wait staff and bartenders at the local places I tend to frequent and it's rather easy to tell when they're having a bad day. Generally speaking, I tend to tip above 20% on most occasions, I have never failed to leave a tip, and I generally have not cut back on a tip because of one night of mistakes of one kind or another (the most common being "rushing" through the meal by bringing out an entree far too soon after having brought the appetizer.)
That being said, I have to disagree with Singletary and Carman when they argue that we're all obligated to leave a tip, that this tip should at a minimum be 20% (whatever happened to 15% which is where it was not long ago?), and that we should not "punish" bad service by either cutting back on a tip or failing to leave one altogether. Perhaps it goes to the fact that I learned my tipping etiquette from my parents and other family members when I was a kid and it's stuck with me. According to this etiquette, tipping should absolutely be tied to the service and that bad service should be "punished" by a reduced tip or, in extreme cases, by not leaving a tip at all.
Personally I have found it to be a good signaling device. As I said, I tend to frequent a small number of local restaurants, some of them are chain restaurants and a few of them not. As a result, I usually end up with a server or bartender I've encountered before. In addition to being a "good customer" by generally not behaving like an ass, especially when it comes to members of the opposite sex, tipping is a great way to get on the good side as a regular, something that has paid off quite well in terms of the quality of service I've received while dining. Additionally, if I did have a problem with service at one of these places it seems like it would be better to have a conversation with the server or to recognize that they're just having a bad day. In extreme cases, I might talk to a manager although I've fortunately never had to take that step.
That being said, I'd probably feel differently at a restaurant or bar I'm unlikely to return to or in a case where service didn't improve even after I pointed out a problem. At that point, reducing the regular tip from 20% or more to 15% or even 10% is something I'd be perfectly comfortable with doing. Additionally, while I'd personally be reluctant to do so, I think people should feel free to withhold a tip completely in appropriate circumstances. In the end, it may be the only way to send a message to a server that they need to do a better job.
I'd be interested to hear from readers on this one.