So, Are They Saying That Obama Is Darth Vader?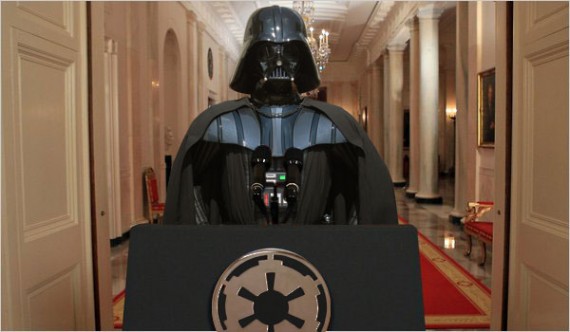 An amusing parody, but I'm not sure what point they're trying to make:
CORUSCANT — Obi-Wan Kenobi, the mastermind of some of the most devastating attacks on the Galactic Empire and the most hunted man in the galaxy, was killed in a firefight with Imperial forces near Alderaan, Darth Vader announced on Sunday.

In a late-night appearance in the East Room of the Imperial Palace, Lord Vader declared that "justice has been done" as he disclosed that agents of the Imperial Army and stormtroopers of the 501st Legion had finally cornered Kenobi, one of the leaders of the Jedi rebellion, who had eluded the Empire for nearly two decades. Imperial officials said Kenobi resisted and was cut down by Lord Vader's own lightsaber. He was later dumped out of an airlock.

The news touched off an extraordinary outpouring of emotion as crowds gathered in the Senate District and outside the Imperial Palace, waving imperial flags, cheering, shouting, laughing and chanting, "Hail to the Emperor! Hail Lord Vader!" In the alien protection zone, crowds sang "The Ten Thousand Year Empire." Throughout the Sah'c district, airspeeder drivers honked horns deep into the night.

"For over two decades, Kenobi has been the Jedi rebellion's leader and symbol," the Lord of the Sith said in a statement broadcast across the galaxy via HoloNet. "The death of Kenobi marks the most significant achievement to date in our empire's effort to defeat the rebel alliance. But his death does not mark the end of our effort. There's no doubt that the rebellion will continue to pursue attacks against us. We must and we will remain vigilant at home and abroad."

Obi-Wan Kenobi 's demise is a defining moment in the stormtrooper-led fight against terrorism, a symbolic stroke affirming the relentlessness of the pursuit of those who turned against the Empire at the end of the Clone Wars. What remains to be seen, however, is whether it galvanizes Kenobi's followers by turning him into a martyr or serves as a turning of the page in the war against the Rebel Alliance and gives further impetus to Emperor Palpatine to step up Stormtrooper recruitment.
And who's Palpatine? Thoughts?
Via Memeorandum