Social Security Isn't 'Cash Negative' – We Are
Social Security outlays are exceeding its income. Is that really a problem?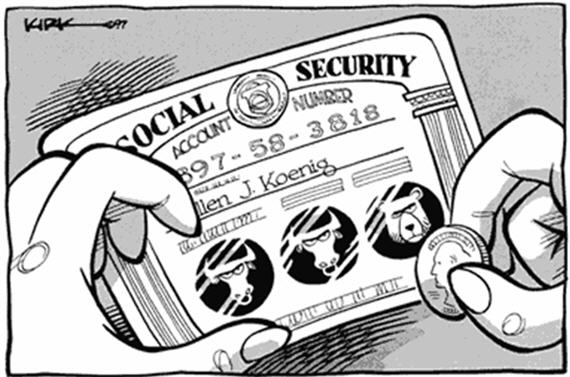 A Washington Post-Bloomberg special report offers an alarming assessment of Social Security. Liberal economists argue that it's bunk.
Under the headline "The debt fallout: How Social Security went 'cash negative' earlier than expected," Lori Montgomery explains:

Last year, as a debate over the runaway national debt gathered steam in Washington, Social Security passed a treacherous milestone. It went "cash negative."

For most of its 75-year history, the program had paid its own way through a dedicated stream of payroll taxes, even generating huge surpluses for the past two decades. But in 2010, under the strain of a recession that caused tax revenue to plummet, the cost of benefits outstripped tax collections for the first time since the early 1980s.

Now, Social Security is sucking money out of the Treasury. This year, it will add a projected $46 billion to the nation's budget problems, according to projections by system trustees. Replacing cash lost to a one-year payroll tax holiday will require an additional $105 billion. If the payroll tax break is expanded next year, as President Obama has proposed, Social Security will need an extra $267 billion to pay promised benefits.
The story comes with this handy dandy graphic:


The facts here are not in dispute. But the interpretation most certainly is.
Dean Baker of the Center for Economic and Policy Research is incensed that WaPo would run "a lead front page story that would have been excluded from most opinion pages because of all the inaccuracies it contained."
The basic premise of the story, as expressed in the headline ("the debt fallout: how Social Security went 'cash negative' earlier than expected") and the first paragraph ("Last year, as a debate over the runaway national debt gathered steam in Washington, Social Security passed a treacherous milestone. It went 'cash negative.'") is that Social Security faces some sort of crisis because it is paying out more in benefits than it collects in taxes. [The "runaway national debt" is also a Washington Post invention. The deficits have soared in recent years because of the economic downturn following the collapse of the housing bubble. No responsible newspaper would discuss this as problem of the budget as opposed to a problem with a horribly underemployed economy.]

This "treacherous milestone" is entirely the Post's invention, it has absolutely nothing to do with the law that governs Social Security benefit payments. Under the law, as long as their is money in the trust fund, then Social Security is able to pay full benefits. There is literally no other possible interpretation of the law.

As the article notes the trust fund currently holds $2.6 trillion in government bonds, so it is nowhere close to being unable to pay benefits. The whole point of building up the trust fund was to help cover costs at a future date when taxes would not be sufficient to cover full benefits. Rather than posing any sort of crisis, this is exactly what had been planned when Congress last made major changes to the program in 1983 based on the recommendations of the Greenspan commission.
This had me scratching my head. The "trust fund" consists of money that the federal government owes itself! Baker thinks this a minor point:
The article makes great efforts to confuse readers about the status of the trust fund. It tells readers:

"The $2.6 trillion Social Security trust fund will provide little relief. The government has borrowed every cent and now must raise taxes, cut spending or borrow more heavily from outside investors to keep benefit checks flowing."

This is the same situation the the government faces when Wall Street investment banker Peter Peterson or any other holder of government bonds decides to cash in their bonds when they become due. In such cases it "must raise taxes, cut spending or borrow more heavily from outside investors." The Post's reporters and editors should understand this fact.

The article then goes on to incorrectly accuse Senate Majority Leader Harry Reid of misrepresenting the finances of Social Security:

"In an MSNBC interview, he [Senator Reid] added: 'Social Security does not add a single penny, not a dime, a nickel, a dollar to the budget problems we have. Never has and, for the next 30 years, it won't do that.'
Such statements have not been true since at least 2009, when the cost of monthly checks regularly began to exceed payroll tax collections. A spokesman said Reid stands by his comments and his view that Social Security is entirely self-financed."

Of course Senator Reid is exactly right. The system is self-financed under the law. In 2009 it began drawing on the interest on the government bonds it held. That is exactly what the law dictates, when Social Security needs more money than it collects in taxes, it is supposed to draw on the bonds that were purchased with Social Security taxes in the past. This means it is self-financing.
This strikes me as tantamount to treating accounting as a religion. Just because there's money on the books doesn't mean it actually exists. But Paul Krugman makes the argument in a more persuasive manner:
Social Security is a program that is part of the federal budget, but is by law supported by a dedicated source of revenue. This means that there are two ways to look at the program's finances: in legal terms, or as part of the broader budget picture.

In legal terms, the program is funded not just by today's payroll taxes, but by accumulated past surpluses — the trust fund. If there's a year when payroll receipts fall short of benefits, but there are still trillions of dollars in the trust fund, what happens is, precisely, nothing — the program has the funds it needs to operate, without need for any Congressional action.

Alternatively, you can think about Social Security as just part of the federal budget. But in that case, it's just part of the federal budget; it doesn't have either surpluses or deficits, no more than the defense budget.

Both views are valid, depending on what questions you're trying to answer.

What you can't do is insist that the trust fund is meaningless, because SS is just part of the budget, then claim that some crisis arises when receipts fall short of payments, because SS is a standalone program.
This is actually a fair point. I'm further persuaded by the validity of that way of looking at it by this addendum to Baker's post:
In a comment below, Art Dover calls my attention to another inaccuracy in the article. It asserts: "The payroll tax holiday is depriving the system of revenue." This is not true. Under the law, Social Security is 100 percent reimbursed from general revenue for the taxes that were lost as a result of the payroll tax holiday. This is yet another fabrication by the Post in its crusade to cut Social Security.
#facepalm. Had he said, "The 'shortfall crisis' is largely a creation of the payroll tax holiday, which is a temporary stimulus measure," it would been a pretty powerful argument that we're not really in a crisis. Or, at least, that the "crisis" was a function of a historic downturn in the global economy rather than a structural problem with Social Security. But to claim that not taking money out of people's paychecks to pay for Social Security doesn't yield a shortage for Social Security because we're moving money that we don't have in the Treasury into a fictional pile of money called a "trust fund" is just crazy talk.
Since I don't believe IOUs written to oneself constitute real money but do think that IOUs written to other people constitute real financial obligations, I must conclude that Social Security is just a part of the budget. By extension, FICA taxes are just taxes, since they go into the same pot as every other Federal Government program. Which means that Social Security isn't in crisis any more than the Defense Department, the Marine Mammal Commission, or Radio Free Europe.
Under that analytic framework, all that matters is that we've got a massive federal debt and no real good options for dealing with it. Some combination of the following are required: Social Security, Medicare, Defense, and other big ticket items have to be cut; taxes have to be increased; or growth to the overall economy needs to happen. And these are somewhat interactive options: drastic cuts in spending or drastic increases in taxes may hinder growth.
But the bottom line is that Social Security isn't in crisis. Rather, we're spending more money than we're taking in across the board and have to deal with it.
Just because Social Security is really no more than an item in the federal budget doesn't mean it can't be viewed individually. There's some utility in the accounting fiction of a trust fund and separate outlay streams simply from a management and forecasting standpoint. Given that it's such a massive part of the budget, it makes sense to talk about it as if it were a self-funded program in order to rationalize it.  Knowing that our obligations are going to go up given present trends, we need to talk about such possibilities as slowly raising the retirement age, means testing benefits, raising the ceiling on payroll taxes–or even simply doing away with FICA altogether and just raising the income tax rate slightly. For that matter, we may conclude that these things are too high a price to pay and that we should consider changes in our immigration policy to bring in more young taxpayers and change the curve altogether.