Social Security Payouts Too Low
While Social Security has radically lowered the elderly poverty rate, it hasn't eliminated it. Should we do more?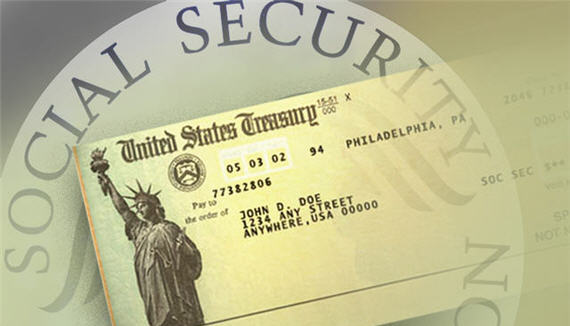 Matt Yglesias seconds Dean Baker's observation that the Social Security benefit "is already small by international standards" and provides this handy graph: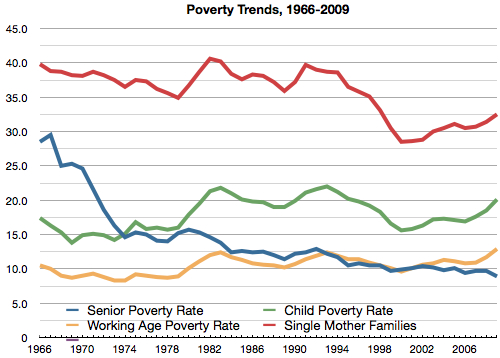 Since the senior poverty rate is above zero and the point of Social Security was to eliminate it, he figures "doesn't do as good a job of that as it could or should."  So, we should probably raise benefits at the bottom and cut them for those in "the middle class majority."
I'm not opposed to means testing Social Security and am open to arguments about increasing the minimum benefit.   But, just looking at the chart, for the last two decades seniors have had a poverty rate at or below that of the working age population.   Wouldn't it be bizarre to guarantee people who have retired higher real incomes than they were working?
Further, wouldn't that do away with the illusion that Social Security is a retirement system that people have paid for themselves, making it a pure welfare system?   We already have the president out demagoguing the fact that high earners pay a lower effective tax rate because FICA is capped, eliding the fact that payouts are likewise capped.
Maybe we should just do away with the pretense entirely, and simply phase out Social Security benefits and eliminate the separate FICA tax while expanding welfare eligibility.  We're wealthy enough to provide a stipend for the old, sick, and injured who can't make ends meet on their own.  But it doesn't really make sense for middle class — much less wealthy — people to get a paycheck from the government in their golden years.  And that's becoming more true every day, since our ratio of working age to retired people continues to get smaller.