Soldiers: Not Poor, Stupid Hicks
Yet another study shows what any of us who've ever spent any time around soldiers already knew: Our Army is not comprised of stupid people who couldn't find a decent job.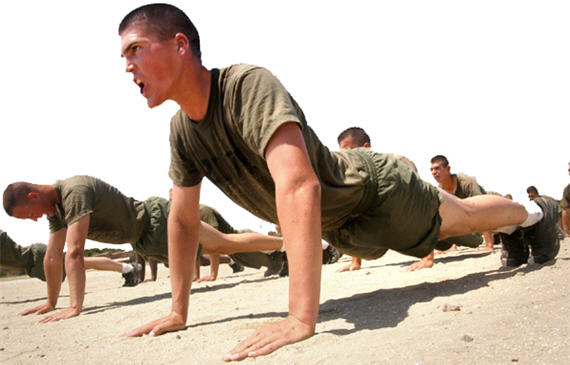 Spencer Ackerman ("Today's Army: Smarter, Richer, Southern") points to yet another study showing what any of us who've ever spent any time around soldiers already knew:  Our Army is not comprised of stupid people who couldn't find a decent job.
The National Priorities Project, a lefty research organization in Massachusetts, crunched the numbers for enlistment in fiscal 2009. Its findings show an Army that's smarter and more upwardly mobile than it often gets credit for being. Yes, in order to meet the strain of recruiting during the Iraq and Afghanistan wars, the military as a whole lowered standards in the mid-2000s. But the National Priorities Project indicates that the Army, at least, may have turned a corner — and this is a group of people that knows it's going to war.

For one thing, the percentage of recruits with at least a high school diploma has been on the rise. It jumped to 84.9 percent in fiscal 2009 compared to 70.7 percent in fiscal 2007. It's not quite the Defense Department's goal of 90 percent, but it's trending in that direction.

Recruits also passed their military-capability exams, known as the Armed Forces Qualification Test, in greater numbers. In 2009, 66 percent scored at or above average, while 62 percent did the previous year. Only 1.5 percent in 2009 were allowed to proceed despite scoring below average, a drop from the 3.5 percent in 2008.

What about disciplinary behavior? Recruits granted waivers to join up despite criminal offenses dropped to 5,428 in fiscal 2009 from 8,029 the previous year. Only 324 waivers for alcohol or drug consumption were granted in 2009 — a big drop from the 1,154 in 2008. Medical waivers dipped slightly from 5,434 to 5,020. And this is out of a pool of 70,045 recruits in 2009.

Perhaps more surprising is that none of these positive trends are explained by more people joining up due to the economy. The study "did not find that the recession and its high rates of unemployment led to more Army recruits of higher quality." Indeed, youth from the lowest 20 percent of U.S. income brackets are "under-represented among new Army recruits, more so in 2009 than in previous years." Indeed, middle-class youth "are over-represented among 2009 Army recruits" — and the service even showed a "slight upwards shift" of rich kids joining up.
The numbers vary from year to year.  During the dog days of the Iraq War, which coincided with a booming economy, it was more difficult for the Army to meet recruiting goals and standards dropped somewhat.   But the standards are high to begin with.
The Army really, really doesn't want recruits without a high school diploma.  It's considered the key predictor to successful completion of a first enlistment.  While a mere high school diploma may not sound like much to the average OTB reader — you're overwhelmingly college grads and a grossly disproportionate share of you have graduate or professional degrees — only 69% of students graduate high school with a regular diploma in four years.  And males, which make up the bulk of Army accessions, graduate at any even lower rate.  So, the fact that upwards of 80% of enlistees have diplomas is statistically impressive.
The disciplinary standards are, not surprisingly, even higher.   The Army took in 63,661 recruits in 2009; well under 10 percent required any kind of waiver.
Nor is it shocking that recruits aren't coming from the bottom income quintile.  Yes, the pay and benefits would be attractive for a young man coming out of that environment.   But, sadly, the disproportionately don't measure up in terms of criminal record, educational attainment, and aptitude test scores.