Solid November Jobs Growth Seems To Guarantee Higher Interest Rates In December
Another month of solid but not spectacular jobs growth seems to guarantee that the Federal Reserve will increase interest rates this month.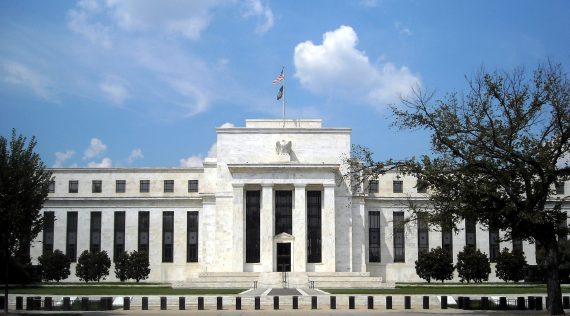 The November Jobs Report showed that the jobs market continues to improve, making a Federal Reserve Board rate hike later this month more and more likely:
The unemployment rate declined to 4.6 percent in November, and total nonfarm payroll employment increased by 178,000, the U.S. Bureau of Labor Statistics reported today.  Employment gains occurred in professional and business services and in health care.

In November, the unemployment rate decreased by 0.3 percentage point to 4.6 percent, and the number of unemployed persons declined by 387,000 to 7.4 million. Both measures had shown little movement, on net, from August 2015 through October 2016. (See table A-1.)

Among the major worker groups, the unemployment rate for adult men declined to 4.3 percent in November. The rates for adult women (4.2 percent), teenagers (15.2 percent), Whites (4.2 percent), Blacks (8.1 percent), Asians (3.0 percent), and Hispanics (5.7 percent) showed little or no change over the month. (See tables A-1, A-2, and A-3.)

The number of job losers and persons who completed temporary jobs edged down by 194,000 to 3.6 million in November. The number of long-term unemployed (those jobless for 27 weeks or more) was little changed at 1.9 million and accounted for 24.8 percent of the unemployed. Over the past 12 months, the number of long-term unemployed was down by 98,000. (See tables A-11 and A-12.)

The civilian labor force participation rate, at 62.7 percent, changed little in  November, and the employment-population ratio held at 59.7 percent. These measures have shown little movement in recent months. (See table A-1.)

(…)

Total nonfarm payroll employment rose by 178,000 in November. Thus far in 2016, employment growth has averaged 180,000 per month, compared with an average monthly increase of 229,000 in 2015. In November, employment gains occurred in professional and business services and in health care. (See table B-1.)

Employment in professional and business services rose by 63,000 in November and has risen by 571,000 over the year. Over the month, accounting and bookkeeping services added 18,000 jobs. Employment continued to trend up in administrative and support services (+36,000), computer systems design and related services (+5,000), and management and technical consulting services (+4,000).

Health care employment rose by 28,000 in November. Within the industry, employment growth occurred in ambulatory health care services (+22,000). Over the past 12 months, health care has added 407,000 jobs.

Employment in construction continued on its recent upward trend in November (+19,000), with a gain in residential specialty trade contractors (+15,000). Over the past 3 months, construction has added 59,000 jobs, largely in residential construction.

Employment in other major industries, including mining, manufacturing, wholesale trade, retail trade, transportation and warehousing, information, financial activities, leisure and hospitality, and government, changed little over the month.
Additionally, the Bureau of Labor Statistics reported that the jobs number for September was revised upward from +191,000 to +208,000, and October was revised downward from +161,000 to +142,000, for total downward revisions of -2,000 new jobs created. This means that job growth over the past three months has averaged +176,000 new jobs, which is the same as the three-month average we saw last month. Since the start of the year, Since the start of the year, the BLS has reported that 2,026,000 new jobs have created, for a monthly average of +184,000, which represents an increase in the year-to-date average over last month. Deeper into the report, we see that labor force participation and long-term unemployment declined slightly, which partly explains the drop in the topline unemployment number from 4.9% to 4 6%. Additionally, the long-term unemployment rate dropped to an eight-year low of 9.3%, from 9.5%. Looking beyond the jobs numbers, this month's report showed solid wage growth continuing, which has been one of the positive parts of the economic statistics that have come out this year. For the month, average hourly earnings increased 3 cents to $25.89, which represents a 2.5% rise over the past year. The average hourly workweek, meanwhile, was largely unchanged across the board. Wage growth has been one of the most positive areas for 2016, and we're now at the point where wage growth has increased at its strongest pace since the end of the Great Recession.
With the election behind us, the primary focus of analysists is what impact these numbers will have on the Federal Reserve's upcoming decision on interest rates:
The government reported on Friday that employers added 178,000 workers in November, a solid gain that clears the way for the Federal Reserve to raise the benchmark interest rate when it meets later this month.

The official unemployment rate dropped to its lowest level in more than nine years, at 4.6 percent, from 4.9 percent the month before. But average hourly earnings ticked down 0.1 percent.

Revisions to the September and October data removed 2,000 jobs from the employment gains for those months. Over the past three months, increases have averaged 176,000.

"A solid report but not quite as good as the headline numbers would indicate," said Gus Faucher, deputy chief economist at PNC said. "There's mixed news there."

While payroll additions were steady, he said the drop in hourly earnings offset some previous gains. Also, he noted, the substantial drop in the unemployment rate "came more from a decline in the labor force, more than an increase in household employment."

For all the arguments about the health of the economy during the presidential race, this latest snapshot of American workers does not radically shift the outlook one way or the other.

"It's kind of more of the same," Jim O'Sullivan, chief United States economist at High Frequency Economics, said, referring to the labor market's performance over the past year. "There's been strong growth in employment."

Considering the jobs gains in 2016, Mr. O'Sullivan noted that at this point, the "bar isn't very high" for the central bank to follow through with a rate increase, which would be the first in a year.

While Donald J. Trump won the presidential race last month with promises to create more jobs, it is too soon for any election results to have affected the overall employment picture. The Labor Department surveyed employers about changes in their payrolls just a few days after the vote took place.

"It doesn't have anything to do with the election," said Gus Faucher, deputy chief economist at PNC Financial Services in Pittsburgh.

The task of slicing the unemployment rate in half from its recession high of 10 percent has taken seven years.

"This is not something that happens overnight," said Jonas Prising, chairman and chief executive of the ManpowerGroup, one of the largest recruiters in the United States and abroad.

(…)

The tightening labor market, after a frustrating delay, has started to bump wages above the rate of inflation. Housing prices are up, and consumers are expressing the highest levels of confidence in nearly a decade. The American economy grew by a healthy 3.2 percent annual rate during the third quarter of this year.

Such progress led members of the Federal Reserve to conclude at last month's meeting that the case for an increase in the benchmark rate had been "strengthened," and that they would be ready to move "so long as incoming data provided some further evidence of continued progress."

Yet for all the statistical improvements, tens of millions of workers continue to feel that the recovery has passed them by. Those without skills are relegated to low-paying positions without steady schedules, security and benefits. Breadwinners who once occupied well-compensated manufacturing jobs are unwilling to settle for minimum-wage service jobs.

"There is a bifurcation of the work force," Mr. Prising of Manpower said. In that sense, the overall average unemployment rate is misleading. People with the right skills who are able to take advantage of the technology revolution, globalization and other shifts in the economy have seen their jobless rates fall below pre-recession levels.

For others, the prospects do not look good. "There used to be part of work force that had well-paying jobs that were low or unskilled," Mr. Prising said. "Those kinds of jobs are very difficult to find today."

"Exactly this same polarization of the work force with the same concerns about the future is what's playing out in all developed countries," he added.
The Wall Street Journal, meanwhile, argues that this latest report virtually guarantees that we'll see at least a modest increase in interest rates later this month:
Federal Reserve Chairwoman Janet Yellen has talked recently about the benefits of running a "high-pressure economy," one in which officials allow the strong labor market to push down the unemployment rate and drive up wages.

Friday's jobs report suggests that's exactly what she's getting.

Employers added 178,000 jobs in November, right around expectations. But the unemployment rate dropped to 4.6%—its lowest level in nine years—as the labor market has tightened. That has slowly driven up wages. Average hourly earnings were up 2.5% in November over the previous year.

The report almost certainly seals an increase in short-term interest rates when the Fed meets Dec. 13-14.

Beyond that, though, the picture is murkier. Ms. Yellen's goal in running the economy hot has been to draw down labor-market slack by attracting back discouraged workers who have given up on finding a suitable job.

But despite robust hiring, Friday's report suggests there remains plenty of slack in the labor market. A broader measure of the unemployment rate, which counts part-time workers who would prefer full-time jobs and marginally attached workers, remains elevated at 9.3%, although it has fallen in recent months.
As I've said before, even with the improving economy as evidenced by numbers such as this report the idea that the economy is anywhere close to the kind of overheating that would justify raising interest rates seems kind of silly. For every month or two of strong economic news we see, we get a few months that show evidence that there is still a lot of sluggishness in the economy that could potentially be enhanced by higher borrowing costs. We've also seen in recent years that the economy is vulnerable to shocks from something as common as bad weather in the winter. Finally, we have no idea what impact the policies of the Trump Administration are going to have on the economy, especially when it comes to issues such as international trade and foreign policy. Given that, the Federal Reserve's obsession with an overheating economy that needs to be cooled down with higher interest rates is a puzzling one to say the very least.
Of course, if the Fed does raise rates this month it's likely that it will be the same type of modest increase that we saw at the end of last year. For the most part, that increase does not appear to have had a significant negative impact on the economy or on the stock and bond markets, so perhaps a similar increase now will have a similarly limited impact on the economy. Of course, on the other hand, it's also true that the economy in 2016 proved not to be strong enough to justify the marginal rate increases throughout the year that the board had planned to implement. This is the reason why we haven't seen an increase since the December 2015. At the very least, that tells us that the Fed's forecast of economic activity for 2016 was far more optimistic than it turned out to be in reality.  Given that, the danger that the economy could again be pushed into sluggishness by another increase is very real. This month's jobs report is a prime example of why caution is advisable. While it may show solid growth, it's not exactly a strong number and certainly not evidence that the economy is in any danger of overheating in the near future. The Federal Reserve ought to be careful about how it proceeds.