Some Additional Thoughts on the Faithless
The number of faithless electors was both historical and trivial.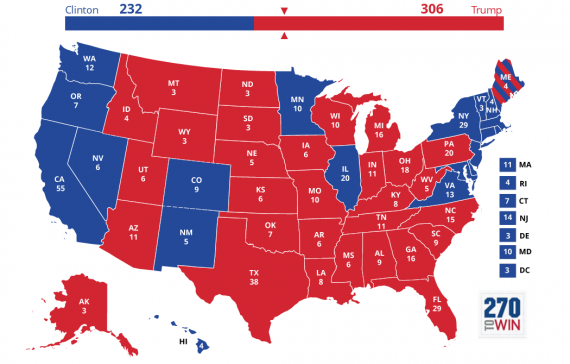 I have seen a lot of "ha ha! Clinton had more faithless electors than did Trump!" online this morning.  But, I would note that this makes sense as the Clinton electors had nothing to lose:  Clinton wasn't going to be president barring a catastrophic outcome for Trump.  In some ways, Trump's two defections are more of a repudiation, but even there the electors knew that it would take almost twenty times as many defections to actually matter.  The only way it would have been a true "ha ha!" moment would have been if Trump had had 37 faithless electors, all of whom voted for Clinton.  Then even one faithless Clinton elector would have thrown the election into the House.
In reality these seven are naught but blips.
Indeed, while seven faithless electors will give political science professors an historical novelty to discuss in class, we are still talking a minuscule number in the grand scheme of things and not anything that make any difference in terms of the perception or functioning of this institution.
Prior to 2000, I thought that an electoral college/popular vote inversion would result in voters being shocked about an institution they paid little attention to and that would lead to serious calls to change it.  But, of course, that proved to be incorrect.  The bottom line is that a) we have an unhealthy reverence for anything that we can attribute to the Founding Fathers, b) those same Fathers made changing the system almost impossible, and c) the winners of any system have no incentive to change that system.
Indeed, it has been instructive to see the "ho hum" attitude that many are displaying to the fact that Clinton won the popular vote by almost three million votes and over two percentage points. Not that it is a shock, but this underscores that our alleged abiding commitment to being the "Greatest Democracy in the WorldTM" is not what we often act like it is cracked up to be.  This is not exactly a "shining city on the hill" moment.
As much as I think that the EC should be replaced with a popular vote system, I cannot see a pathway that leads to its demise save a situation in which the Republicans also fear winning the popular vote and losing the EC as well.  The thing is:  the electoral advantage in terms of actual voters belongs to Democrats:  consider that from 1992 to the present (almost a quarter century), the Republicans have only won the most popular votes once, and that was in 2004.  They lost in 1992, 1996, 2000, 2008, 2012, and in 2016.  And yet, in that same time-span, they have won the presidency twice.  Why?  Because of the electoral college.  They do not have any incentive to get rid of it.
Indeed, even a significant disruption of the EC in a given election is unlikely to be sufficent incentive for the party to seek change unless such a disruption is seen as a permanent/irreversible change to the functioning of the institution.  Note that a disruption to the EC in terms of changing the outcome predicted by the popular vote requires someone infiltrating and altering a highly partisan process, that is the selection of the electors themselves.
Even with the massive 700% increase in faithlessness (as compared to the last 100ish years),* the bottom line is this, the system worked as expected: party loyalists chosen through a partisan process voted as their party expected.
—
*That is 7, instead of 1.  And yes:  read that sentence with sarcasm infused therein.