Someone Needs To Educate Michele Bachmann About The Tenth Amendment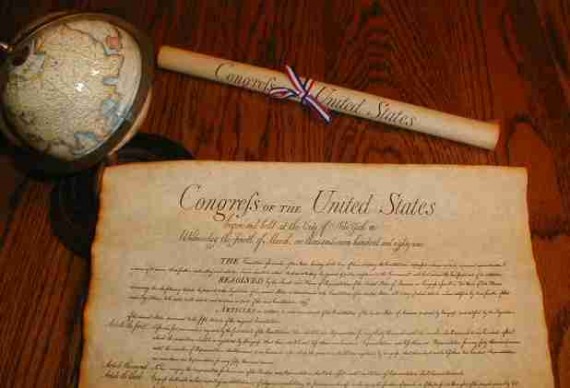 Michele Bachmann has made a name for herself partly for her frequent references to the Tenth Amendment and the encroachments on state authority by the Federal Government, however it appears she really doesn't understand what the Tenth Amendment means:
During her appearance Sunday on Face The Nation, Michele Bachmann staked out what might be the toughest line in the Republican field against Mitt Romney on health care: That the individual mandate is not only unconstitutional at the federal level — but the mandate is unconstitutional at the state level, too, as Romney passed it in Massachusetts.

(…)

During the interview, Bob Schieffer asked Bachmann whether Romney's Massachusetts health care reform should be held against him.

"I firmly am against the individual mandate. I think it is unconstitutional, whether it's put into place at the state level by a state legislature or whether it's put into place at the federal level. I think it's unconstitutional," said Bachmann.
I'm going to presume that Bachmann is referring to the United States Constitution, because after a fairly quick skim reading, it's pretty obvious that there's nothing in the Constitution of the Commonwealth of Massachusetts that would bar the state from imposing a health insurance reform plan that requires each resident of the state to purchase health insurance. In fact, Article IV of Section One of that documents says the following:
Full power and authority are hereby given and granted to the said general court, from time to time, to make, ordain, and establish, all manner of wholesome and reasonable orders, laws, statutes, and ordinances, directions and instructions, either with penalties or without; so as the same be not repugnant or contrary to this constitution, as they shall judge to be for the good and welfare of this commonwealth
That seems to me like a massively broad grant of authority, which is typical of state Constitutions, and there are no other provisions of the state constitution that appear to speak to this issue.
So, that means Bachmann must believe that there is some provision of the U.S. Constitution that bars a state from imposing an individual mandate. But, where is it ? It isn't in Article I Section 10, which sets forth a number of restrictions on state authority, and it's not in any of the Amendments. Instead what, we go back to is that Tenth Amendment that Bachmann likes so much:
The powers not delegated to the United States by the Constitution, nor prohibited by it to the states, are reserved to the states respectively, or to the people.
Even if one believes that there are doubts about the power of the Federal Government to impose an individual mandate, it is fairly clear that there is no Constitutional bar to a state doing the same, leaving aside the issue of Federal laws pre-empting state laws of course. Someone needs to tell Bachmann that just because she doesn't like the individual mandate,  that doesn't mean a state can't do it