Squaring the Circle on the Israel-Gaza War
Outsiders seem to want the impossible.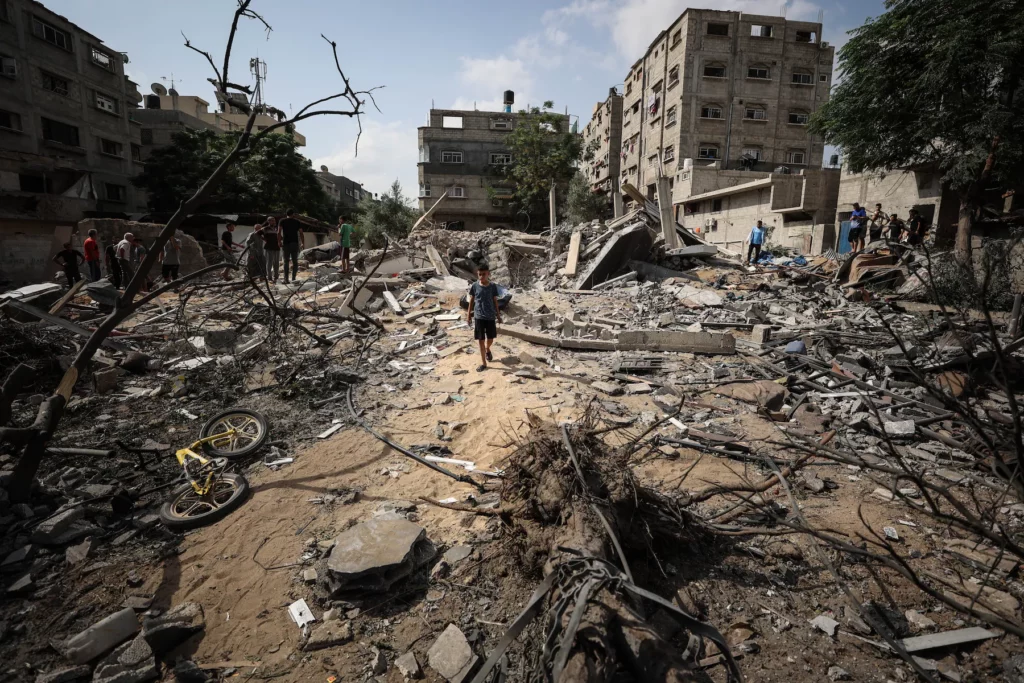 The White House has issued a "Joint Statement on Israel" with several key allies that says, well, not much:
Today, President Joseph R. Biden, Prime Minister Trudeau of Canada, President Emmanuel Macron of France, Chancellor Olaf Scholz of Germany, Prime Minister Giorgia Meloni of Italy, and Prime Minister Rishi Sunak of the United Kingdom spoke regarding the ongoing conflict between Israel and the terrorist organization Hamas. The leaders reiterated their support for Israel and its right to defend itself against terrorism and called for adherence to international humanitarian law, including the protection of civilians. They welcomed the release of two hostages and called for the immediate release of all remaining hostages. They committed to close coordination to support their nationals in the region, in particular those wishing to leave Gaza.

The leaders welcomed the announcement of the first humanitarian convoys to reach Palestinians in need in Gaza and committed to continue coordinating with partners in the region to ensure sustained and safe access to food, water, medical care, and other assistance required to meet humanitarian needs. The leaders committed to continue close diplomatic coordination, including with key partners in the region, to prevent the conflict from spreading, preserve stability in the Middle East, and work toward a political solution and durable peace.
To be sure, I agree with all of that. But so what?
How is it that Israel exercises "its right to defend itself against terrorism" while "adher[ing] to international humanitarian law, including the protection of civilians"? What, specifically, is the Israeli government being asked to do that it isn't already doing?
And, rather obviously, we want hostages released. Taking hostages is, after all, a black letter war crime. But, beyond wishing, what is it that we're prepared to do about it? (There does actually be some progress being made; what's being offered to advance the cause, I haven't a clue.)
Israel's cutting off water, electricity, and denying humanitarian assistance to Gaza were all quite probably war crimes. That they've backed off somewhat is all to the good. But the international rights community is essentially calling for full-scale resumption of supplies to Gaza. How is that supposed to happen in the midst of a war? Especially a war is which the fighters are, in violation of the laws of war, not wearing distinguishing uniforms and intentionally hiding amongst the civilian population?
We see some of this playing out in the press accounts. See, for example, AP's latest roundup ("Israel ramps up strikes on Gaza as US advises delaying ground offensive to allow talks on captives"):
Israel ramped up its airstrikes Monday in Gaza, where the death toll is rising rapidly, and the United States advised Israel to delay an expected ground invasion to allow more time to negotiate the release of hostages taken by Hamas militants.
Trying to preserve the lives of hostages, many of them foreign nationals and all of them noncombatants, is a goal we should all share. But they were taken precisely to serve as human shields, complicating Isreal's legitimate retaliation. How long is Israel expected to wait for negotiations? And what is it that's being offered in trade?
Israel has allowed two small aid convoys but no fuel to enter the besieged coastal enclave, where there has been a power blackout for nearly two weeks. Hospitals say they are scrounging for generator fuel in order to keep operating life-saving medical equipment and incubators for premature babies.
This is all horrific, of course. But war is horrific. How is it that Israel and/or the international community/aid workers/somebody is going to get fuel to the hospitals while denying it to the Hamas fighters using it to further their killing of Israelis?
Heavy airstrikes demolished buildings across Gaza, including in areas where Palestinians have been told to seek refuge, killing hundreds and sending new waves of wounded into already packed hospitals, according to Palestinian officials and witnesses. After a strike in Gaza City, a woman with blood on her face wept as she clasped the hand of a dead relative. At least three bodies were sprawled on the street, one lying in a gray stream of water.
This, however, is much more troubling: problematic as forcing people to flee their homes may be, it's likely the least bad option available under the circumstances. But the designation of safe zones should surely come with a commitment to not bombing those areas.
The Israeli military released footage showing what it said were attacks on Hamas infrastructure. Flashes of yellow light were followed by an explosion that sent gray smoke and debris shooting upward as multi-story buildings collapsed or toppled over.

Israel said it had struck 320 militant targets throughout Gaza over the last 24 hours in preparation for "a maneuver," an apparent reference to a ground operation. The military says it does not target civilians, and that Palestinian militants have fired over 7,000 rockets at Israel since the start of the war.
The proportionality of the damage to civilian infrastructure and the military value of the targets being hit is impossible to assess from my vantage point. It's not fully obvious that Israeli planners much care. And those 7000 rockets may well have something to do with that.
Israel carried out limited ground forays into Gaza, and on Sunday, Hamas said it had destroyed an Israeli tank and two armored bulldozers inside the territory it has ruled since 2007. The Israeli military said a soldier was killed and three others were wounded by an anti-tank missile during a raid inside Gaza.

The military said the raid was part of efforts to rescue hostages abducted in the Oct. 7 attack. Hamas hopes to trade the captives for Palestinian prisoners held by Israel.

On Saturday, 20 trucks entered Gaza in the first aid shipment into the territory since Israel imposed a complete siege at the start of the war. Israel allowed a second convoy of 15 trucks into Gaza on Sunday. Both entered from Egypt through the Rafah crossing, the only way into Gaza not controlled by Israel.

An airstrike hit a residential building some 200 meters (yards) from the U.N. headquarters in Rafah on Monday, killing and wounding several people, according to an Associated Press reporter at the scene, underscoring the perils of humanitarian operations.

COGAT, the Israeli defense body responsible for Palestinian civilian affairs, said the aid was allowed in at the request of the United States, and included water, food and medical supplies. It said Israel inspected everything before it entered Gaza.

In a Sunday phone call, Netanyahu and U.S. President Joe Biden "affirmed that there will now be continued flow of this critical assistance into Gaza," the White House said in a statement.

Relief workers said far more aid was needed to address the spiraling humanitarian crisis in Gaza, where half the territory's 2.3 million people have fled their homes. The U.N. humanitarian agency said the 20 trucks that entered Saturday amounted to 4% of an average day's imports before the war.

The World Health Organization said seven hospitals in northern Gaza have been forced to shut down due to damage from strikes, lack of power and supplies, or Israeli evacuation orders.

The lack of fuel has also crippled water and sanitation systems. Hundreds of thousands of Palestinians sheltering in U.N.-run schools and tent camps are running low on food and are drinking dirty water.

Israel repeated its calls for people to leave northern Gaza, including by dropping leaflets from the air. It estimated 700,000 have already fled. But hundreds of thousands remain. That would raise the risk of mass civilian casualties in any ground offensive.
Again, the "continued flow" of aid will not only surely be inadequate it will almost certainly be stolen by Hamas, both to support the war effort and increase the misery of the civilian population, which will naturally be blamed on Israel.
But, given the tiny area in which the war is being fought, everyone is in danger. This includes journalists, more of whom have already been killed in a few days than in the entirely of the Russia-Ukraine war. And, yes, aid workers, UN observers, and others.
I don't really know what more Israel can do to encourage civilians to leave. And, yet, most of these people clearly have nowhere to go. Certainly, neighboring countries don't want more refugees.
Secretary of State Antony Blinken said Israel "can't go back to the status quo" in which Hamas controls Gaza and is able to threaten it, but that Israel has "absolutely no intent" to govern Gaza itself.

"Something needs to be found that ensures that Hamas can't do this again, but that also doesn't revert to Israeli governance of Gaza," he told NBC's "Meet the Press" on Sunday. "It's something that needs to be worked even as Israel is dealing with the current threat."
Like Blinken, I have no idea at all as to how to square that circle. Indeed, it strikes me as definitionally impossible. A Gaza that's populated by Palestinians will naturally resent Israel's existence and some version of an anti-Israeli extremist group is bound to emerge from the ashes of the conflict.