Strip Joe Biden of His Motorcade?
Vice-President Joe Biden's motorcade has been involved in at least five crashes.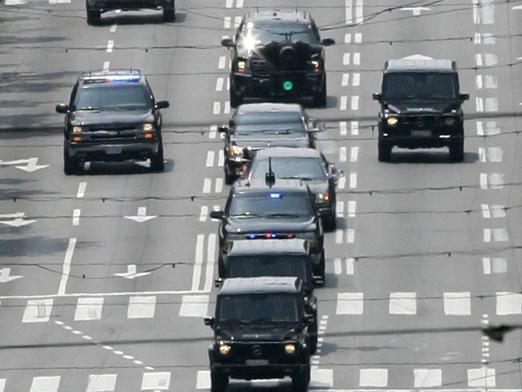 Forbes' Daniel Freedman asks, "Strip Joe Biden of His Motorcade?"
Vice-President Joe Biden's motorcade has been involved in at least five crashes. That's an unusually high number for such a motorcade.

In August, after Mr. Biden met New York City Mayor Michael Bloomberg at Gracie Mansion, two New York City police motorcycles escorting the Vice-President were involved in an accident. That followed a high profile crash in February, in which figure skating Olympic gold medalist Peggy Fleming and former bobsled champion Vonetta Flowers were injured. The two athletes were riding in the Vice-President's motorcade at the Vancouver Olympics when the rear vehicle of the motorcade hit the back of a second vehicle, knocking it into a third car.

Last November, while Mr. Biden was on his way to appear on "The Daily Show" with Jon Stewart, a police car escorting him collided with a cab, injuring officers and occupants of the other car. (While the Vice-President didn't mention the crash during his appearance, he did joke that having roads cleared for him was a big perk. "Hell, I've never driven in New York with no traffic before," he told Mr. Stewart.)

That November, cars from Mr. Biden's motorcade were also involved in two other reported accidents: A Bernalillo County Sheriff's deputy escorting the motorcade was injured in a collision; and in Maryland two cars that were part of the Vice-President's security detail hit (and killed) a pedestrian. These five incidents are just the reported ones; it's possible that there are others as well.
Do I think the vice president should be stripped of his motorcade privileges?  No.  For one thing, I'm pretty sure Joe Biden wasn't driving any of the cars in question, so it's unreasonable to blame him. And, despite my general distaste for VIP motorcades and the inconveniences they pose for The Little People, there are legitimate security concerns for someone in Biden's position.
But there is something odd going on here.  At very least, an investigation ought to be launched to figure out why this is happening.
via Glenn Reynolds