Study Finds That Affordable Care Act Isn't All That Affordable
Another government program isn't going to bring health care costs under control.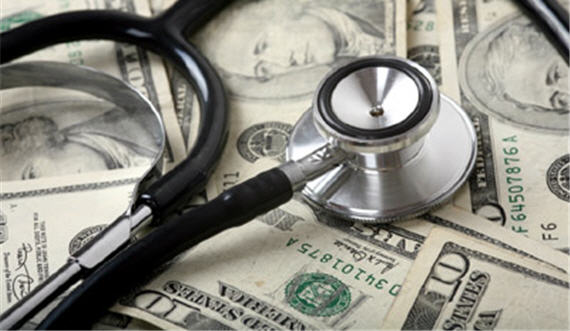 A new study published today says that the Affordable Care Act is going to be far more expensive than we've been led to believe:
The Affordable Care Act will drive health care spending up slightly, to nearly a fifth of the country's gross domestic product by 2020, while extending insurance coverage to 30 million more Americans, a new report from CMS projects.

But health care's hefty share of the country's economic output is reached through an average annual growth in medical spending of 5.8 percent over the next decade — just 0.1 percent more than would have been spent without the health reform law, the report claims.

CMS published its findings this morning in Health Affairs. The report also projects that once all the data are in, health spending in 2010 will have grown a historically low 3.9 percent — slightly lower than the previous record low growth of 4 percent in 2009.

That's an aftershock of the recession, which cost millions of people their jobs and, consequently, their health insurance, slowing medical spending.

At a Health Affairs forum Wednesday, CMS chief actuary Rick Foster, who has a record of questioning long-range spending projections based on overly optimistic assumptions, nonetheless said that "we like to think that the reality in 2014 will be much closer to the projections" than similar projections from the past.

If implemented as written, the health care law will "create a whole new world of health care spending," Foster said.
Not surprisingly the White House tried to spin the report by pointing out the fact that health care costs grew at an historically low rate in 2010 but, of course, that had nothing to do with the ACA and everything to do with the economic downturn that started in 2007. Their response to the reports findings on the long term costs of teh ACA was basically the rhetorical equivalent of unicorns and rainbows:
But the report doesn't tell the whole story.

The Affordable Care Act creates changes to the health care system that typically don't show up on an accounting table. We know these new provisions will save money for the health care system, even if today's report doesn't credit these strategies with reducing costs.
In other words, the plan will work because of magic, pay no attention to those numbers and the reports prepared by actual economists.
None of this should be a surprise, though. We've known for a long time now that health care costs were increasing at a rate far faster than the general rate of inflation and as this chart from the CBO shows (h/t Yuval Levin), health care is fast on the way to becoming the biggest component of the Federal Budget: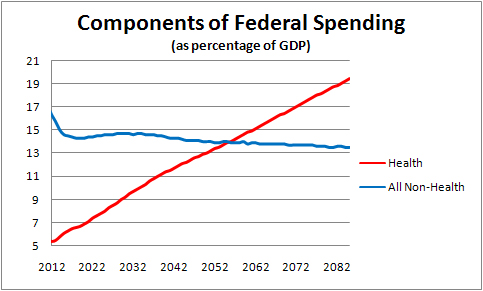 In other words, unless we bring health care costs under control, they will at some point overwhelm the economy to the point where we'll be able to afford almost nothing else, unless we start denying care. As Austin Frakt notes, however, there's absolutely no historical evidence that "bending the health care cost curve" is going to happen. In support of that hypothesis, Frakt provides this chart, which tracks health care costs as a function of GDP going all the way back to 1935: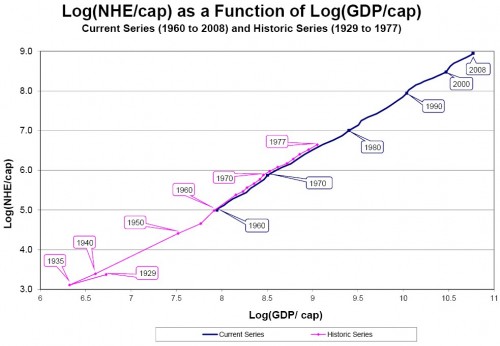 Frakt comments:
If, by action of politicians or the market, the health care spending curve is not bent, one might argue that this reflects our collective desire, our revealed preference. The history of health care spending in the US is consistent with the hypothesis that we view health care as a luxury good, one on which we spend more of our wealth as that wealth grows….The great question [this chart] suggests to me is that if health is a luxury good, why should we expect the health spending trajectory to change?
If we continue on our current path, with true cost of health care being eternally shielded from the consumers of health care thanks to third-party insurance, most of which is paid for by employers, I'm not sure that we can without either serious declines in the quality of care, or rationing, neither of which anyone seems to want. I noted back in June that the core of the cost problem in health care can be found in the fact that the people who consume it have no incentive to even be aware of its costs:
[We are at] the point where now just 12% of health care costs are paid directly by consumers:

When consumers are insulated from the cost of a good or service, they aren't going to take the price of that good or service into account when deciding whether or not to purchase it, which means that the normal supply-demand price mechanism isn't going to work. In the long run, this means prices will go up. Of course, it's true that health care itself is a good that isn't necessarily subject to the same market prices as, say, groceries. We all want to live forever, and when we're sick we want to feel better. Nonetheless, when someone else is paying the bill and, as the chart above shows right now someone else (the government and private insurance) is paying 88% of the bill on average, consumers have every incentive to use as much health care as they can.
How we get that number turned around is a tough question, admittedly, and there will be some situations where the attitude will be "cost is no object" when it comes to health care. However, if the CMS report on the Affordable Care Act tells us anything, it's that more government involvement and further displacement of market forces from the health care marketplace isn't going to do much of anything to bring costs under control. So, introducing market forces into the question strikes me as a pretty good idea.