Sudan Update
The government in northern Sudan is engaging in military attacks against the people of Southern Kordofan.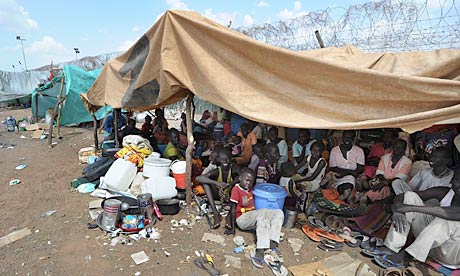 The military of northern Sudan has launched attacks against southern Sudan:
Clashes in south Sudan have killed almost 100 people in separate cattle raids and rebel attacks in the past week, as the soon-to-be independent state struggles to contain bloody violence.

The northern military has launched air strikes against groups that are aligned to the country's south, which is due to become independent next month.

In Warrap state, 29 people were killed after an attack on Monday by rebels led by Peter Gadet, a former southern general turned militia commander.

"These people were killed in an attack by those rebels of Gadet, coming from Unity state, and the dead included two police officers," said Philip Aguer, a southern army spokesman.

Meanwhile separate battles between heavily armed cattle raiders last week have left at least 71 people dead in Lakes state, local officials said.

The UN refugee agency has also accused Sudanese authorities of blocking humanitarian aid to thousands of people displaced by the fighting in the South Kordofan region.
President Obama has condemned the actions by the north:
Mr Obama said it was clear that military might would not solve the current crisis that has left at least 65 people dead, and called on both sides to honour their pledges or the US might reconsider its promise to remove Sudan from its list of states sponsoring terrorism.

His warning came as talk of a ceasefire deal at the African Union summit in Ethiopia gave way to further reports of bombings by the northern Sudanese Armed Forces in the north's main oil state which borders south Sudan.

The United Nations Mission in Sudan said northern jet fighters dropped 11 bombs around Kauda, in the Nuba Mountains, on Tuesday morning and was causing "huge suffering" to the civilian population. There were further clashes in the border territory of Abyei on Wednesday.

"The leaders of Sudan and South Sudan must live up to their responsibilities," Mr Obama said. "The government of Sudan must prevent a further escalation of this crisis by ceasing its military actions immediately, including aerial bombardments, forced displacements and campaigns of intimidation.
In my last post some time ago on Sudan I questioned whether a plebiscite in favor of independence on the part of the people in the south would be enough to protect them from the Sudanese government in the north. Unfortunately, it hasn't.
Above: people fleeing the bombing sit under a makeshift tent