Tammy Smith: America's First Openly Gay General
Tammy Smith has been promoted to brigadier general, thus becoming the first American general officer who also happens to be openly gay.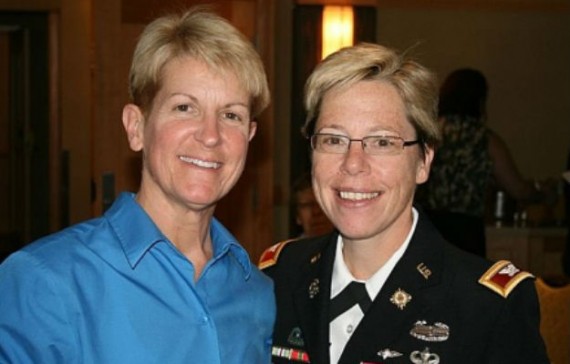 Tammy Smith has been promoted to brigadier general, thus becoming the first American general officer who also happens to be openly gay.
Stars and Stripes ("Smith becomes first gay general officer to serve openly"):
Army reserve officer Tammy Smith calls her recent promotion to brigadier general exciting and humbling, saying it gives her a chance to be a leader in advancing Army values and excellence.

What she glosses over is that along with the promotion she is also publicly acknowledging her sexuality for the first time, making her the first general officer to come out as gay while still serving. It comes less than a year after the end of the controversial "don't ask, don't tell" law.

"All of those facts are irrelevant," she said. "I don't think I need to be focused on that. What is relevant is upholding Army values and the responsibility this carries."

But Smith's pinning ceremony on Friday marks an important milestone for gay rights advocates, giving the movement its most senior public military figure. She has already been assigned as deputy chief at the Office of the Chief at the Army Reserve, and spent much of 2011 serving in Afghanistan.

Stars and Stripes interviewed Smith last summer before the "don't ask, don't tell" repeal was finalized. Speaking under a pseudonym, she said she had no plans to come out to her colleagues, but was looking forward to the relief of knowing that her career wouldn't be threatened if she was found out.

"Finally my partner and I will be able to go out and have drinks together without worrying," she said then.

A year later, Smith, 49, said she is still more focused on the work ahead than the significance of her personal life. But her wife, Tracey Hepner, said the last year has been a dramatic transformation for both of them.

"The support we've received has been amazing," she said. "I wasn't surprised that people were so accepting, but in some cases it has been even celebratory. It's like nothing has really changed for us, and yet everything has changed."

Smith's wife is much more of an activist than she is. Hepner co-founded the Military Partners and Families Coalition, a key voice in the debate over benefits and military programs for same-sex partners.

Friday's private promotion ceremony for Smith wasn't the first that Hepner has attended, but it was the first where the pair didn't have to hide any details of their relationship. The pair have been together for more than a decade.
Tom Ricks observes, "It is an interesting moment, in part because it is so uncontroversial."
While I think Ricks is right, a couple of caveats are in order. First, this just happened today. And most of the news reports thus far are in the gay press and niche outlets. The sole exception is the right-wing Washington Times, which thus far has only a very short clip on the matter presented without commentary. Second, being a lesbian in the military simply hasn't come with the same stigma as being a gay man. When one of the latter comes out—and it'll happen sooner rather than later—we'll really know how much the culture has evolved.
via Blake Hounshell