Taxes and Incentives
Greg Mankiw argues that, the more of his money the government takes, the less incentive he has to earn more. That's debatable.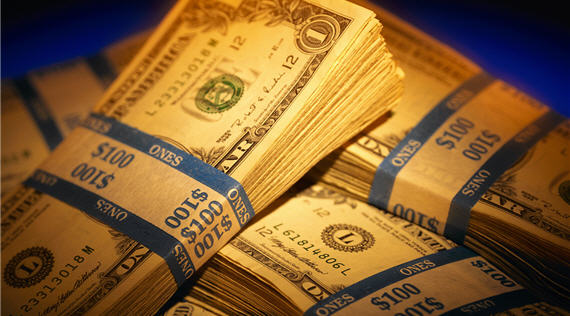 In a NYT op-ed titled "I Can Afford Higher Taxes. But They'll Make Me Work Less," Harvard's Greg Mankiw explains that, while he makes enough money and lives a sufficiently modest lifestyle that he wouldn't miss the money from a modest hike in the top marginal rate, he'd stop doing a lot of the productive work he now does.
Suppose that some editor offered me $1,000 to write an article. If there were no taxes of any kind, this $1,000 of income would translate into $1,000 in extra saving. If I invested it in the stock of a company that earned, say, 8 percent a year on its capital, then 30 years from now, when I pass on, my children would inherit about $10,000. That is simply the miracle of compounding.

Now let's put taxes into the calculus. First, assuming that the Bush tax cuts expire, I would pay 39.6 percent in federal income taxes on that extra income. Beyond that, the phaseout of deductions adds 1.2 percentage points to my effective marginal tax rate. I also pay Medicare tax, which the recent health care bill is raising to 3.8 percent, starting in 2013. And in Massachusetts, I pay 5.3 percent in state income taxes, part of which I get back as a federal deduction. Putting all those taxes together, that $1,000 of pretax income becomes only $523 of saving.

And that saving no longer earns 8 percent. First, the corporation in which I have invested pays a 35 percent corporate tax on its earnings. So I get only 5.2 percent in dividends and capital gains. Then, on that income, I pay taxes at the federal and state level. As a result, I earn about 4 percent after taxes, and the $523 in saving grows to $1,700 after 30 years.

Then, when my children inherit the money, the estate tax will kick in. The marginal estate tax rate is scheduled to go as high as 55 percent next year, but Congress may reduce it a bit. Most likely, when that $1,700 enters my estate, my kids will get, at most, $1,000 of it.

HERE'S the bottom line: Without any taxes, accepting that editor's assignment would have yielded my children an extra $10,000. With taxes, it yields only $1,000. In effect, once the entire tax system is taken into account, my family's marginal tax rate is about 90 percent. Is it any wonder that I turn down most of the money-making opportunities I am offered?

By contrast, without the tax increases advocated by the Obama administration, the numbers would look quite different. I would face a lower income tax rate, a lower Medicare tax rate, and no deduction phaseout or estate tax. Taking that writing assignment would yield my kids about $2,000. I would have twice the incentive to keep working.
Kevin Drum argues, rightly I think, that this isn't very compelling.
Do you see the card he palmed? Basically, the effect of letting the Bush cuts expire is so tiny that the only way to make it noticeable is to compound it over 30 years, which reduces the eventual payout of his writing assignment from $2,000 to $1,700. (And even that's probably overstated, since it assumes Mankiw pays all his taxes at their full statutory rate, which virtually no one does.) The rest of the reduction down to $1,000 comes solely from the estate tax. But even on the heroic assumption that you should take this year's zero rate as the baseline for comparison, the estate tax has an exemption of several million dollars. Unless Mankiw leaves his kids a helluva lot more than they need for a down payment on a house, they won't pay a dime of estate tax.
It's actually much worse than that.   First, even if the Bush tax cuts don't expire, Mankiw will still pay 35% on the new income, not 0%.   The difference is between getting to invest $650 and $604.   That's not nothing, by any means, but it's not as stark as assuming $1000.   Second, he's calculating in a myriad of other policies that aren't really on the table.
Moreover, most of us aren't like Mankiw.   Despite his enormous success, he's still been in the same house since 1987, doesn't own a vacation home and has no desire for the trappings of a wealthy lifestyle.   That's not normal!   Most of us find a way to spend more money as our income increases.    If government takes a somewhat larger chunk of what we have, it arguably incentivizes us to work even harder since we now need to gross more to net the same.   Now, that's probably not true at confiscatory rates.   If the marginal dollar was being taxed at 91% — as it was from 1951 to 1963 — or even 70% — as it was from 1965 to 1980 — then it may well not be worth the effort.   But the difference between the current 35% and the 39.6%  we experienced from 1993 to 2000 wouldn't keep me on the sidelines.
Now, I happen to prefer that Mankiw get to keep as much of the money that comes from the fruit of his labor as possible.   And that goes double for Joyner!
But, the fact remains that the United States federal and state governments perform some necessary and useful functions that have to be financed somehow.     I don't think the fact that he "can afford it" is a reason to penalize Mankiw.   But, even if we had a flat tax in place on income at both the state and federal levels and got rid of capital gains and estate taxes altogether, the fact of negative incentives would remain.    Money beyond that level to maintain Mankiw's desired lifestyle would be discounted by the fact that government is going to get a large cut.