Taxes, Individual Effort, and the Social Contract.
Do those who succeed in our economy benefit unequally from the benefits of government?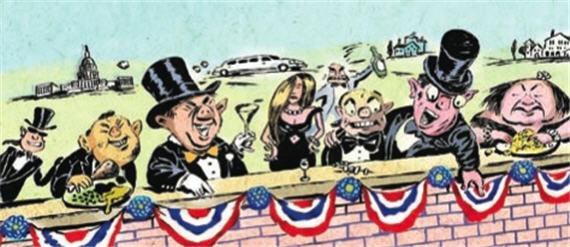 Berkeley public policy professor Michael O'Hare takes on the most extreme form of the libertarian argument against high taxes, "I earned my money by my own efforts and when the government takes it from me it's theft."
Short version of the first lesson: what's yours is what's left after you pay for what you use up, which means after taxes.  Shorter version: don't like government? Try Somalia (and  let us know how that works out for you). Short version of the second: just how do you propose to privately pay everyone to mean the same weight when they sell you a "pound" of something? Do you really want to buy a set of the satellites that make your GPS work by yourself? or in a little satellite club with dues and monthly meetings?
This unnecessarily complicates things, I think.
First, aside from the odd anarchist here and there, nobody's arguing that we shouldn't pay some taxes.  The debate is over how high they should be, who should pay them, on what they should be charged, whether and the degree to which they should be progressive, and so forth.
Second, few of us really think taxation is theft, exactly. But they're extracted coercively.   And politicians have powerful incentives to use the tax power mischievously, buying votes with other people's money, and to distribute the burdens most heavily on those without enough voting power to punish them come election time.   So, it's not exactly a textbook social contract.
Third, all of us would prefer to live in an ordered society rather than a lawless wasteland like Somalia.   Rejecting the Somalia model is not therefore acceptance of limitless taxation.    We can accept that it makes sense to buy GPS satellites with our tax money and yet decide that people who want navigation systems in their cars will have to buy them with private funds, for example.  And we can decide to divide up the costs 310 million ways, impose it mostly on those who use the service, or have those who can most afford it pay.
Meet Anita the small manufacturer, with gross revenues of $10,000,000, and let's accept that this properly measures the value of her product in everyone's eyes, and compared to everything else. I have never heard such a person claim that this is all her money and she deserves to keep it all; instead she happily lets her employees, landlord, banker, and suppliers confiscate most of it, leaving her only (say) a lousy 10%, or $1,000,000. She may grouse about the prices they charge and wish she could pay less, but she doesn't call it theft of what is rightfully hers.

Why does she let them get away with this? Because she's making deals, agreed in advance, and more important, because these $9m worth of goods and services are completely indispensable to the $10m gross value her business creates. We don't expect the trapeze catcher to call the flyer a thief when he takes half the gate: they're partners, joint contributors to the enterprise. Just like Anita and her team. How they divide the gross varies, but everyone gets a share or the whole thing collapses in ruins. The iron law here is, "you pay for what you use up": "I [not we] earned it" applies at most to net profits, not all the money you take in.

But I didn't mention some other partners in the enterprise, who contribute essential factors of production. Among these are the folks who built the road on which parts come in and goods go out, who patrol it so Anita's shipments are safe, who run the courts that make her contracts worth signing and save her the great expense of a private army of Pinkertons and thugs, and on and on right up to the bureau of weights and measures that make it possible for parts to fit together because everyone knows what an inch is. What these have in common is the property of market failure, which despite libertarian determination to pretend such a thing cannot exist, is a completely non-ideological, non-negotiable, technical property of certain goods, including many very good goods. They all have a real economic cost: making them uses up resources (asphalt, labor, copier toner) that are then not available for something else.
The "Anita the small manufacturer" analogy falls on a number of levels.   Yes, she's entering into agreements with suppliers and employees to compensate them for their inputs into her business.  And we tangentially do the same thing with government.   But Anita doesn't allow failed competitors to vote themselves some of her money on account of they don't think it's fair she has so much.   Nor, in most instances, can employees and suppliers raise their prices and give Anita no recourse for substitution.    And there's only an incredibly loose sense, indeed, that all of us living in the country are engaged in a joint enterprise and therefore somehow entitled to a cut of the gate.
Leaving that aside, the implicit argument seems to be that those who earn more "use up" more of the public's resources and should therefore have to pay more.   This is the argument for progressive taxation that I find cleanest and most compelling.   But it's not obviously true.
Presumably, the wealthy benefit more from, say, police and fire departments than the poor, on account of  having more assets to protect.   And they benefit more from pothole-free roads, too, since they tend to drive better cars.   But, since nobody's advocating a return to a head tax, even a flat rate of taxation would roughly account for this. (There's the problem of inherited wealth, which isn't taxed as income, but we also tax consumption.)
In the case of Anita, she presumably using up quite a few resources in running her business.   But she's paying for most of them.  If, for example, she's using trucking to move her products, the fuel taxes and fees paid to operate those vehicles are built into her cost.   (If we're severely undertaxing the trucking industry, we should obviously correct that.   But that's not a case of Anita using up more than her fair share but of a subsidy to trucking.)
Further, there are people who make good incomes who have office jobs and consume roughly the same amount of public goods as their less successful cohorts. Entertainer Ben Stein and law professor Todd Henderson, both of whom have taken some heat for complaining about high taxes, fall into this category.    Henderson's case is easiest:  He's not obviously using up more public resources than a high school teacher.  Indeed, probably less since he's sending his kids to private schools.
Implicit in O'Hare's post is the idea that we're pooling our resources to create an environment conducive to commerce and prosperity and that, while there's a large amount of one's own effort that goes into deciding who gets rich and who doesn't, it would be impossible to get rich — much less stay rich — absent that initial investment.   And, therefore, it's reasonable to ask those who do prosper to pay more.     That's a reasonable enough position, although not one that justifies the notion that society owns everything we earn and therefore gets to decide what we keep.   And it certainly doesn't justify the notion, which I've been seeing a lot over the last couple of weeks, that those who have been successful should just shut up and be grateful that they're allowed to keep anything.