Tea Party Speaker: Grover Norquist Is A Secret Muslim Because He Has A Beard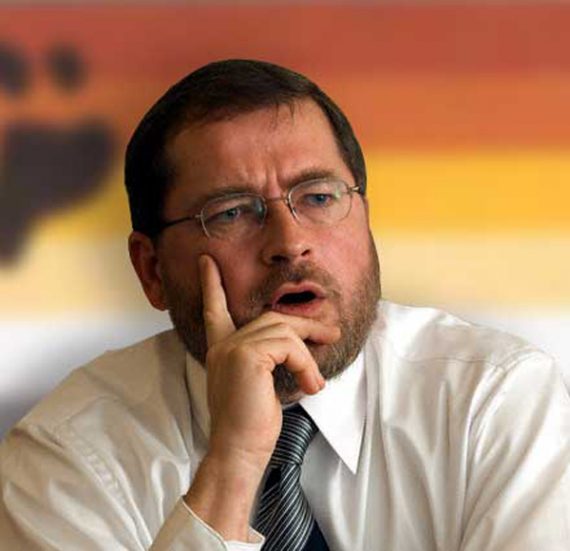 Ladies and gentleman, a little insanity to close out your week:
Cathie Adams, president of the Texas Eagle Forum and former chairman of the Republican Party of Texas, made questionable remarks about anti-tax activist Grover Norquist during a recent speech on "Radical Islam and the Muslim Brotherhood."

In a video posted by the Far North Dallas Tea Party and reported on by Right Wing Watch, Adams can be heard saying Norquist is "showing signs of converting to Islam himself," citing his beard as evidence.

"Many of us know him because often times we like what he says about economic issues, but Grover Norquist is trouble with a capital T," Adams says in the video. "As you see he has a beard, and he's showing signs of converting to Islam himself."

Adams brought Norquist's wife — Samah Alrayyes, a Palestinian Muslim – into her argument.

"He's married to a Muslim woman, but he denies that he has converted himself. He denies that," Adams says.

Norquist has been the subject of anti-Muslim attacks before. Frank Gaffney, the head of the Center for Security Policy, has accused Norquist of "credentialing the perpetrators of this Muslim Brotherhood influence operation" in the past.
Perhaps she's on to something. Other likely Muslims of note include former President Abraham Lincoln, former President and victorious Union General Ulysses S. Grant, former President James Garfield, former President Benjamin Harrison,  Chuck Norris, the actor who played "Al" on Home Improvement, that guy on the packages of Brawny paper towels, and every single Hassidic Jew in the world.
(Incidentally, this has inspired me to create a new Tag category called "Headdesk Of The Day." I suspect it will be quite active.)