Tea Party Supporters Rallying Behind Rick Perry,
Rick Perry's rise in the polls can be traced to factors that threaten both Mitt Romney and Michele Bachmann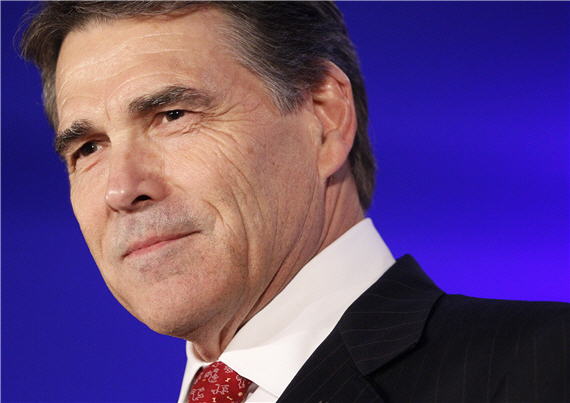 One of the reasons for Rick Perry's surprisingly fast rise in the polls, both nationally and in states like Iowa, is the fact that Tea Party supporters seems to be gravitating toward his campaign rather substantially:
Rick Perry's candidacy has attracted strong initial support from Republicans who identify themselves as supporters of the Tea Party movement. Perry leads by 21 percentage points over the closest contenders among this group, Mitt Romney and Michele Bachmann. Among Republicans who say they do not support the Tea Party movement, Romney and Perry are essentially tied.

The poll finds that 58% of Republicans and Republican-leaning independents identify themselves as supporters of the Tea Party movement, with 36% saying they do not consider themselves supporters. Included among the group of Tea Party supporters is a smaller group — representing 12% of Republicans — who say they are "strong" supporters of the movement. Among this smaller group, Perry's lead is even greater, 46% to 16%, over Bachmann, with all other candidates in single digits.

In Gallup's July measurement of Republicans' nomination preferences, before Perry officially entered the race, Romney held a slight edge over Bachmann among Tea Party supporters, 29% to 23%. Romney led Paul by 25% to 16% among nonsupporters.
Here's the chart: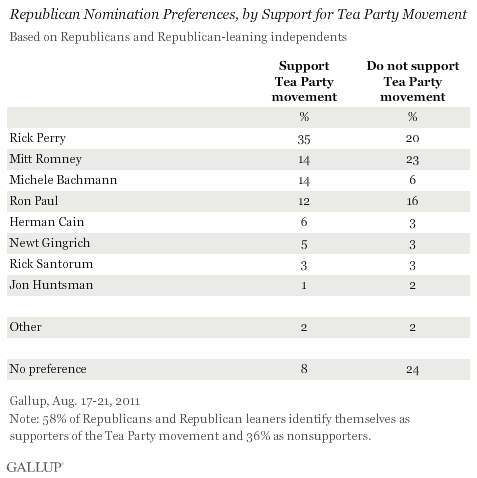 Perhaps most interesting, though, is the fact that Perry is gaining ground not only with voters who place the traditional Tea Party issues at the top of their priority list, he's also gaining ground among the economy/business voters that Romney has basically had to himself for most of the year:
Given a choice of four sets of issues, Republicans are most likely to say business and economy (38%) and government power and spending (36%) are the most important to them. Fewer Republicans rank social issues and moral values (15%) and national security and foreign policy (9%) as their top issues.

Perry, not surprisingly given his lead among Tea Party supporters, is the preferred candidate among Republicans who identify "government spending and power" as the set of issues most important to them. Perry is the top choice of 31% of these Republicans, with Romney (17%), Paul (13%), and Bachmann (12%) vying for second place.

But Perry also has a slight edge over Romney, 25% to 19%, among Republicans who say business and the economy is their top issue. Romney, a wealthy businessman, has argued his business credentials make him better suited to solve the economic problems facing the country than candidates who lack significant private-sector experience.
This is troublesome news for Romney, who has based much of his campaign to date on projecting himself as the candidate with business experience who can do something about the economy. It worked for a long time largely because there wasn't anyone in the race who could come close to challenging him on government and business experience, and because most of the people who came close (Cain, Bachmann, etc) have problems of their own that made any serious challenge to Romney difficult. Perry suffers from none of those problems. With ten years as Governor of one of the fastest growing states in the Union, he has more executive experience than anyone else in the race. Combine that with his appeal to the Tea Party, and you've got a formidable challenger to Romney who, after all, actually only spent four years as Governor of Massachusetts.
Charles Krauthammer discussed the Perry v. Romney dynamic last night on Fox News Channel, and argued that Perry's campaign is revealing Romney's entire campaign to have been a paper tiger:
It's not just Romney who should be worried, though. As Allahpundit points out, the rise of Rick Perry is very bad news for Michele Bachmann:
These are national numbers, but if the tea-party spread here looks the same in Iowa, Bachmann is finished. I'm shocked that she can't do better than tie Romney among her own ostensible core constituency, and among non-tea-partiers, she clocks in at just six percent. If she comes in second in Iowa, she might as well drop out.
In that regard, David Weigel compares polling from New Hampshire and Iowa before and after the Ames Straw Poll, and finds that Bachmann has remained essentially stagnant while Perry has surged forward. What this suggests is that while Bachmann, like Palin, has a core group of supporters who will rally around her, the broader universe of Tea Party supporters and social conservatives were only backing her because she was the person challenging Romney. Now that Perry, who has more experience and less of a proclivity for making bizarre statements, is in the race they are willing to leave Bachmann behind and back a horse that actually has a chance of winning. If that continues, then Bachmann is likely to fade into irrelevance the same way that Herman Cain did.