Teachers Unions vs. Education
DC schools superintendent Michelle Rhee has radically transformed the system for the better. Naturally, the teachers unions want her gone.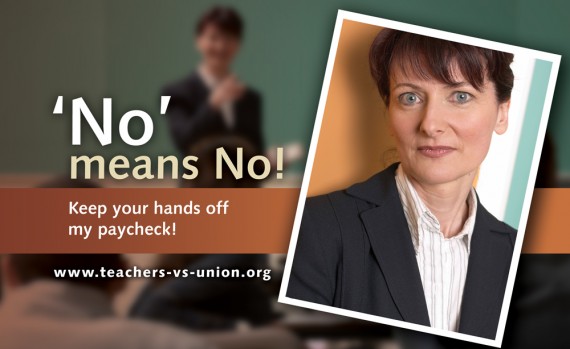 Ben Smith's report, "Teachers union helped unseat Fenty," reminds me how tangential the education of our children is to the aims of teachers unions.
The American Federation of Teachers spent heavily to unseat Washington, D.C. Mayor Adrian Fenty and to put the breaks on his aggressive efforts to shake up the city's schools system.

The national union spent roughly $1 million in contributions to a labor-backed independent expenditure campaign — also supported by the public workers union AFSCME — and on its own extensive political operation, a Democratic political consultant familiar with the details of the spending told POLITICO. The spending suggests that the vote — while not a referendum on Fenty's attempt to shake up the school system — was deeply shaped by that policy. And while the teachers union has been careful not to claim the scalps of Fenty and his schools chancellor, Michelle Rhee, the election may serve as a political shot across the bows of other urban officials considering similar policies.

The union's president, Randi Weingarten, sought to downplay its role in the election, and denied that the union had targeted Rhee. "For our members in Washington, it was what it was for other Washingtonians – about jobs, about the economy, about the city," said Weingarten. "This was not a proxy vote on Michelle Rhee."

Weingarten declined to comment on whether Rhee, who has clashed bitterly with the union, should be retained. "I learned a long time ago that you are very very careful about advice that you give to potential and to new mayors," she said. But she indicated that she prefers a different style. "Collaboration is the right way to do reform," Weingarten said. "That's who Vincent Gray is, that's why our members supported him."

But there appears to be no love lost between the union leader and the schools chief, who coincidentally spent Wednesday night together on a panel after a screening of the documentary "Waiting for Superman," of which Rhee is a hero.
Rhee's tenure has been legendary.   TNR's Seyward Darby ("What Will Happen to D.C. Schools If Michelle Rhee Leaves?"):
She's closed down underperforming schools, revitalized special education, revamped teacher evaluations, pushed for performance pay, fired educators who aren't up to snuff, supported the expansion of charter schools, garnered large sums of private donor money, and seen students' test scores rise. She's also drawn a national spotlight to D.C.'s long struggle with education and become a leading figure in the broader school reform movement, which counts President Obama among its supporters.

Some of the groundwork Rhee has laid is here to stay—for instance, the 2010 teachers' union contract (at least, until it comes up again for renegotiation or side-agreement discussions) and the push to improve school facilities. If Rhee were to go, however, some D.C. education observers say schools and the city would suffer. "Anyone you talk to in the country about urban school reform will tell you that it takes at least five to ten years," says Kevin Carey, policy director for Education Sector, a Washington think tank. If Rhee's tenure is cut short at just over three years, it could diminish the energy Washington has invested in fixing its schools—and which recently led to it being named by the Fordham Institute as the second-most reform-friendly city in the country (just after New Orleans). "The sense of urgency won't be sustained," says Sara Mead, a senior associate partner with Bellwether Education Partners and member of the District of Columbia Public Charter School Board.

On the most basic level, if Rhee goes, some of her top staff, who came to D.C. to work with her and have been critical in reorganizing the city's sclerotic education bureaucracy, could go, too. Similarly, teachers and especially principals who've come to Washington to be a part of Rhee's reform charge could leave—and ones who were thinking of coming to the city might change their minds.

The fate of the city's IMPACT teacher evaluation system, which Rhee installed and recently began using to make staffing decisions after years of fierce contract negotiations with the WTU, could also hang in the balance. Gray hasn't said definitively what he thinks about IMPACT, except that he wants to conduct an investigation of the system. (In fact, he's offered relatively few specifics on education.) But Gray's union backers have repeatedly challenged IMPACT. And, while the system could perhaps be improved, Gray could go farther, choosing to mollify the WTU by not using the resulting data to fire bad teachers—thereby undoing a major change Rhee made to the way D.C. regulates teacher quality. "An evaluation system is only as good as the will of the people who are using it," Carey says, pointing out that numerous urban districts across the country have evaluations but rarely use them to dismiss anyone.

Performance pay, which teachers can soon receive based on their IMPACT scores, could also be on the chopping block. Private foundations have pledged money to help finance big bonuses for D.C.'s best teachers, but they've made their donations contingent on Michelle Rhee being chancellor. More generally, too, philanthropies that have chosen to give to D.C. schools because they like Rhee's reforms could withhold further support—especially in tough economic times when there is only so much to give.

Then there are charter schools. The Fordham Institute recently gave the city an "A" grade for its charter environment, which Rhee has supported developing. For his part, Gray has reached out to the charter community for support and promised equitable funding for its schools. But Mead says that, in her experience on the city's charter board, which authorizes schools and monitors their quality, she's seen Gray hint that he'd like to more tightly regulate charters. "We have a law that gives a tremendous amount of autonomy to the schools but enables them to implement programs that can be effective. If you try to put more regulation on that, if can dissuade people from opening certain types of schools," Mead says. On the flip side, though, Kevin Carey says that, if reform efforts in public schools diminish significantly without Rhee, there could be an exodus of students to charters that would leave regular schools more or less defunct.
So, why do the unions hate Rhee, who's widely credited with radically transforming the system for the better in three short years?   Actually, the question answers itself.    She's been given extraordinary leeway to do her job and has upset a lot of apple carts.
Darby notes that, "Rhee's warrior-like approach to her job has caused some problems—and not just with the slow-to-change WTU. Some D.C. residents, particularly in the city's poor, high-minority areas, feel alienated by her tough persona, just like they feel alienated by Adrian Fenty's distant one."
There's the natural human reaction against high-handed leadership, of which Rhee has doubtless been guilty.   Despite her relative youth, she's had success in previous stops and is extremely confident that she's right and everyone in her way is an idiot.   So, she hasn't helped her cause.
Especially since  the nature of the reforms Rhee has enacted go against the grain of the teacher's unions, who want rapid tenure, zero accountability, and the ability to blame anyone but teachers for failure.
Standardized evaluation systems?   But what about tenure?  Teachers should have guaranteed employment for life after putting in three years of service.   Indeed, they prefer not to measure success through outside testing and evaluation at all.
Performance pay?  That upsets the  seniority system.  The unions want teachers to be paid based on years of service, with bonuses for attaining advanced credentials that have little to do with success in the classroom.