Ted Cruz's Victory Last Night Was Bad News For Rick Perry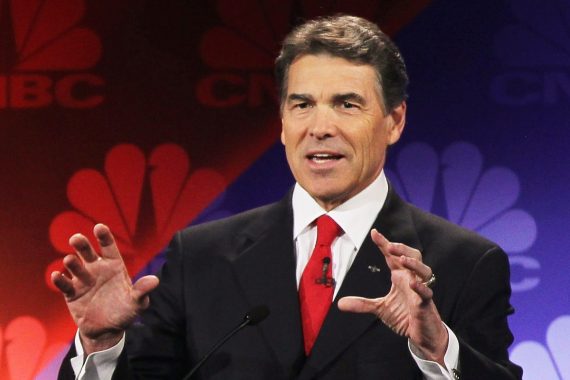 Public Policy Polling's Tom Jensen contends that, in addition to David Dewhurst, Governor Rick Perry had a very bad night last night:
David Dewhurst is obviously the biggest loser in the Texas Senate election tonight. When we first polled a hypothetical runoff match up between him and Ted Cruz the week before the primary, he led59-34. In just over two months he managed to turn that into a pretty substantial defeat.

There's another big loser tonight though and it has major implications for Texas politics looking toward 2014: Rick Perry.

Our final pre-election poll on this race found that two times more Texas Republicans considered an endorsement from Rick Perry to be a negative than a positive. 35% said they were less likely to vote for a candidate endorsed by Perry, 15% said they were more likely to, and 50% said they didn't care either way. Dewhurst's choice to spotlight his support from Perry so heavily is curious against the backdrop of those numbers.

The result tonight provides real world evidence of something that we've been finding in our polling for a while now: that Perry's standing has been significantly diminished in Texas after his failed White House bid and that he could be in serious trouble if he tries for another term in 2014.
Texas  is one of the states left that doesn't term limit its Governor so Perry could theoretically run for a third term and end up serving 18 years in the State House since he took over from George W. Bush in December 2000. But, as Jensen notes, his negatives in the state are pretty high right now:
-Only 39% of Texas voters approve of the job Perry is doing to 53% who disapprove.

-Just 29% of voters think Perry should seek another term in 2014 to 64% who think he should not.

-He could find himself in trouble even in a primary election. In a hypothetical contest with Attorney General Greg Abbott, Perry leads only 50-34. Those are considerably weaker numbers than Dewhurst started out with.
2014 is still two years away, of course, and these poll numbers likely reflect the dip in approval that Perry experienced in Texas after he returned to Austin at the end of his Presidential campaign. Additionally, Perry has not committed to running for re-election although most observers seem to expect that he will do it. Nonetheless, this isn't a very good development for Perry and the selection of his hand-picked Senate nominee is a sharp rebuke in a state where he crushed Kay Bailey Hutchinson in a primary and then won the General Election by 600,000 votes only two years ago.