Ted Cruz Wins Texas GOP Senate Runoff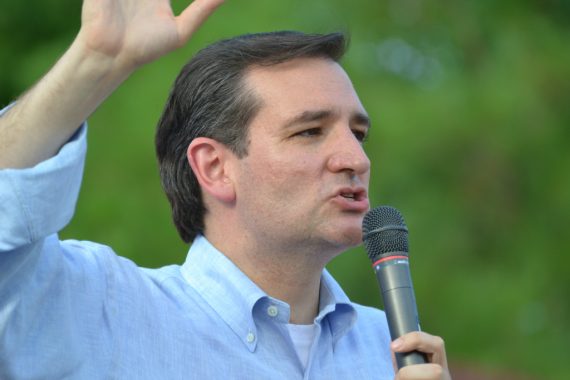 As expected, Tea Party backed insurgent candidate Ted Cruz has defeated Texas Lt. Governor Ted Dewhurst to win the Republican nomination to replace Kay Bailey Hutchinson in the United States Senate:
Former state solicitor general Ted Cruz, a tea party-aligned conservative once regarded as a long-shot candidate, has won the Republican runoff in Texas, where he will be the GOP nominee for the U.S. Senate in the November election. The Associated Press has called the race for Cruz over Lt. Gov. David Dewhurst. Cruz will be a heavy favorite over Democratic nominee Paul Sadler, who also won a runoff on Tuesday.

Cruz, an emerging conservative star whose father emigrated to the United States from Cuba, has drawn comparisons to Sen. Marco Rubio (R-Fla.) and has been lauded by national conservative political pundits and groups for over a year. His victory is a major blow to the Republican establishment in Texas, which lined up squarely behind Dewhurst. It's also a victory for the tea party and national conservatives who lined up behind Cruz even when a surprise win appeared unlikely.

Cruz's win is a remarkable political feat and arguably the Senate upset of the cycle. In early 2011, when Sen. Kay Bailey Hutchison announced her intention to retire, observers regarded Dewhurst as a virtual shoo-in to take her place in the upper chamber. Dewhurst is very well-known in Texas, enjoys immense personal wealth, and enlisted the help of Gov. Rick Perry's top political hands. Perry endorsed Dewhurst during the campaign.

But in a multiple-candidate primary election that also included former Dallas mayor Tom Leppert on May 29, Dewhurst was unable to cross the crucial 50 percent threshold, managing just 45 percent of the vote to Cruz's 34 percent.

Once the two-month overtime period was triggered, Cruz seized on new momentum. He outraised Dewhurst 3-1 in the first third of July and brought in an impressive cast of national conservative stars to stump with him during the closing weekend of the campaign. Sarah Palin and Sen. Jim DeMint (R-S.C.), who both endorsed Cruz's candidacy, campaigned for him Friday in the Houston area.
I didn't follow this race all too closely until the last several weeks, but it seems pretty clear to me what happened here. This wasn't a Tea Party v. "moderate Republican" battle, for one thing. Dewhurst is pretty much nearly as conservative as Cruz on the issues that I would think would matter to conservatives and Tea Party activists. The primary difference, I think, is that Dewhursrt was representing the political establishment while Cruz, although he had served in state government in the past was the outsider. That, combined with the anti-establishment meme that still remains strong withing Tea Party ranks was likely a huge benefit for Cruz. The interesting question for the future of Texas politics is what it means that the guy who has been Governor for ten years endorsed lost this race means for the future of the Texas GOP.
As I said earlier this week, and absent some really massive mistakes on the part of Cruz's campaign in the General Election, it seems fairly clear that the next Senator from Texas will be Ted Cruz. Where he goes from there is an entirely different question.