Texas Abortion Bill Back Before The Legislature, And It Will Pass This Time
The Texas Legislature is putting up its controversial abortion bill again, but don't expect things do end the way they did last week.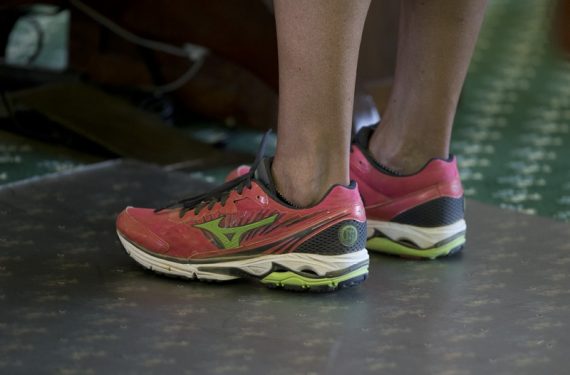 Less than a week ago, Texas State Senator Wendy Davis won national attention, including invitations to several of the Sunday morning news shows yesterday, for engaging in a 13-hour long filibuster that ended up successfully blocking the passage of a bill that would have banned most abortions after the 20th week of pregnancy.  Considering the overwhelming majorities that Republicans have in both Chambers of the Texas Legislature, it was a classic David v. Goliath story that was sure to garner the national attention that it did. Now, though, the Texas Legislature is already back in session after being summoned by Governor Perry for the specific purpose of taking up once again the very bill that Davis had successfully blocked only days before:
AUSTIN, Texas (AP) — Thousands of demonstrators descended on the Texas Capitol Monday, the majority expressing their opposition to new abortion restrictions that a Democratic filibuster and raucous protests derailed last week.

Lawmakers convened a new special legislative session aimed at reviving the bill that would limit where, when and how women may obtain abortions in the state. Supporters say it will protect women's health and fetuses, while opponents say it is designed to shutter the state's abortion clinics.

More than 5,000 demonstrators gathered at noon to oppose the new abortion restrictions as television stars and Natalie Maines of the Dixie Chicks rallied the cheering crowd.

State Sen. Wendy Davis, the Forth Democrat whose filibuster in the last session helped catapult her into the national spotlight, told the crowd that their support helped her maintain the effort.

"You were at the crux of a turning point in Texas history," Davis said.

The rally on the Capitol's south steps was the largest seen in Austin for years.

Opponents wore orange T-shirts and prepared for a rally with national women's rights leaders. Supporters wore blue and recited the Lord's Prayer outside the Senate. The measure's supporters were scheduled to hold their own rally later Monday.

Horse-mounted state troopers and police from as far away as Houston watched. More than 100 state police, many carrying helmets and truncheons, staged inside the Capitol building and newly erected crowd control barriers funneled visitors away from the entrances to the House and Senate chambers.

The Legislature's Republican majority has vowed to pass wide-ranging abortion restrictions quickly and easily this time.

"The world has seen images of pro-abortion activists screaming, cheering," Republican Gov. Rick Perry said. "Going forward, we have to match their intensity but do it with grace and civility."

Lawmakers finished their regular session on May 27, but Perry called them back immediately for 30 more days to approve, among other things, the tight new limits on abortion.

On the first special session's last day, however, Davis of Fort Worth was on her feet for more than 12 hours — speaking most of that time — as Democrats used a filibuster to help kill the sweeping abortion bill.

As the midnight deadline loomed, Republicans used parliamentary technicalities to silence her, but hundreds of protesters in the public gallery and surrounding Capitol corridors cheered so loudly that senators on the floor weren't able to hear, and the bill died as the clock ran out.
As Sean Sullivan  notes, however, nobody should realistically expect things to turn out the same way this time around:
One major reason Republican plans to pass the measure — which would would ban abortions after 20 weeks and require doctors to have hospital admitting privileges, among other things — in the previous session were foiled: Time was not on the GOP's side. Gov. Rick Perry (R) added the abortion debate after the session was already underway. This time, he's established it as a priority from the outset.

"In the last session it was handled very poorly [by Republicans]," said Rice University political scientist Mark Jones. "There was a coordination problem across the board."

By the time the measure was on the verge of a vote last wee, Davis was able to stall it by launching a filibuster spanning more than 11 hours. She won't be working with a similar timetable this go-round.

"[Republicans] have given themselves the time to make mistakes and get it passed," said Matt Angle, a Texas Democratic strategist and longtime Davis supporter.

Davis's blockade quickly went viral online last week, and protesters flocked to the state Capitol to support her cause. In the end, they won a substantial — if temporary — victory, and Davis became a national figure in the larger debate over abortion.

But a byproduct of her effort was that Republicans quickly resolved to redouble their efforts to pass the bill. Perry has guaranteed it will become law, and the stakes couldn't be higher for Lt. Gov. David Dewhurst (R), who picked up yet another primary challenger last week. State Sen. Dan Patrick became the third Republican to enter the race against the incumbent, kicking off his bid with a jab at Dewhurst's handling of the abortion bill.

"If in some way Dewhurst doesn't get this legislation through, he won't even be able to to run for reelection," said Jones.

Republican majorities in the Texas legislature ensure the numbers are there for Dewhurst and Perry to pass the bill. The measure passed the state Senate by an almost 2-1 margin last week, but the tally was rendered inconsequential because it came too late.
In the last special session, the abortion bill was one of a number of pieces of legislation up for consideration in the thirty days that the legislature had to get its work done. Not only that, but its passage was put off until the very end of the session, which made it easy for Davis to use the State Senate's rules to block the bill successfully notwithstanding the GOP Leadership's last minute efforts to utilize parliamentary maneuvers to push the bill through. This time, the abortion bill is the only piece of legislation that the legislature will be considering, and they'll have thirty days in which to get it passed. The odds that Davis or anyone else will be able to engage in any tactics to stop the bill are fairly low. Indeed, Davis herself has already said that she will not attempt to filibuster the bill this time around,  largely because she knows that this will be an utterly pointless exercise. Instead, it appears that the session will be used by Texas Democrats as an organizing tool and an effort to bring the issue to the forefront of political debate in the Lone Star State. Of course, given that this is Texas, I'm not sure what good that's actually going to do. There's even talk in some Democratic circles of Davis running for Governor in 2014, where she'd face either Perry if he runs for re-election or, most likely, Dewhurst if he does not.  Of course, no reasonable observer of Texas politics believes that she'd actually have a chance of beating either one of them given the current electoral makeup of the Lone Star State.
Indeed, as Sarah Kliff notes, recent polling suggests that a narrow majority of Americans support banning abortions after 20 weeks except when maternal health is at risk: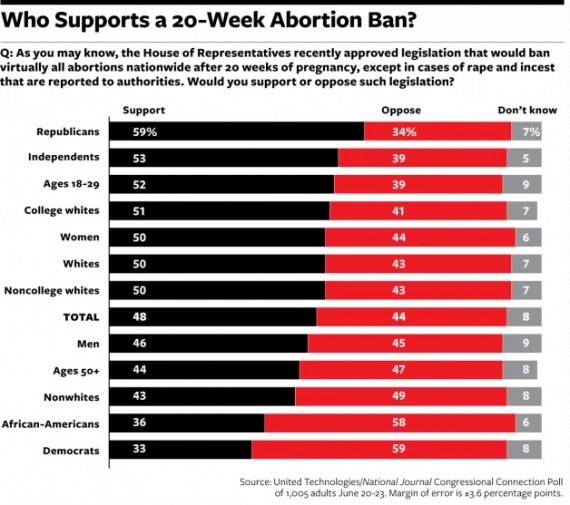 Kliff also notes that 12 other states have already enacted laws similar to the one under consideration in Texas, although three of those state laws are currently barred from being implemented due to a Court challenge. Other legal challenges have been less successful. So, in the end, you can expect this bill to pass the Special Session quite easily. Where it goes from there depends on the Judge(s) before whom any legal challenges ultimately end up. Wendy Davis made a name for herself with her epic filibuster but, in the end, she was really just temporarily delaying the inevitable.