Ted Nugent Said Something Stupid; I Apologize
Ted Nugent, whose music I really liked when I was in junior high school, said something vile and crazy.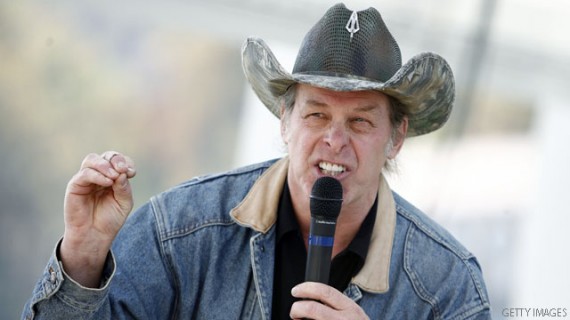 Ted Nugent, whose music I really liked when I was in junior high school, said something vile and crazy. So, according to newly established protocols, please accept my apologies.
HuffPo ("Ted Nugent Stands By Obama Remarks, Compares Himself To 'Black Jew At A Nazi-Klan Rally' ") brings us up to speed:
Ted Nugent stood by his controversial comments about President Barack Obama and Democrats made over the weekend,telling conservative radio host Dana Loeschon Tuesday that he had been unfairly targeted for saying he would "either be dead or in jail" by next year if Obama is reelected.

"I'm a black Jew at a Nazi-Klan rally," the rock star complained to Loesch. "And there are some power-abusing, corrupt monsters in our federal government that despise me because I have the audacity to speak the truth."

Nugent continued: "I spoke at the NRA and will stand by my speech. It's 100 percent positive. It's about we the people taking back our American dream from the corrupt monsters in the federal government under this administration, the communist czars he has appointed."

The Secret Service is reportedly investigating Nugent in the wake of his Saturday tirade at the NRA convention in St. Louis.
As reported in a Vancouver Sun story with the devastating headline "Republican and has-been rock star Ted Nugent under fire for perceived threat against Obama," Nugent's status as a minor commentator has made this a political story.
The Democratic National Committee seized on Nugent's remarks on Monday night in a fundraising email, pointing out how Nugent has endorsed Romney for president.

"Threatening violence – or whatever it is that Nugent's threatening – is clearly beyond the pale, but Nugent's not the one running for president," said U.S. Representative Debbie Wasserman Schultz, chairwoman of the DNC. "The question is: Does Romney agree with him? Right now, we don't know."

Andrea Saul, Romney's spokeswoman, did not condemn Nugent in an email on Tuesday but said Romney wants to promote civility.

"Divisive language is offensive no matter what side of the political aisle it comes from. Mitt Romney believes everyone needs to be civil," she said.
Responding in his usual, cogent style, Nugent retorts,
 "I think Mitt Romney's already denounced my guitar playing because it's too sexy," Nugent said. "Mitt Romney knows what I'm saying is true. He puts it in the words for him, I put in the words for me."
Now, in the interests of full disclosure, I've never met Ted Nugent and he doesn't know who I am. I did, however, buy several second hand cassette tapes a few decades back featuring his recordings. I'm pretty sure I also bought the Damn Yankees CD. So, my apologies.
That said, while my PhD is in political science, not psychology, I'm pretty sure that Ted Nugent is simply spouting off here and has no actual plans to murder the president. Nugent has a history of hyperbolic expression. See, for example, the idle, macho threats in his 1975 debut single "Strangehold."
The Secret Service has to do its due diligence, of course, especially in light of the recent hooker scandal, but I don't think they need to devote a lot of time to protecting Renegade from the artist who gave us "Wang Dang Sweet Poontang" and similar ballads of love.
It's a matter of public record that Nugent has been afflicted since age ten–that is, more than half a century–with cat scratch fever. The symptoms are varied and complex but I'm reliably informed that you know you got it when you're going insane. Given the advanced stages of Nugent's case, as well as recent evidence, it's quite likely that he's reached his destination.
That doesn't, of course, excuse those of us who share his party affiliation. So, when in doubt, we must whip it out. The "it," of course, being a sincere apology.