Tenth GOP Debate Garners Estimated 14.5 Million Viewers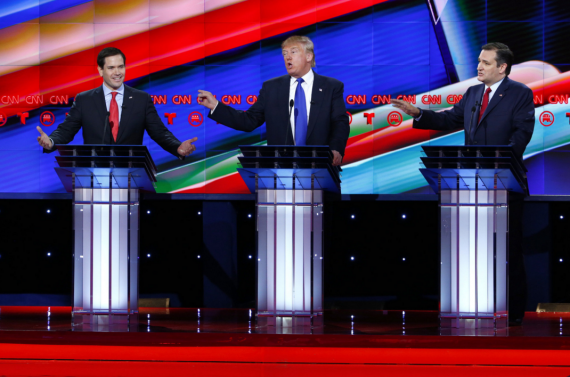 Last night's Republican debate in Texas received the highest viewership since the start of 2016:
The final Republican primary gathering before Super Tuesday produced plenty of insults and fireworks on stage Thursday night — and the largest audience for any debate in more than two months.

In Nielsen's preliminary national estimates, the GOP debate averaged 14.521 million viewers combined on CNN (13.256 million) and Spanish-language broadcast network Telemundo (1.265). This tops every debate since CNN's last Republican debate on Dec. 15 drew 18.165 million. Last summer's first two GOP debates, driven by curiosity about Donald Trump, remain the most-watched to date, drawing 24 million on Fox News Channel and a little over 23 million on CNN.

On the Democratic side, the most recent debate on Feb. 11 averaged a combined 8.03 million viewers on CNN and PBS.

In the key news demo of adults 25-54, Thursday's debate drew a strong 4.684 million on CNN (4.058 million) and Telemundo (626,000). This is well above the roughly 3.4 million-3.5 million in the demo for the prior three GOP debates and is also the highest since Dec. 15 (5.65 million on CNN).

CNN again scored well in Web engagement and streaming viewership for the debate. The day saw 10 million video starts and 2.1 million total live streams (Web, app, Apple TV and Roku). Streaming engagement peaked at 10:05 p.m. ET with 708,000 concurrent streams.
The fact that these debates continue to draw large numbers of viewers suggests that voter interest in the campaign remains quite high even if it isn't quite as high as it was when people tuned in for the early debates that garnered in excess of 20 million viewers. There has also been evidence of this voter enthusiasm in voter turnout numbers for both Republican and Democratic contests in Iowa, New Hampshire, Nevada, and New Hampshire. The speculation so far, of course, is that much of the interest is being created by the candidacy of Donald Trump on the Republican side and Bernie Sanders on the Democratic side. Whether it continues as the race goes on is, of course, another question but, so far at least, the American people seem to be far more engaged in this election than they were in 2012, and I suppose that in the end that's a good thing.