Testing Section 3
State election officials are standing by for challenges to Trump's right to run.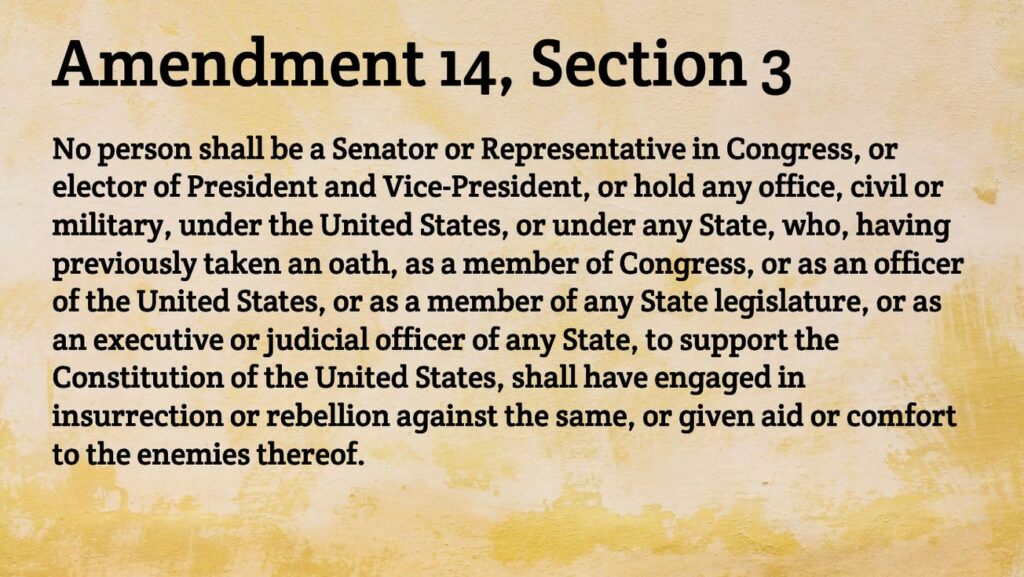 In my post "14th Amendment Solutions," I argued that the notion that the disqualification clause added to the Constitution in the aftermath of the Civil War would does not, as some legal scholars argue, automatically disqualify former President Donald Trump from running for re-election. It appears that folks are going to test that theory.
NBC News ("Secretaries of state get ready for possible challenges to Trump's ballot access"):
Arizona Secretary of State Adrian Fontes said Tuesday that his office is figuring out how to handle potential complaints over whether former President Donald Trump should be disqualified from appearing on the 2024 ballot.

The issue centers on the 14th Amendment, which prohibits people who have "engaged in insurrection or rebellion" from holding public office. Former Arkansas Gov. Asa Hutchinson raised the theory at last week's GOP presidential debate that Trump's conduct on Jan. 6, 2021, might disqualify him on those grounds — a theory that has gained traction among some legal scholars, though others discount the possibility.

Now, the people running state elections are trying to figure out what to do if people bring legal challenges against Trump.

"We have to have a final certification of eligible candidates [for the primary ballot] by Dec. 14 for Arizona's presidential preference election," Fontes, a Democrat elected last year, told NBC News. "And because this will ultimately end up in court, we are taking this very seriously."

New Hampshire Secretary of State David Scanlan is dealing with the same question as he watches a potential challenge to Trump brewing in his state. There, a Republican former Trump ally is considering bringing a 14th Amendment challenge against him. 

"We need to run an election," Fontes said. "We need to know who is eligible, and this is of incredible national interest. We aren't taking a position one way or the other.

"If there are people who want to fight this out, they need to start swinging, because I have an election to run," Fontes added.

Scanlan of New Hampshire made the same point Monday — that he is "not seeking to remove any names from the presidential primary ballot" but is trying to figure out what to do about potential challenges that are brewing.
Given that barring Trump from running would cause irreparable harm whereas waiting until the issue winds its way through the courts wouldn't, I'm pretty confident as to how all this will play out.
The Atlantic's David Frum echoes many of many previous arguments in "The Fourteenth Amendment Fantasy." He also points out the fall-out effects of it being otherwise.
First, the section does not apply only to candidates for president—it does not even mention the president. It mentions senators, House members, electors, and civil and military officers of the United States or any state. The section appears to apply to the presidency only as part of that final catchall category.

Second, that phrase "aid and comfort to the enemies thereof"—what does that mean? The language is copied from Article III, Section 3 of the Constitution. But there, the language was drafted to make it difficult to convict an accused person of crime: "Treason against the United States, shall consist only in levying War against them, or in adhering to their Enemies, giving them Aid and Comfort. No Person shall be convicted of Treason unless on the Testimony of two Witnesses to the same overt Act, or on Confession in open Court."

Section 3 of the Fourteenth Amendment strips away all of the 1787 restrictions: the overt act, the two witnesses, the requirement of public confession. The question of what constitutes "aid and comfort" is left to the judgment of … wait—Section 3 gives no clue about how it should be enforced or by whom. Again, that's understandable. In 1866, none of this looked complicated. But in a modern context, that enforcement question of a reactivated Section 3 will be nasty.

Consider the scenario in which Section 3 is invoked against Trump in 2024. Although he has won the Republican nomination, Democratic secretaries of state in key states refuse to place his name on their ballots, as a person who engaged in insurrection against the United States. With Trump's name deleted from some swing-state ballots, President Joe Biden is easily reelected.

But only kind of reelected. How in the world are Republicans likely to react to such an outcome? Will any of them regard such a victory as legitimate? The rage and chaos that would follow are beyond imagining.

And then what? If Section 3 can be reactivated in this way, then reactivated it will be. Republicans will hunt for Democrats to disqualify, and not only for president, but for any race where Democrats present someone who said or did something that can be represented as "aid and comfort" to enemies of the United States. Didn't progressive Representative Ilhan Omar once seemingly equate al-Qaeda with the U.S. military? Do we think that her political enemies will accept that she was making only a stupid rhetorical point? Earlier this year, Tennessee Republicans tossed out of the legislature two Black Democrats for allegedly violating House rules. Might Tennessee Republicans next deem unruly Democrats "rebels" forbidden ever to run for office again?
An automatic disqualification for those deemed by lowly election officials to have somehow supported an insurrection is just obviously absurd. There's just no world in which that question wouldn't have to be adjudicated. And, absent criminal conviction for a related crime, I just don't see how it would stand up in court.
Frum goes on to argue that the cleanest way out of this would be for Republican primary voters to choose someone other than Trump—which he admits is highly unlikely. Regardless, the 14th Amendment isn't going to save us.