The 53%
Thinking about some of the claims of the 53%.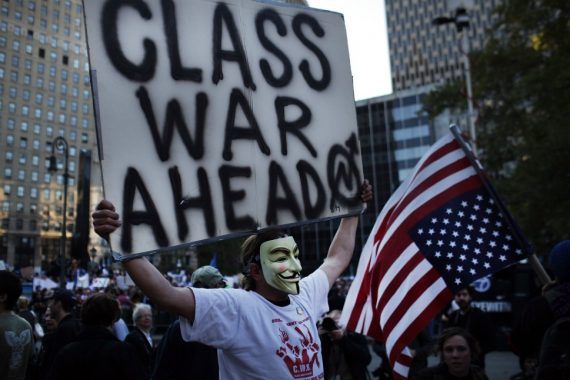 It strikes me that the real discussion that should emerge as a result of the 53% v. the 99% should  have the following three components:
1)  To what degree does hard work equal success? (the underlying argument of the 53%)
2)  To what degree are the extremely wealthy (especially those in the finance industry) especially privileged by the existing political and economic system (the underlying claim of the 99%).
3)  The degree to which there is actually an important nexus where hard work intersects with societal opportunities (which includes government policy).   This is the debate that we largely don't want to have—especially the 53 percenters.
Clearly, hard work is important–indeed, it is essential to success.  However, the obvious is worth noting:  it does not always result in success (and, further, not all of us have the same opportunities to successfully deploy our hard work the way we would like–a topic I hope to return to in another post).  Likewise, it is is difficult to ignore the fact that the recent bailouts were advantageous to the financial sector and, further, that if one's income is based on capital gains, one gets an advantage in terms of paying taxes.   Both of these observations, no doubt, form the basis for a lot of ongoing debate.  The third item, needs more attention, especially as it related to the first because it gets to fundamental questions about the general role of government in our society (and hence fiscal policy).  Also, in looking at the 53% Tumblr (or, indeed, listening to many GOP politicians, e.g., here), it just seems like a lot of denial is going on.  If the 53% response is all supposed to be part of a big debate about the role of government and government policy in the context of helping (or not) the success of said hard work, I think some of these missives seem not to understand their own arguments, which feeds into  item #3 above.
For example, a lot of them talk about having served in the armed services, which is a government job funded by taxpayers (and, indeed, is a major slice of the budget).  Further, in many cases one gets enhanced educational opportunities because of being in the military or as a result of veterans' benefits.   Whatever else one can say, the military isn't about the free market and is very much about government policy.
Many also talk about their educations. How many went to public K-12 and public universities? My guess is: most of them. A lot of them mention student loans (which is a government program to help subsidize higher education).  Again, public education and subsidized loans are not the free market and may of us would have been in big trouble if we had to pay true market rates for education or had to secure student loans without the government being involved.
There is also the fact that  in reading some of them, it is entirely likely that a lot of these people may, in fact, be part of the 47% who end up paying no federal income tax (i.e., they may be the middle to lower middle class with enough children or other deductions to have a net income liability of zero—like one guy who notes he is unemployed, or the other who cites his hourly wages).  I continue to think that a large number of people do not understand the way our tax system works (and certainly do not understand the difference between payroll taxes and income taxes).
I think it would be helpful if we would all acknowledge that even when we work hard, we don't do it in a vacuum and that we have all benefited from a variety of public policies.  This is not to say that these policies are always ideal or efficient, but we can't have a debate about things like taxes, spending, and regulation unless we start from a place of reality (and that applies to the pie in the sky claims of many of the 99% types as well).
All of this is part of a broader debate that is continually recurring over taxing, spending, and the general role of government:  what should we spend on and whom does it benefit?  These are fair questions—although my basic point here is that it would be quite helpful if we would all be honest about what benefits we did, or did not receive, in our own lifetimes.  And yes, we also have to look to our own inputs (i.e., hard work matters).
Note:  this post is reflective of an honest attempt to get to what I think are fundamental philosophical issues that confront the US both now and going forward.  I am increasingly of the opinion that a major part of the problem in the US is that most of us don't want to admit the degree to which we are not 100% responsible for our own circumstances and that, indeed, part of what we all need to assess is the degree to which a) we owe debts to others (including collective actions by government), and b) the degree to which some us are simply more capable (due to natural talents, circumstances, or both) at being successful than others.   More to come on this subject, no doubt.