The American Taliban (at Least in Terms of Rhetoric)
The phrase "American Taliban" is usually off the mark. However, sometimes it is closer to the mark than we might like.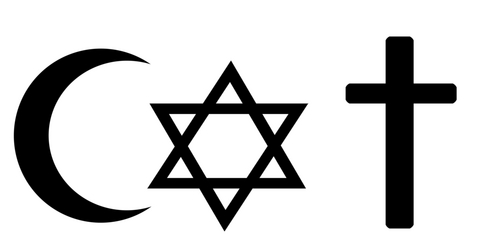 I usually do not care for the term "American Taliban" as is usually applied to US social conservatives in a way that is wholly unfair.  However, two recent examples that I have encountered made me think of the term, at least in terms of describing the rhetoric in question.  In both cases we have extreme religious conservatives making extreme statements about homosexuals.
First is a YouTube video from a church in North Carolina that went viral.  In the clip, Charles L. Worley of Providence Road Baptist Church speaks of putting all "queers" and lesbians into fenced off areas and dropping food to them but letting them die off because they can't reproduce:
Second is a US Representative posting a verse from Leviticus that calls for the death penalty for homosexual acts.
Here's a screenshot of post (via HuffPo):

Leviticus 20:13 states:
If a man has sexual relations with a man as one does with a woman, both of them have done what is detestable.They are to be put to death; their blood will be on their own heads.
This type of religious text is that exact same type of text that leads Islamic extremists to engage in honor killings of daughters who engage in sexual relations outside of marriage.  For example, Leviticus 20:10 states:
If a man commits adultery with another man's wife—with the wife of his neighbor—both the adulterer and the adulteress are to be put to death.
A couple of things come to mind:
1.  This is the type of rhetoric that used to be regularly deployed concerning race.
2.  It needs to be remembered by the religiously conservative in the US that many of the moral laws deployed by Islam have similar (if not in some cases, identical) origins to those of Christianity.  The Old Testament is a pretty harsh place and while many in the US can cite verses like Leviticus 20:13 and ignore the death penalty part and just use it as a "proof text" of the sinfulness of homosexuality, the death penalty part is still in there.
Indeed, fundamentalist Christians (who otherwise claim the perfection of the scriptures) are good at ignoring/rationalizing things (I know, because I did it for decades):
Leviticus 20:18:  "'If a man lies with a woman during her monthly period and has sexual relations with her, he has exposed the source of her flow, and she has also uncovered it. Both of them must be cut off from their people."   As far as I know, no pastor in the country is preaching exile for husbands who had sexual relations with their wives during their menstrual cycle.
And there is clearly a problem with Leviticus 19:33-34:  "'When a foreigner resides among you in your land, do not mistreat them.  The foreigner residing among you must be treated as your native-born. Love them as yourself, for you were foreigners in Egypt. I am the Lord your God."  This certainly does not comport with the votes of a number of Southern Baptist legislators in Alabama and Georgia.
Back to the main point:
First, these examples, especially the video of the pastor, should remind us all that we cannot make sweeping generalizations about whole peoples and religions based on what whole peoples and religions believe (as is frequently done in the US over things said by radical Muslim clerics).
Second, even though utterances like those made are minority views, they need to be identified and condemned.   This is blatant prejudicial rhetoric that deserves opprobrium.  Also, while it may not change the mind of deeply bigoted, it may make the casually bigoted to rethink their positions.
Third, and this gets to Representative Gipson and more mainstream views:  it is necessary to take responsibility for what the texts cited actually say.  To ignore the death sentence part of the passage (not to mention ignoring other portions of the same passage) displays, at a minimum, a cherry-picking of the text.  There is a difficult choice to be made here:  either the scriptures are hard and fast, timeless rules or societal evolution matters.  If the former is true, then fundamentalists need to start calling for the death of homosexuals and adulterers as well as the exile of persons who have sexual relations during a woman's menstrual cycle (amongst other things).  If the latter, then perhaps there needs to be a rethinking of the stance on homosexuality.
Back to the "American Taliban" bit:  the grand irony of quoting Leviticus is those who do so are those most likely to be the most concerned about radical Islam and creeping Sharia law, but they fail to see the historical commonality of their position and that which they reject. At a minimum: there needs to be a lot more awareness that the literal application of texts that Evangelical Christians hold sacred would lead to actions indistinguishable from those of the Taliban (before anyone objects to that statement, go back and re-read the quoted texts above).
Regardless of the theology or any particular irony, I would note that we need to condemn the ongoing rhetoric in the United States that seeks to treat homosexuals are less than full citizens and human beings.
Addition/Side Note: I think that what Gipson's citation of Leviticus truly underscores is the degree to which conservative Christians (like all groups) get locked into their own worldview without examining it critically. In your typical Southern Baptist (to pick a tradition I am quite familiar with) context, the citation of that verse to other Southern Baptists would be considered simply proof that homosexuality was a sin, with not much attention being paid to the whole verse or to its context. It is only when it is cited to persons outside the group that the obvious difficulties emerge. And it should be noted that it is always easier to deploy evidence to one's own group, because they already agree with you.
—-
A Set of 3 Religious Symbol image via Shutterstock