The Bush Question
Romney needs a far better answer to the Bush question.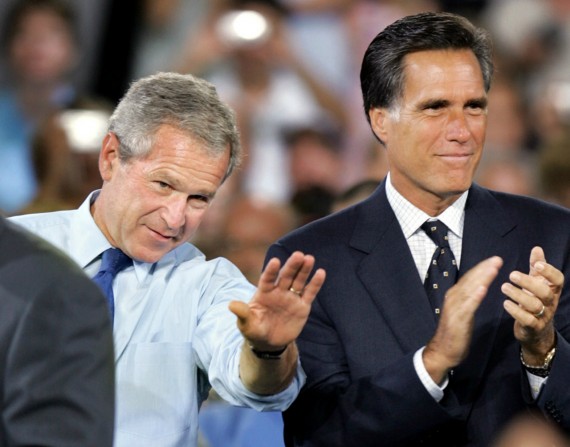 Last night I was struck by the following question:
QUESTION: Governor Romney, I am an undecided voter, because I'm disappointed with the lack of progress I've seen in the last four years. However, I do attribute much of America's economic and international problems to the failings and missteps of the Bush administration.

Since both you and President Bush are Republicans, I fear a return to the policies of those years should you win this election.  What is the biggest difference between you and George W. Bush, and howdo you differentiate yourself from George W. Bush?
I have long thought that this is the the question that a Republican nominee was going to have to answer going into this campaign cycle.  Obama was always going to be a vulnerable incumbent because of the state of the economy, however he was also always going to have the ability to correctly note that he inherited the worst economic downtown in almost a century from his predecessor.   I know that Romney supporters will note, correctly, that Bush is not running.  They can also rightly note that the president has to take responsibility for the the last four years.  However, that does not erase the Bush administration and its clear shortcomings which includes two wars and Medicare expansion funded by debt and tax cuts that did not produce economic growth.  These are not minor issues that can be ignored, especially since Romney's basic plan is that tax cuts will create growth and that his views of foreign policy seem grounded in the notion that we must be strong and resolute (and apologize for nothing, because he is certain of the rightness of American actions and strength).
If one is going to be fair, one has to admit that tax cuts as the cornerstone of domestic policy and resolute strength as the basis of foreign policy sounds an awful lot like George W. Bush.
As such, Romney needs an answer to the question of how he isn't Bush, and it should have been something that he had been discussing for months (instead of just pretending, for the most part, that the Bush administration did not exist).  It is always telling when a presidential campaign harkens back not to their most recent copartisan in the White House, but rather to some icon from the past.  Bill Clinton did not run on being like Jimmy Carter, but rather sought to invoke Jack Kennedy.  Likewise Mitt seeks to "stay out the Bushes"* and wants to be seen as the new Reagan.
So, when given the above-quoted question, how did Romney respond?
First, he stalled, because instead of answering a central question he wanted to use part of his time to follow-up on contraception:
ROMNEY: Thank you. And I appreciate that question.

I just want to make sure that, I think I was supposed to get that
last answer, but I want to point out that that I don't believe…

OBAMA: I don't think so, Candy.

ROMNEY: … I don't believe…

OBAMA: I want to make sure our timekeepers are working here.

ROMNEY: The time – the time…

CROWLEY: OK. The timekeepers are all working. And let me tell
you that the last part, it's for the two of you to talk to one
another, and it isn't quite as (inaudible) you think.

But go ahead and use this two minutes any way you'd like to, the
question is on the floor.

ROMNEY: I'd just note that I don't believe that bureaucrats in
Washington should tell someone whether they can use contraceptives or
not. And I don't believe employers should tell someone whether they
could have contraceptive care of not. Every woman in America should
have access to contraceptives. And – and the – and the president's
statement of my policy is completely and totally wrong.

OBAMA: Governor…
He then, after wasting time arguing over the rules and then giving a fairly boilerplate answer on contraception, returned to the Bush question.  I will quote it in full below, but I would note that he really didn't have much of an answer to the actual question, but rather took the opportunity to recount his five point plan.  Now, I fully recognize that it is the norm for the candidates to answer the question they want to answer rather than the question asked.  However, I would maintain that this was a question for which there should have been a better answer.  For the more part, Romney simply called the Bush administration "different times" and that the main differences include "crack[ing] down on China" (which strikes me as empty rhetoric) and focusing on small business rather than large ones.  He also noted that he would have a balanced budget, but that is a flight of fancy that should be ignored.
Here's the response in full:
ROMNEY: Let me come back and – and answer your question.

President Bush and I are – are different people and these are
different times and that's why my five point plan is so different than
what he would have done.

I mean for instance, we can now, by virtue of new technology
actually get all the energy we need in North America without having to
go to the – the Arabs or the Venezuelans or anyone else. That wasn't
true in his time, that's why my policy starts with a very robust
policy to get all that energy in North America – become energy
secure.

Number two, trade – I'll crack down on China, President Bush
didn't. I'm also going to dramatically expand trade in Latin America.
It's been growing about 12 percent per year over a long period of
time. I want to add more free trade agreements so we'll have more
trade.

Number three, I'm going to get us to a balanced budget.
President Bush didn't. President Obama was right, he said that that
was outrageous to have deficits as high as half a trillion dollars
under the Bush years. He was right, but then he put in place deficits
twice that size for every one of his four years. And his forecast for
the next four years is more deficits, almost that large. So that's
the next area I'm different than President Bush.

And then let's take the last one, championing small business.
Our party has been focused too long. I came through small business.
I understand how hard it is to start a small business. That's why
everything I'll do is designed to help small businesses grow and add
jobs. I want to keep their taxes down on small business. I want
regulators to see their job as encouraging small enterprise, not
crushing it.

And the thing I find the most troubling about Obama Care, well
it's a long list, but one of the things I find most troubling is that
when you go out and talk to small businesses and ask them what they
think about it, they tell you it keeps them from hiring more people.

My priority is jobs. I know how to make that happen. And
President Bush has a very different path for a very different time.
My path is designed in getting small businesses to grow and hire
people.

CROWLEY: Thanks, Governor.
This hardly strikes me as an answer that does anything for Romney.  Indeed, this list is actually one that Bush could have given in 2000 (and 2004, for that matter) during his campaign. In terms of actual policy, I can't say as I see any significant difference between the two men.
I would say that I am stunned that Romney is unable to adequately answer this question, but the truth is that I am not sure that the GOP has come to terms with what a disaster the Bush administration was.
*Political Geek Points for whomever it is that can identify the reference.