The Day Five Air Force Officers Stood Underneath An Exploding Nuclear Bomb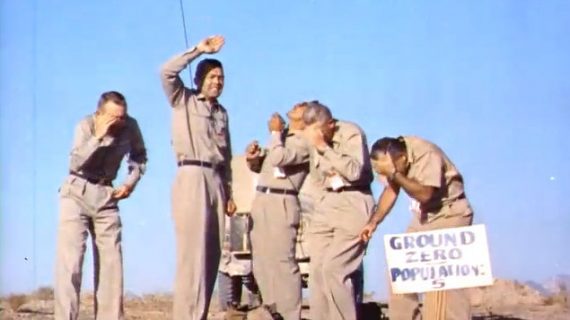 An absolutely fascinating story from NPR about something that seems to be completely insane:
On July 19, 1957, five Air Force officers and one photographer stood together on a patch of ground about 65 miles northwest of Las Vegas. They'd marked the spot "Ground Zero. Population 5" on a hand-lettered sign hammered into the soft ground right next to them.

As we watch, directly overhead, two F-89 jets roar into view, and one of them shoots off a nuclear missile carrying an atomic warhead.

They wait. There is a countdown; 18,500 feet above them, the missile is detonated and blows up. Which means, these men intentionally stood directly underneath an exploding 2-kiloton nuclear bomb. One of them, at the key moment (he's wearing sunglasses), looks up.
Who would do this you might ask, and voluntarily no less? The United States Government:
This footage comes from our government's archives. It was shot by the U.S. Air Force (at the behest of Col. Arthur B. "Barney" Oldfield, public information officer for the Continental Air Defense Command in Colorado Springs) to demonstrate the relative safety of a low-grade nuclear exchange in the atmosphere. Two colonels, two majors and a fifth officer agreed to stand right below the blast. Only the cameraman, George Yoshitake, didn't volunteer.

The country was just beginning to worry about nuclear fallout, and the Air Force wanted to reassure people that it was OK to use atomic weapons to counter similar weapons being developed in Russia. (They didn't win this argument.)
Now it's worth noting that this was a relatively low-yield weapon that was used in the test. At 2 Kilotons its yield was smaller than both Little Boy and Fat Man, the bombs dropped on Hiroshima and Nagasaki in 1945. It was also much, much less powerful than the megaton-size blasts produced by a Thermonuclear (Hydrogen) Bomb. Nonetheless it's a bizarre and and amazing story, and the video of that day is fascinating to watch:
By comparison here's video of a 1953 test of a Thermonuclear bomb, what's most notable here is the sound of the explosion, which reaches the camera after we've already seen the blast (because light travels faster than sound obviously):
Hopefully, a sound no human being will ever actually have to hear for real.
H/T: Ann Althouse
Photo via NPR