The Death Of The Twinkie Was Greatly Exaggerated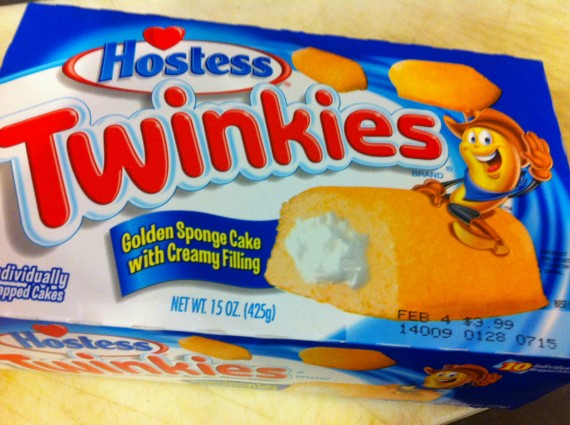 The Wall Street Journal reports that Hostess is close to a deal to sell several of it's baked good brands, including the Twinkie:
Hostess Brands Inc. is nearing a deal to sell its Twinkie brand and other cakes to private-equity firms Apollo Global ManagementLLC and C. Dean Metropoulos & Co. for more than $400 million, said people familiar with the discussions.

The deal could be disclosed as soon as Tuesday and would serve as the opening bid in a coming bankruptcy-court auction for the assets, which include Dolly Madison and other brands.

The so-called stalking horse bid could be topped by other suitors at the auction, in which case Apollo and Metropoulos would likely be entitled to what's known as a breakup fee. One person cautioned a deal might not be disclosed until later this week, but the parties were putting finishing touches on the agreement Tuesday.

The deal, which includes several factories, caps Hostess's efforts to sell off popular cake and bread brands as it winds down operations this year. Hostess, based in Irving, Texas, in November announced it was shutting down and selling of its 30 or so brands and 36 plants, a move expected to result in the loss of more than 18,000 jobs. Hostess moved to liquidate after it failed to reach a deal on cost cuts with its second-largest union, representing thousands of bakers.

(…)

Flowers FoodsInc., the Thomasville, Ga.-based maker of Tastykakes and Nature's Own breads, is offering up to $360 million in cash for five major Hostess bread brands–including Wonder and Nature's Pride–along with 20 plants and 38 depots. In addition, the baking company is offering $30 million for Hostess's Beefsteak rye brand. A judge Friday cleared Hostess to place those bread assets on the auction block on Feb. 28.

Hostess Monday debuted two more sale deals—one for a group of bread brands including Sweetheart, Eddy's, Standish Farms and Grandma Emilie's, and one for the Drake's brand, which made treats like Devil Dogs, Ring Dings and Yodels before Hostess began liquidating in bankruptcy. United States Bakery Inc., a Portland, Ore., company also known as Franz Family Bakery, is offering $28.85 million for the bread brands plus four bakeries, 14 depots and equipment. McKee Food Corp., the Collegedale, Tenn.-based maker of Little Debbie snack cakes, has submitted a $27.5 million bid for the Drake's brand and certain equipment.
Of course, this is exactly what the Hostess Chapter 7 was intended to accomplish. Notwithstanding its financial problems and inability to deal with the production and labor costs that ultimately doomed the company, Hostess was still a company with substantial assets on the day it filed for bankruptcy protection. Indeed, the entire purpose of a Chapter 7 Bankruptcy is to oversee the orderly sale of the the company's assets so that its creditors can be at least partially satisfied. As I said several times as the Hostess story unfolded in November, bankruptcy was not going to mean the end of the Twinkie, the Ring Ding, or any of your other favorite Hostess treats.
Now, it's entirely possible that the entities buying these brands will end up not succeeding themselves, but there are no guarantees in life. That's kind of what capitalism is supposed to be about.