The Free Market Killed Hostess, And That's A Good Thing
The death of Hostess Brands is a lesson in what is supposed to happen to failed companies in a free market.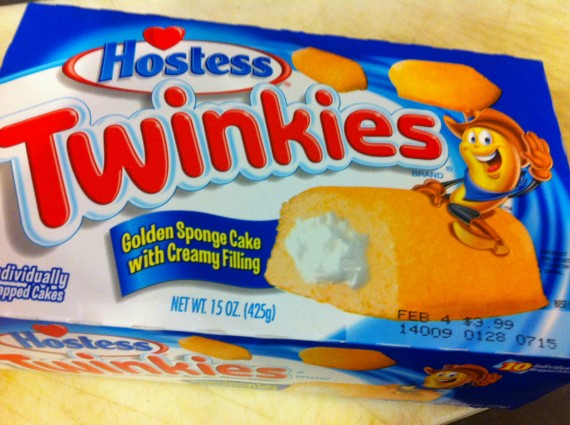 This morning's news that Hostess Brands, Inc. was shutting its doors after 82 years of operation (originally under the name International Bakeries Corporation) has elicited a lot of commentary from various sources. Culturally, I'm seeing a lot of people lament the fact that some of their favorite brands of snack food or bread — from Twinkies to Ho-Hos to Wonder Bread to Beefsteak Rye Bread — will no longer be available. Politically, there's been a definite theme on the right blaming the Baker's Union for the company's collapse since they would not agree to a modification of their contract notwithstanding the fact that they had been warned that this would happen, and that even the Teamsters Union warned them that they were risking the fate of the company and everyone's jobs by being so stubborn.  Both of these reactions strike me as being wildly over blown, based largely on common misunderstandings of what actually happens in Bankruptcy Court and the business world, and both miss the point that the death of Hostess Brands is a fairly good example of the free market in action.
Starting off with what happens to everyone's favorite brands, the idea that they are simply going to disappear is absurd. Outside of the companies physical assets — the remaining bakeries, its distribution network, and the network of retail outlets that it operates — these brands are among the companies most valuable assets. Already there has been speculation among business writers about who might be interested in buying up at least some of these brands and their related assets, and one writer at Forbes notes the existence of a Mexican bakery conglomerate called Groupo Bimbo that tried to buy Hostess the first time it was in Chapter 11 and might be interested in doing so again. Obviously, the more popular a particular Hostess brand is, the more likely it is that it will survive, but the idea the entire company is simply going to disappear betrays a fundamental misunderstanding of what Chapter 11 liquidation is all about.
The purpose of liquidation is to sell the companies assets, either all at once or in pieces, for the highest possible value in order to pay the company's debts and satisfy its obligations as much as possible. Every sale of assets that occurs has to be approved by a Bankruptcy Court Judge after proper notice of the same has been given to all interested parties. Hostess was a company in serious financial trouble, but it still possessed considerable assets, most notably in its brands, and it's inconceivable that a Court is going to let those assets simply go away for pennies on the dollar. Now, of course, it may well turn out that few companies will be interested in all of Hostess's brands and intellectual property, but at least the most popular ones are likely to survive. So, no, it's probably not the case that your Twinkies are gone forever.
The political side of the Hostess story is about what you'd expect. Many on the right are pointing to today's events and saying that this is a clear example of how a union, in this case the Bakery, Confectionery, Tobacco Workers and Grain Millers International Union that covered the 5,000 or so bakery employees that worked for Hostess around the country, effectively killed the company by failing to agree to contract concessions that the company, and even some of the other unions representing Hostess employees, said were necessary in order to save the business as a whole. Now obviously, the failure of the union to agree to these concessions was the event that led to today's announcement. So, in that respect, one can say that they were the proximate cause of today's decision. However, there's every reason to believe that their intransigence only resulted in something that was likely to happen anyway.
Consider these facts.
This is the second time that Hostess has been in Chapter 11 in less than ten years. The first time lasted for five years, a somewhat unusually long period of time, from 2004 to 2009.  As any bankruptcy attorney will tell you, most company's that file for Chapter 11 protection do not make it out successfully. Typically, that's because of the simple fact that a financially struggling company quite often waits until the last possible minute to file for Chapter 11 protection. By that time, the odds of survival were fairly low to begin with and the time that bankruptcy protection dies usually just serves to delay the inevitable. The companies that do survive usually fall into one of two categories; either their Chapter 11 filing was prompted by a unique "Black Swan" event that can be far more easily dealt with under the protection of the court, or they are so big and valuable that they're able to find new investors to come in and try to save the concern. Neither of those conditions seem to apply to Hostess's first bankruptcy, so they were probably lucky to get out of Chapter 11 the first time. without either being forced to liquidate or being sold to another company.
Unfortunately for Hostess, their emergence from bankruptcy protection occurred at what may have been the worst possible time. Hostess Brands, Inc., the company that emerged from the International Bakeries Corporation Chapter 11, emerged from bankruptcy protection in November 2009. While this was well after the worst of the economic crisis that had recently gripped the nation, it was still at a time when the economy was relatively weak and unemployment had hit 10.2%, the highest level it had been at in 26 years. While I don't have access to any sales numbers, one can assume that these type of economic conditions are not exactly the best for a company that sells snack foods, which aren't a necessity. In any case, barely two years after it had emerged from Chapter 11, Hostess was falling behind again. It wasn't making a profit, and by December 2011 it had defaulted on a $700 million loan and been unable to make required contributions to employee pension funds. The present Chapter 11 case was filed in January 2012, and at that point it seems clear that the writing was on the wall.
There's no doubt that labor costs were a huge problem for the company, but it's also clear that there were a number of other factors that appear to have contributed to their troubles. Among these are what seems to be a rather antiquated distribution system and the fact that consumer tastes have changed significantly over the years. Most importantly, these aren't the 1970s when Hostess snacks were a ubiquitous part every kids lunch box, at least in my neck of the woods. (I was a fan of the fruit pies personally)  The bread side of the business was likely suffering from the fact that that particular market is saturated right now and that a lot of grocery store consumers are preferring to purchase breads made fresh on-site rather than branded products. So, yes, the Union was the proximate cause of today's decision to shut down the business but my feeling is that it would've happened anyway.
It's unfortunate to see this company go away, of course. Not just for the history, but for the tens of thousands of people who are now unemployed. A good many of them are likely to find gainful employment elsewhere, especially groups like the Teamsters who were responsible for the company's distribution network, but many of them won't and the communities that they live in are going to be impacted by that, as will their families. At the same time, though, a company that can't survive financially was never going to be a stable source of employment anyway so I'm not sure whether it would have been better to delay the inevitable by a year or more, or just pull the band-aid off and take the pain now. If the result is going to be the same in the end, it really doesn't matter when it happens, does it?
Despite these costs, though, the fact remains that what happened to Hostess, like what happens to any other company that fails to survive, is an essential part of the free market system:
Herein lies the paradox of progress. A society cannot reap the rewards of creative destruction without accepting that some individuals might be worse off, not just in the short term, but perhaps forever. At the same time, attempts to soften the harsher aspects of creative destruction by trying to preserve jobs or protect industries will lead to stagnation and decline, short-circuiting the march of progress. Schumpeter's enduring term reminds us that capitalism's pain and gain are inextricably linked. The process of creating new industries does not go forward without sweeping away the preexisting order.

(…)

Over the past two centuries, the Western nations that embraced capitalism have achieved tremendous economic progress as new industries supplanted old ones. Even with the higher living standards, however, the constant flux of free enterprise is not always welcome. The disruption of lost jobs and shuttered businesses is immediate, while the payoff from creative destruction comes mainly in the long term. As a result, societies will always be tempted to block the process of creative destruction, implementing policies to resist economic change.

Attempts to save jobs almost always backfire. Instead of going out of business, inefficient producers hang on, at a high cost to consumers or taxpayers. The tinkering short circuits market signals that shift resources to emerging industries. It saps the incentives to introduce new products and production methods, leading to stagnation, layoffs, and bankruptcies. The ironic point of Schumpeter's iconic phrase is this: societies that try to reap the gain of creative destruction without the pain find themselves enduring the pain but not the gain.
In the end, trying to preserve Hostess would have been worse than what is likely to happen in the wake of its demise. Perhaps its employees will be lucky and Groupo Bimbo or some other company will step in and essentially take the entire operation over lock, stock, and barrel (although they won't be tied down by any of the labor contracts). More likely, only the most popular and recognizable brands will survive. Whatever happens, though, it's a testament to the fact that no company, no business, is guaranteed to survive forever, and that we really ought to let the market take its course rather than intervening in a process that we really don't quite understand.