Hostess CEO: We're Already Hearing From People Who Might Buy Our Brands
Reports of the Twinkie's death have been exaggerated.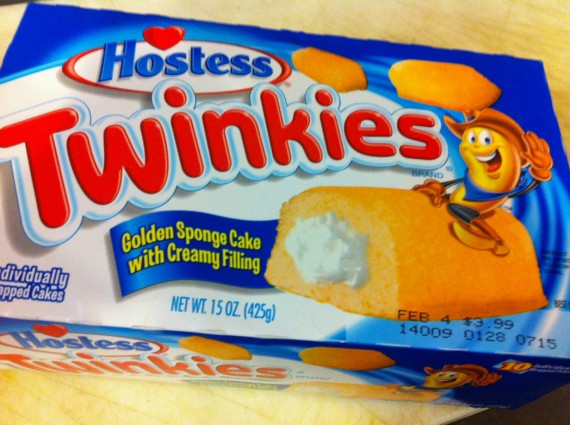 The sudden end that came to Hostess Brands, Inc. on Friday caught many people off guard and led to the somewhat bizarre spectacle of people hitting stores, and even online sites like Amazon and e-Bay to stockpile everything from Twinkies to Ho-Hos. As I noted on Friday, though, it's unlikely that all of the companies brands will disappear forever given that many of them have value that a potential buyer would likely be interested. Yesterday on ABC, just a day before heading Court to make the application for Bankruptcy Court liquidation official, Hostess's CEO said that the company has already heard from potential buyers:
Hostess Brands, the maker of the iconic Twinkies snack cakes, may find a buyer when it heads to bankruptcy court today to liquidate the 82-year-old company, the company's CEO says.

"I think we'll find buyers,"  CEO Gregory F. Rayburn told ABC News on Sunday.  "A few have surfaced already since Friday expressing interest in the brand to acquire them."

Con Agra and Flowers Foods are among the companies that have expressed interest in Hostess, but Mexican company El Grupo Bimbo may have an edge, the Christian Science Monitor reported Saturday.  Grupo Bimbo, headed by Mexican billionaire Daniel Servitje Montull, is the largest bread-baking company in the world.

Economists say part of the reason Hostess struggled was due to high sugar tariffs meant to protect local producers, the Monitor reported.  Grupo Bimbo could take advantage of lower sugar prices in Mexico.

Hostess makes Twinkies as well as popular snacks including Ho Hos, Ding Dongs, Suzy Qs, Sno Balls and Wonder Bread.

Last week the company announced it would close after it imposed wage and benefit cuts to its workers, prompting a bitter nationwide strike.

"The problem has always been the cost structure, the union rules, the pension legacy, the pension cost and the cost structure,"  Rayburn told ABC Sunday.
Of course, another reason for Hostess's problems was the fact that, across the corporation, they were dealing with 12 different unions and 40 separation pension plans, none of which it was able to afford to fund by the time the January 2012 Chapter 11 filing rolled around. While I still reject the idea that it was the Bakers Union alone that was responsible for the company's demise, one cannot deny that, like the auto companies, Hostess was saddled with legacy labor contracts that contributed to the cost issues that were the company's ultimate undoing. Which is why it's ironic that the head of the union seems to have such a delusional view of how this all may end:
Frank Hurt, president of the Bakery, Confectionery, Tobacco Workers and Grain Millers Union told the Wall Street Journal that there's "more than a good chance" someone would swoop in to buy the company's 30 brands and preserve jobs. He said that Twinkies and Wonder Bread are popular and they will be "produced somewhere, some time and by our members."
Well, that certainly won't happen if Grupo Bimbo buys the brands and shifts production down to Mexico in order to take advantage of the lower price of sugar. Of course, these being baked goods, you can't make everything in Mexico and expect to be able to sell it nationwide in the United States. However, what I expect you'll see in that case is that new ownership would locate their bakeries in right to work states as much as possible, and to the extent they can't they certainly aren't going to let themselves get suckered into the same contracts that contributed to the downfall of Hostess. Mr. Hurt, you gambled here, and you and your members lost big time.
So, there's probably no reason to continue hoarding the Twinkies, Ding Dongs, and Wonder Bread, because they will likely be back on store shelves in short order.