The Dumbest Argument for Restoring the Draft Yet
Dana Milbank offers a nonsensical reason for denying our youth the freedom to choose their own path.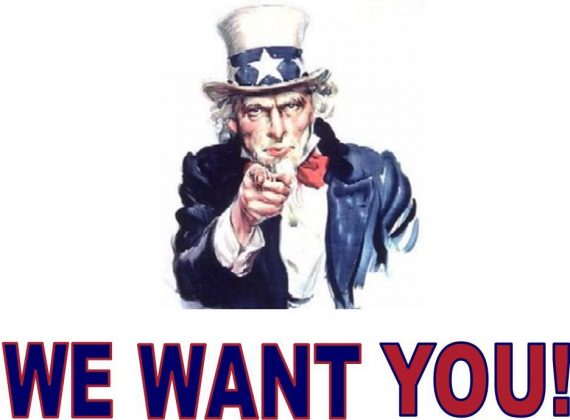 While I oppose bringing back military conscription, there are respectable arguments for doing so. The all-volunteer force allows the sons and daughters of the wealthy and powerful to avoid the burden of fighting our wars. It also makes sending young Americans into harm's way easier.
But Dana Milbank offers a nonsensical reason for denying our youth the freedom to choose their own path:
There is no better explanation for what has gone wrong in Washington in recent years than the tabulation done every two years of how many members of Congress served in the military.

A Congressional Quarterly count of the current Congress finds that just 86 of the 435 members of the House are veterans, as are only 17 of 100 senators, which puts the overall rate at 19 percent. This is the lowest percentage of veterans in Congress since World War II, down from a high of 77 percent in 1977-78, according to the American Legion. For the past 21 years, the presidency has been occupied by men who didn't serve or, in the case of George W. Bush, served in a capacity designed to avoid combat.

It's no coincidence that this same period has seen the gradual collapse of our ability to govern ourselves: a loss of control over the nation's debt, legislative stalemate and a disabling partisanship. It's no coincidence, either, that Americans' approval of Congress has dropped to just 9 percent, the lowest since Gallup began asking the question 39 years ago.

Because so few serving in politics have worn their country's uniform, they have collectively forgotten how to put country before party and self-interest. They have forgotten a "cause greater than self," and they have lost the knowledge of how to make compromises for the good of the country. Without a history of sacrifice and service, they've turned politics into war.
That few in Congress have served in the military is lamentable for many reasons, the most obvious of which is that it not only makes them less intimately familiar with the demands of combat but also tends to undermine civil-military relations by making our civilian leaders afraid to challenge our military brass. But the notion that having worn a military uniform somehow makes one immune from partisanship and foolishness is absurd.
Milbank provides no evidence for this assertion, by the way, other than the fact that Congress seems to be more dysfunctional that it used to be.
Off the top of my head, it's not even obvious that current Members of Congress who are veterans are more willing to "make compromises for the good of the country" than their non-veteran peers. Certainly, recently-departed Representative Allen West, a former Army lieutenant colonel allowed to retire after escaping conviction for war crimes, didn't fit that bill. Nor did Todd "Legitimate Rape" Akin, who served in the Army Reserve.
Looking at a slightly dated list of veterans in the House and Senate, one sees plenty of firebrands. Spencer Bachus. John Conyers. John Dingell. Louie Gohmert. Duncan Hunter. Darrell Issa. Peter King. Charlie Rangel. Bobby Rush. Joe "You Lie!" Wilson.  Jim Inhofe.
It's interesting, though, that, of Congress' senior leadership, only John Boehner (Navy) has served in uniform.