The Emotional Labor Of Debating In Good Faith
In a world of fixed positions, is debating in good faith really worth it?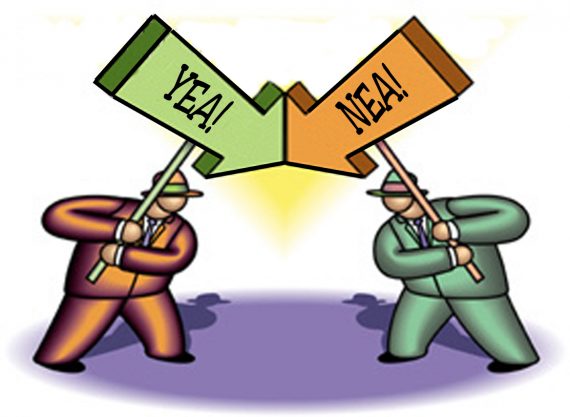 I have decided to ride alongside Twitter as it continues its slow downward spiral into the abyss (or until I get that sweet sweet Blue Sky invite). For as bad as it's getting in some places, there is still lots of great and thought-provoking content on the social media platform. And a thread posted this past Saturday by journalist David Roberts is an excellent example of the gems you can still find on the site.
In the thread, Roberts (who covered Climate Change for Grist and Vox before going independent), uses the Trump Indictment as a jumping-off point to discuss the challenges of debating people in good faith who will not return that favor. You can read the entire thread at Threadreader. He begins by discussing how countless people responded to a recent JD Vance tweet defending the former President in order to point out how the junior Senator from Ohio, unsurprisingly, gets the law completely wrong. Roberts goes on to write:
Over 20 years of covering climate change I have, needless to say, become *very* familiar with all these dynamics. I've seen people of good faith pour so much time — I mean 100s of 1000s of labor hours — into crafting arguments trying to "persuade deniers."

And it never worked. Literally. A 99.99999% failure rate. Because deniers can just say "nuh UH" & go on arguing. There's no ref to step in & say "you lost this one." Or if a particular denier myth is, finally, with enormous effort, buried… they just pivot & make up another one!

It's a microcosm. The deniers were always just defending their tribal position…so they assume that's what everyone's doing. The climate scientists were trying to reason from evidence to conclusions…so they assume that's what everyone's doing. Ships in the night.

People say the deniers delayed action, & that's true, but the other thing they did, which no one's quite put a term to or quantified, is simply drain the time, effort, & emotional energy of tens of thousands of climate-sane people.

It takes virtually no effort to toss some lie or misleading bullshit out into the public sphere; it takes enormous effort to craft an evidence-based argument against it. Just multiply that asymmetry over & over & over & over again & you get a sense of the cost of all this.

https://threadreaderapp.com/thread/1667598256912883717.html
There's a lot of truth and things to think about in these five tweets. First, it's worth noting that engaging in good-faith debates requires significant effort. It means carefully unpacking your argument and supporting it with data. It also means fact-checking yourself (asking yourself "what don't I know?" about a topic). It also means crafting responses in a way that is clear while doing your best to avoid snark. And, it also means being prepared to do that over, and over, and over again.
Arguing in bad faith, on the other hand, is much easier–primarily because all you are doing is pretending to follow (while exploiting) the rules of debate. And there are lots of tools for that, from moving the goalposts of a discussion to the Gish Gallop (which was created to advance anti-evolutionary theories in what were supposed to be good faith debates). Or there's just the ever popular, throw up an incendiary comment and then just disappear.*
To Robert's point, I think it's worth considering how much energy and time are eaten up by a commitment to debate in good faith against people who are not returning that favor. I have definitely thought about this before, but not necessarily in such clear terms.
What I also appreciate about Robert's thread was this insight about why the two sides talk past each other:
Of course, said climate change deniers tend to ignore the wealth of well-document evidence about how Fossil Fuel Companies and other business interests have done their damnedest to suppress evidence of climate change for decades. Then again, if you follow Roberts's line of thinking, those deniers accept that this happened (and is continuing to happen) and it most likely only reinforces their assumption that the opposite side must be doing the same thing.
Admittedly, this sort of projection is very familiar to anyone who spends time in the Conservative-Media-Complex.
So this gets back to a fundamental question–if we accept that a lot of folks are arguing in bad faith, is it worth engaging them in good faith? Personally, I think it depends on your goal in doing so. If your hope is to change their minds, probably not. I think everyone needs to accept that it's really difficult, if not impossible, to win a debate on the internet (or most places) so long as your success criteria are hearing an unequivocal "You're right. I'm wrong."
Personally speaking, as someone who has spent more time and energy trying to debate in good faith* than I care to admit, I do my best (though I'm not always successful) to give up on "winning." I personally engage in that way for two key reasons: first, it helps me sharpen my arguments and make sure I'm on solid ground. And, occasionally, you find a useful nugget of understanding in a bad-faith argument (you can't spot and name a logical fallacy like the Gish Gallop without first engaging in those debates). But, honestly, this isn't the core reason I do it.
My primary reason for engaging in that way, as I've mentioned in the past here, is that I'm engaging not for the benefit of the person I'm debating. Someone, for example, who wants to advance that the Modern (post-1950) Democratic party is the party of racism is never going to move off their ideologically-rooted position (see, eg, D'Souza, Dinesh). However, carefully pointing out all of the historical issues with this argument and all the counterfactuals in a clear and concise way just might influence the thinking of the countless people who read, but don't post, on Twitter or OTB. I'm an optimist (albeit a cynical one) who believes in the power of networks. Therefore I believe that helping at least one person think just a little bit differently or be prepared to respond when someone advances a bad talking point makes all that effort worth it.
… at least most of the time.
Ok, commenters, your turn? Good-faith debating, is it worth it? What are your criteria for engaging in one?
---
* – To be clear, I'm no angel–I don't always debate in good faith. My public writing record shows that, especially when it's a long-time "sparring" partner who I know isn't going to return the favor, I definitely engage in snark and insults rather than persuasive argumentation.
Also, I think many of us, myself included, have topics that we will most likely never move significantly on. For me, it's things like the importance of LGBTQ+ rights, climate change, the importance of government services, and the ongoing and harmful effects of systemic racism. My views on them have definitely changed over the years and will change in the future. That said, that movement probably will never include a wholesale abandonment of my current positions. So, in my opinion, it's important (a) that we're capable of admitting those personal biases, and (b) that we check ourselves even more closely on those topics to ensure we're not putting ideology above all else.