The Godfather Presidency
One Republican analyst thinks that President Obama could learn a few leadership lessons from Vito and Michael Corleone. In order to do that, though, the President would need to stop acting like the weakest of the Corleone brothers.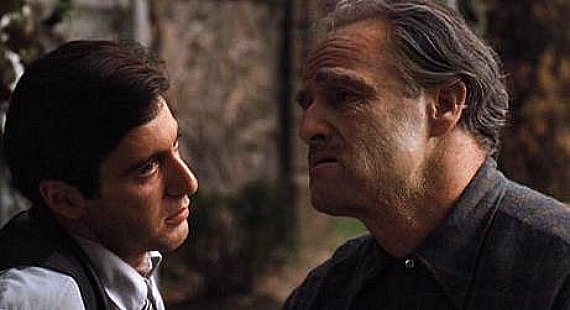 Long time Republican political guru Roger Stone Roger Alan Stone argues that President Obama can learn from Vito and Michael Corleone:
Barack Obama said during the 2008 campaign that his favorite movie was "The Godfather." But the president apparently views "The Godfather" as a crime or family drama — not as the most important work on the use of power by an Italian since Machiavelli's "The Prince."

Lessons from Don Corleone would have helped Obama avoid many of the mistakes in his first year and a half in office.
Stone goes on to draw a few examples from the film that he says President Obama should take to heart:
Remember that the don has done you this favor.

As a powerful man, the don does many people many favors. But they know that something will be expected of them in return. When that moment comes, they had better be willing to return the favor. This favor bank is a great source of the don's power.

Obama has been all quid, with no pro quo. With Sen. Joe Lieberman (I-Conn.) down on his luck — no job in the McCain administration and the Democratic Caucus skeptical of his liberal credentials — Obama intervened. Because of that, Lieberman got the committee chairmanship he so desperately wanted. But, somehow, attached to that favor were no strings — for example, no condition that he could vote as he wanted on bills but would support the caucus on breaking filibusters.
The obvious question, of course, is how such an agreement would be enforced. In the Corleone's world, of course, enforcement is a simple and brutal matter. In Washington, it's not quite so easy, which is why such agreements are rarely entered into or taken seriously.
Even if there had been strings attached to the Administration's intervention that let Lieberman keep his Senate seat, they would've been meaningless and, had they become public, the Administration would've gotten into hot water for making quid pro quo deals in exchange for putting their thumb on the scale in a matter that, technically, is a purely internal Senate matter.
Even if Obama had made an "agreement" with Lieberman, he never could've enforced it, but Stone has an answer for that:
Sometimes you need to leave a horse head in the bed.

The don knows that when the situation has reached an impasse, it's time for the unexpected move that shows you can hurt your opponents in personal ways that they cannot expect, let alone imagine: a calculated overreaction that shows your opponents their actions have consequences.

Take, for example, the blocking of hundreds of administration appointments by Republicans. At one point, Alabama Sen. Richard Shelby announced he was blocking all pending appointments to secure a few million dollars in Defense Department pork for his state.

That would have been the moment to strike: Call up Majority Leader Harry Reid and ask to recess for a day. Then recess-appoint all pending appointments. And give a Rose Garden address saying that our problems are too important for this kind of malarkey.

Of course, for good measure during recess, Obama could have appointed all those who would never have been confirmed by the Senate — and given Shelby a "Sicilian message" by appointing someone from the Southern Poverty Law Center as U.S. attorney for Alabama.

Go to the mattresses.

When a gangland war gets serious, the don has to "go to the mattresses." That means he assembles all his forces, which stay ready 24 hours a day by sleeping in secret apartments.

Clearly, when the Republicans began filibustering everything, it was time to go to the mattresses — that is, keep the Senate in session continuously and make the Republicans filibuster "Mr. Smith Goes to Washington" style. That would have shown the country where the obstruction really lay.

Whenever the possibility of real physical discomfort or even inconvenience has arisen, the Republicans have backed down.
Except, of course, that Senate rules don't allow for that. All you need to do is win a cloture vote and you've won the filibuster. In order to change that rule, you'd need the support of 67 Senators. And that's never going to happen.
Moreover, politics, unlike La Cosa Nostra is about compromise, not war. Obama accomplishes nothing by turning every little legislative battle into a war with his political enemies in the GOP, especially since he has enemies to worry about elsewhere.
Which leads me to the one piece of Corleone family advice that Stone leaves out, and which Obama should take to heart:
From my perspective, the biggest mistake President Obama has made since taking office is giving far too much discretion to the Democratic Congressional leadership. From the February 2009 stimulus package, to health care reform, to financial regulation, President Obama and his advisers have been content to sit back and let Congress work out the details of legislation that, during the campaign, Obama had said would be the centerpieces of his Presidency. The result has been legislation that resembles anything designed by committee — a complete an utter mess that seems more concerned with satisfying various Congressional constituencies than accomplishing it's stated goals.
Imagine how things might have been different if the President had kept both his friends, and his enemies, close, and taken control of the situation. Instead of a stimulus bill that was little more than a collection of a decades worth of Congressional pork barrel projects, we might have had something that was actually aimed at, you know, economic stimulus. And the psychological impact on the public of a President who actually seems to be in charge shouldn't be discounted either. I'm not sure that the economy would be any better had Obama acted differently, but it hardly could be in worse shape. And, from the President's perspective, his Presidency would be in an arguably stronger position than it is today.
But, it's fairly clear that Barack Obama doesn't want to be that kind of President.
The biggest problem with Stone's advice, then, is that it's fairly clear that President Obama temperamentally incapable of acting like the kind of leader that Stone is suggesting he should be. In the world of The Godfather, Barack Obama isn't the brutal-yet-wise Vito or the coldly calculating Michael. He's Fredo, and it's showing.
Note: Updated 9/22/10 to reflect the fact that the author of the linked article is not the same person as Republican politico Roger Stone. My apologies.