The Good Old Days
Back when people were kinder and man's word was his bond.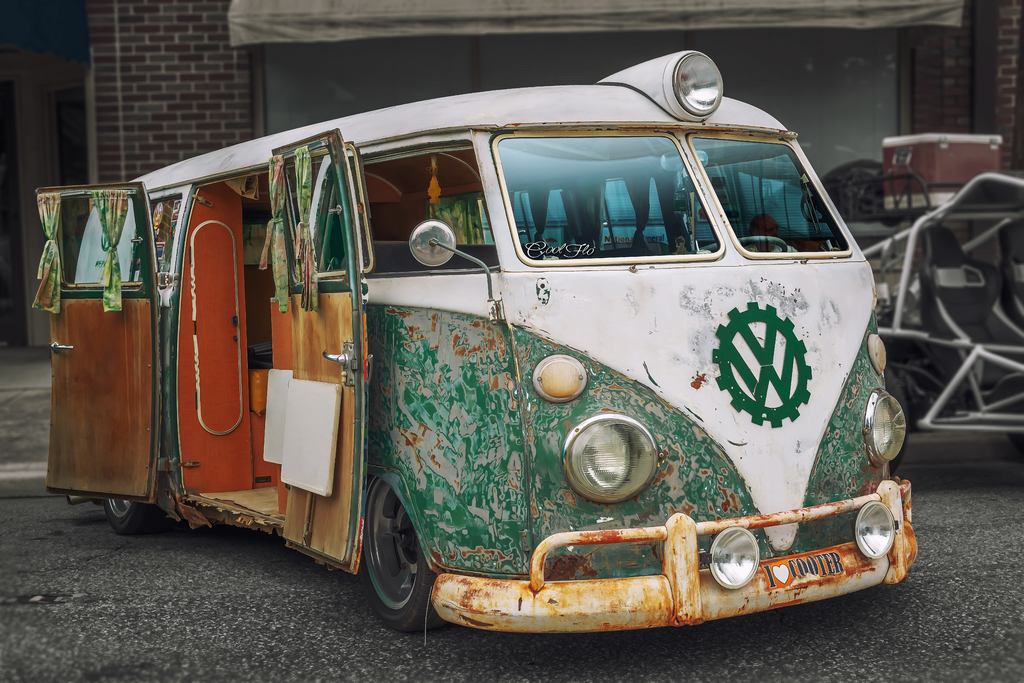 Hanna Rosen's Radio Atlantic interview "Are You Plagued by the Feeling That Everyone Used to Be Nicer?" points to recently-published research by Adam Mastroianni, a postdoctoral scholar at Columbia Business School with a recent PhD in Psychology from Harvard and a Rhodes Scholar. His latest paper (co-authored with Daniel T. Gilbert), "The illusion of moral decline," was published by Nature last month. It is, alas, filled with a goodly number of formulas that will be indecipherable to those not trained in statistics.
He talks about it with Rosen but the back-and-forth conversation is challenging to excerpt. He also blogs about it at his Substack, which is a more straightforward presentation.
The setup:
This paper was born out of spite. For my whole life, I've listened to people bemoan the demise of human goodness. "Used to be you could trust a man's word," "Back in the day, you didn't have to lock your doors at night," "People don't care for one another anymore," etc.

This drives me nuts, because people are often wrong about how the present differs from the past. In another paper, I asked people to estimate how public opinion had shifted over time on a bunch of different issues, and they were really bad at it. Not just randomly bad, like a bunch of people throwing darts at a board and most of them missing the bullseye. They were biased—they usually thought attitudes had shifted more than they really had, or they even got the direction of change wrong. That's like everybody's darts landing six feet north of the target.

So whenever people make sweeping claims about how the present is different from the past, I wanna grab 'em by the lapels and shake 'em: "How do you know?? Did you, like, watch a season of Mad Men? Did you hear some random anecdote from your grandpa? Or is this coming from something you half-remember from your ninth grade social studies class? People spend years trying to figure these things out, but you can just kinda intuit it???"
They compiled a comprehensive list of surveys and found that, rather consistently, people think that people have become less honest, less kind, etc. than they used to be: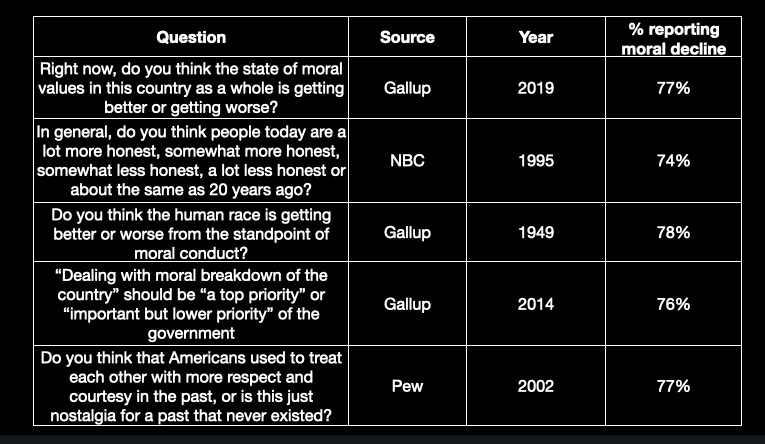 There's a strange consistency: the number saying that morality has declined has remained consistent for decades and people think it has declined more over the past 50 years than the past 10 years or 20 years. This isn't just an American phenomenon—they found the same thing looking at surveys from 59 other countries. So, it's a general human trait, not a function of the American political or media environment.
Once again, two interesting additional findings popped out of the data. First, you might think that "morality is declining!" is the kind of thing only an old person would say. But nope; young people say it too. When you ask people about moral decline over the course of their whole lives, older people say there's been more. When you divide that amount by people's age, however, you get the same number. That is, older and younger people agree on the rate of moral decline[.]

Second, you might think "morality is declining!" is a thing only conservatives say. Nope; liberals say it too. Conservatives perceived more decline than liberals, but even the strongest liberals agreed it was happening.
The funny thing is, there's just no basis for these beliefs. First, as Mastroianni notes, the social trends are in the opposite direction.
One big strike against this idea is that, for pretty much any awful thing you can think of—war, murder, slavery, child abuse, etc.—people seem to do less of it now than they used to. If morality has been in freefall for decades or even centuries, it's a bit odd that people don't squish each other's skulls as much as they once did.
Not the mention things like racism, sexism, and homophobia. They're not gone, to be sure, but they're generally trending in the right direction.
For decades, survey companies have been asking people questions about their experiences with everyday morality, like, "Were you treated with respect all day yesterday?" and "Are people generally helpful, or are they looking out for themselves?" and "In the past month, have you helped a stranger who needed help?"
If, as participants in Part I claimed, morality has been falling for decades, it should be pretty easy to find changes in people's answers to these questions.

It turns out to be very hard to find changes in people's answers to these questions. We found 107 surveys that were administered to over 4.4 million people between 1965 and 2020. We did some statistical tests to check whether there were any meaningful changes in people's responses over time. We found none. Sometimes these moral indicators went up a little bit, sometimes they went down a little bit, but on average they went nowhere at all. For instance, here's one from Gallup:

Note that every single year, in the same survey, about 70% of people say that morality is getting worse. So every year people give the same answer, and every year people say it's worse than it was before.
They look at several other surveys asking questions like "Were you treated with respect all day yesterday?" and "Are people generally helpful, or are they lookout out for themselves?" and find shockingly similar answers year by year by year. And the "generally helpful" survey data go all the way back to 1972 with very little variation.
This goes on for another 104 surveys. We also searched for sources outside the US, and found 33 surveys with a combined sample size of over 7.3 million. These, too, showed no change over time.
In addition to survey data, we have other evidence.
Social scientists have, for decades, brought people into the lab and asked them to play "economic games" like the Prisoner's Dilemma and the Public Goods Game. ("Game" is a generous term for these; basically you make some decisions and get some money, or not. This is economists' idea of fun.)

Last year, a team led by Mingliang Yuan tracked down as many of these studies as they could find, and then checked whether cooperation rates had changed over time. They expected to find that people are more likely to be selfish today. Instead, they found the opposite: cooperation rates increased about 10 percentage points from 1956 to 2017. Obviously, these games present people with pretty weird situations; they are not an objective peek into humans' heart of hearts. But if you believe in moral decline, it's hard to explain why people seem to be more willing to cooperate.

Maybe, though, people would get this one right. If you explained a Prisoner's Dilemma to participants, told them that you know how cooperation rates have changed over time, and paid them a bonus for estimating the change in those rates correctly, do they nail it?

They do not nail it. When we did all those things, people estimated that cooperation had decreased by 10 percentage points. That is, they got the amount of change right, but the wrong direction. So even when money is on the line, even when we don't use squishy terms like "morality," and even when we can compare people's perceptions directly to reality, we still find a sizable illusion of moral decline.
So, people have consistently believed that morality (again, measured in all manner of ways) has been in decline at a macro level but neither the macro nor micro level data support this. What explains this? After listing some obvious points, they get to the main findings:
Biased exposure means that things always look outrageous: murder and arson and fraud, oh my! Biased memory means the outrages of yesterday don't seem so outrageous today. When things always look bad today but brighter yesterday, congratulations pal, you got yourself an illusion of moral decline.
Which makes sense. And it means there's a disconnect with how people perceive the state of the society and their personal life.
In another study, we asked people to answer those same questions about interpersonal replacement and personal change that we asked in a previous study, first about people in general, and then about people that they interact with on a daily basis. When we asked participants about people in general, they said (a) people overall are less moral than they were in 2005, (b) the same people are less moral today than in 2005 (personal change) and (c) young people today are less moral than older people were in 2005 (interpersonal replacement). Just as they did before, participants told us that morality declined overall, and that both personal change and interpersonal replacement were to blame.

But we saw something new when we asked participants about people they know personally. First, they said individuals they've known for the past 15 years are more moral today. They said the young folks they know today aren't as moral as the old folks they knew 15 years ago, but this difference was smaller than it was for people in general. So when you ask people about a group where they probably don't have biased exposure—or at least not biased negative exposure—they report less moral decline, or even moral improvement.
And this is rather amusing:
The second thing that BEAM predicts is that if you turn off biased memory, the illusion of moral decline might go away. We figured this could happen if you asked people about times before they were born—you can't have memories if you weren't alive. We reran one of our previous studies, simply asking participants to rate people in general today, the year in which they turned 20, the year in which they were born, 20 years before that, and 40 years before that.

People said, basically, "moral decline began when I arrived on Earth"[.]
Mastroianni is a very young scholar; indeed, he began his graduate studies the year Donald Trump was elected President. And this very much influences his research interests. This research helps explain the power of "Make America Great Again" and similar populist appeals.
[I]t's fine to have strong opinions about things that you know nothing about—that's kind of what the internet is for. But it's not fine when those strong opinions lead to demands for actual changes in the world. If you think that morality is declining, then you must think that some switch has been flipped in society, causing it to produce worse humans. No doubt you would want to un-flip that switch, whatever you think it is: smash the social media companies! Kill all the politicians! Ban the bad books! None of that is going to reverse the trend, because the trend doesn't exist. It's like activating the sprinkler system in a building that's not on fire.

(This is exactly what aspiring despots do, by the way: they cry catastrophe as a way of justifying their extreme measures. "Things are going to hell, but make me king and I'll fix it all.")
Indeed.