The GOP's 2012 Paradox: Familiarity Breeds Contempt
A new poll of Republican Presidential hopefuls shows that the more well-known the candidate, the less-well they do in a head-to-head match against Obama: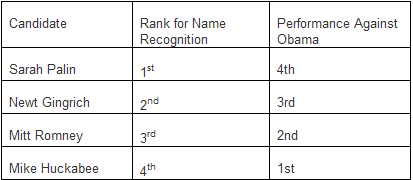 The numbers:
Mike Huckabee is the only possible GOP contender polling ahead of Obama this month, at 47/44. Going from arguably most pleasant to most angry across the spectrum of leading Republicans you then have Obama ahead of Mitt Romney 46-43, Newt Gingrich 47-43, Sarah Palin 49-43, and Glenn Beck 48-39.

Huckabee is the only candidate we polled this month to post positive favorability numbers, at 35/32. That's because he's relatively inoffensive to Democrats with only 44% having an unfavorable opinion of him. Mitt Romney's favorability numbers are only slightly negative at 33/35. The rest of the GOP folks are highly unpopular with Beck's favorability at 31/41, Palin's at 38/52, and Gingrich's at 30/50.

We also asked generally whether people would vote for Obama in 2012 or vote for his Republican opponent and that came out dead even at 47%. Those numbers tell us 2 things: 1) that Romney, Gingrich, and Palin are all weaker than a generic GOP nominee and 2) that it may be a little premature to write Obama's political obituary given that he's running even at a very, very bad time for his party.
What this suggests to me is that the GOP needs to look beyond these four big names to someone new.