The Manufactured "Ground Zero Mosque" Controversy
How did the future of this former Burlington Coat Factory turn into a national political issue ? Well, it's a rather interesting story.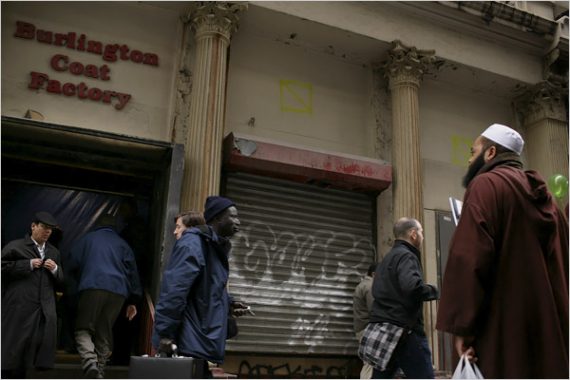 Over at Slate, Justin Elliot puts forward a timeline to show how the story of the "Ground Zero Mosque" went from a minor New York area story to a national controversy, and it's not pretty:
Dec. 8, 2009: The Times publishes a lengthy front-page look at the Cordoba project. "We want to push back against the extremists," Imam Feisal Abdul Rauf, the lead organizer, is quoted as saying. Two Jewish leaders and two city officials, including the mayor's office, say they support the idea, as does the mother of a man killed on 9/11. An FBI spokesman says the imam has worked with the bureau. Besides a few third-tier right-wing blogs, including Pamela Geller's Atlas Shrugs site, no one much notices the Times story.

Dec. 21, 2009: Conservative media personality Laura Ingraham interviews Abdul Rauf's wife, Daisy Khan, while guest-hosting "The O'Reilly Factor" on Fox. In hindsight, the segment is remarkable for its cordiality. "I can't find many people who really have a problem with it," Ingraham says of the Cordoba project,adding at the end of the interview, "I like what you're trying to do."

May 6, 2010: After a unanimous vote by a New York City community board committee to approve the project, the AP runs a story. It quotes relatives of 9/11 victims (called by the reporter), who offer differing opinions. The New York Post, meanwhile, runs a story under the inaccurate headline, "Panel Approves 'WTC' Mosque." Geller is less subtle, titling her post that day, "Monster Mosque Pushes Ahead in Shadow of World Trade Center Islamic Death and Destruction." She writes on her Atlas Shrugs blog, "This is Islamic domination and expansionism. The location is no accident. Just as Al-Aqsa was built on top of the Temple in Jerusalem." (To get an idea of where Geller is coming from, she once suggested that Malcolm X was Obama's real father. Seriously.)

May 7, 2010: Geller's group, Stop Islamization of America (SIOA), launches "Campaign Offensive: Stop the 911 Mosque!" (SIOA 's associate director is Robert Spencer, who makes his living writing and speaking about the evils of Islam.) Geller posts the names and contact information for the mayor and members of the community board, encouraging people to write. The board chair later reports getting "hundreds and hundreds" of calls and e-mails from around the world.

May 8, 2010: Geller announces SIOA's first protest against what she calls the "911 monster mosque" for May 29. She and Spencer and several other members of the professional anti-Islam industry will attend. (She also says that the protest will mark the dark day of "May 29, 1453, [when] the Ottoman forces led by the Sultan Mehmet II broke through the Byzantine defenses against the Muslim siege of Constantinople." The outrage-peddling New York Post columnist Andrea Peyser argues in a note at the end of her column a couple of days later that "there are better places to put a mosque."

May 13, 2010: Peyser follows up with an entire column devoted to "Mosque Madness at Ground Zero." This is a significant moment in the development of the "ground zero mosque" narrative: It's the first newspaper article that frames the project as inherently wrong and suspect, in the way that Geller has been framing it for months. Peyser in fact quotes Geller at length and promotes the anti-mosque protest of Stop Islamization of America, which Peyser describes as a "human-rights group." Peyser also reports — falsely — that Cordoba House's opening date will be Sept. 11, 2011.
And it wasn't long after this, after the issue had been talked to death for weeks on talk radio and Fox News Channel, that Fox News hosts like Sean Hannity, conservative "pro-family" organizations, and so-called "men of God" started weighing in on this.
Then the politicians chimed in. First Sarah Palin, but soon there after it was Newt Gingrich, Rudy Giuliani and seemingly anyone else on the right who wanted to make a name for themselves. By the time the President chimed in last Friday, the ground had been prepared to such an extent that the political firestorm we now find ourselves in was seemingly inevitable.
Make no mistake, though, this is a manufactured controversy, and for proof of that you need look no further than the Laura Ingraham-Daisy Khan interview from December noted above:
What happened in the seven months since that interview was aired ? A very well coordinated propaganda campaign designed to appeal to people's worst fears. Sadly, it's looks like they've succeeded.