The Next Attorney General And Lame Duck Sessions Of Congress
The next Attorney General will likely see their nomination taken up by Senators who will not be in office past December. That's somewhat disturbing, but it's become all too common in Washington.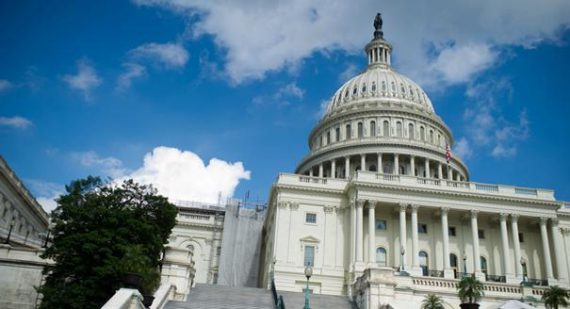 President Obama hasn't yet named anyone to replace Attorney General Eric Holder, who announced his widely anticipated resignation yesterday, but the political controversy over that person, and specifically the timing of when it it will be considered by the Senate is already starting:
Conservatives are warning President Obama against using a lame-duck session of Congress to push through Attorney General Eric Holder's replacement, even as the White House signals its intention to fill the post quickly.

Holder's announcement that he will resign as the nation's top law enforcement officer reverberated Thursday around Washington, where speculation has already begun to mountabout who might fill the Cabinet position.

Republican lawmakers quickly vowed that whomever Obama taps would be subject to intense scrutiny following an era when the GOP was often at odds with the Justice Department.But even if, as many predict, Republicans reclaim control of the Senate in the approaching midterm elections, they would be largely powerless to block Democrats from using their current majority to confirm an attorney general before the new Congress is gaveled into session in January.

"Rather than rush a nominee through the Senate in a lame-duck session, I hope the president will now take his time to nominate a qualified individual who can start fresh relationships with Congress so that we can solve the problems facing our country," said Iowa Sen. Chuck Grassley, ranking Republican on the Senate Judiciary Committee.

Grassley, who voted to confirm Holder in 2009, lamented that his tenure "was strained by his lack of respect for Congress, the American taxpayer and the laws on the books. "

He noted, however, that Holder has committed to remaining on he job until a successor is named, allowing for thIte confirmation process to run its course.

Sen. Patrick Leahy (D-Vt.), Judiciary Committee chairman, said on MSNBC that he had spoken with the White House and called for a quick confirmation process.

"I hope that they would be able to decide on a nomination soon, definitely we should have confirmation hearings as quickly as possible in the Senate," he said.

Leahey said he hopes no one will try to slow the process down.

"I would hope that nobody would try to block an up or down vote on the chief law enforcement officer of the country," he said. "It would be the height of irresponsibility."

(…)

"There's no doubt the president will trwho y to ram through a lame-duck Senate another partisan hack for attorney general," said Jenny Beth Martin, co-founder of Tea Party Patriots. "We cannot allow that to happen."

Republicans have repeatedly urged Democrats to refrain from pushing through any non-emergency legislation in a lame-duck session, arguing that lawmakers who have lost their seats would have no accountability.

That holds true for selecting Holder's replacement, said Sen. Ted Cruz (R-Texas), a member of the Judiciary Committee, which will consider the eventual nomination.

"Allowing Democratic senators, many of whom will likely have just been defeated at the polls, to confirm Holder's successor would be an abuse of power that should not be countenanced," Cruz said.
As I noted yesterday, Holder's resignation at this late date places the Administration in something of a quandry. If Republicans gain control of the Senate in November, then the odds of getting a nominee confirmed will decrease significantly. At the very least, the President would likely have to choose someone who could garner enough Republicans to get a majority, and while that may end up only being a matter of getting one or two Senators it would still pose political problems for the Administration. Even if a nominee is confirmed in a Republican Senate, which I expect one ultimately would, the confirmation process would likely be brutal. Senator Charles Grassley, who would chair the Judiciary Committee in a Republican Senate, would likely do his best to keep the confirmation hearings as reasonable as possible but they would inevitably become a stage for more conservative members of the GOP caucus to score points against the Administration. In the end, the President would likely get a new Attorney General but it would most assuredly not be someone like the type of nominee he could get confirmed in a Senate controlled by Democrats.
It's because of the risk that the GOP might gain control of the Senate that most analysts are expecting that the White House and Senate Democrats will attempt bring the nomination before the Senate during the upcoming post-election Lame Duck session. It won't be easy. Right now the Senate is expected to return on November 12th and would likely remain in session until some time before Christmas. In between there will be a week long break for Thanksgiving, though, so at most we're talking about maybe four weeks in which the Senate will actually be in session. That won't be a lot of time to get a candidates vetted, conduct hearings, hold a vote in the Judiciary Committee, and send the nomination to the floor, but it could be done if the Democrats want to get it done. Thanks to last year's changes to the filibuster rules, there will be little that Senate Republicans as a group or individual Senate Republicans could do to stop the nomination, although they could try to to delay it or even run out the clock on the Senate's session through procedural motions and the use of holds, which were not effected by the changes to the filibuster rules.  That's one reason why the President might select someone like Solicitor General Donald Verilli who has already been through the Senate confirmation process, twice in his case. In any case, there are obvious incentives for the Administration to try to push the nomination through the Senate before the end of this year, and that's what I expect they'll do.
I'm somewhat sympathetic to the arguments that Republicans are making here. Traditionally at least, Lame Duck sessions are intended for Congress to finish up business that could not get done prior to the election. Typically this involves budget matters, and that will be one of the matters that Congress will need to take up when it returns. The idea of members of the Senate who are leaving office, or who have just been voted out of office, voting on consequential matters like the confirmation of Presidential appointees or a vote to authorize future military action against ISIS, on the other hand, raises serious issues that shouldn't be dismissed lightly. Just a week before Congress returns, after all, the people will have spoken and that will likely include voting out of office several incumbents in both the House and the Senate; the idea that these legislators would then have a vote on controversial and important issues is somewhat discomforting. Yes, it's their job, but they will have just been effectively fired from their job by the voters and it seems somewhat wrong for them to be voting as is nothing has happened, especially when the election has resulted in the party switch for their seat. The argument is the same for legislators who have announced that they are retiring when the current session of Congress ends. As For better or worse, though, it's become common practice for both parties to use these Lame Duck sessions to push through things that couldn't get passed prior to an election. During President Obama's tenure, for example, we have seen budget agreements, extensions of the Bush Tax cuts, and the repeal of Don't Ask, Don't Tell all passed by a Lame Duck Congress.
This issue has come up before, and there was even a West Wing episode about it that focused on a defeated Senator who decided he could not in good conscience go against the will of the voters that had just elected his opponent despite the fact that it would hurt the Administration and his party. Four years ago, several Republican Senators implored Harry Reid to delay consideration of the new START Treaty until the new Congress convened in January 2011. Democrats would still control the Senate at that time, but their majority would be a lot slimmer and Republicans would likely have had a better opportunity to influence the debate. Ultimately, Reid went forward with the vote and the treaty was ratified by a comfortable margin. At the time, though, the issue raised some serious concerns about the role of Lame Duck Congressional Sessions, and not just from people on the right. Yale Law Professor Bruce Ackerman noted that there were some serious Constitutional issues raised when Lame Duck sessions include the consideration of controversial legislation, especially if that legislation was part of the election. At the time I noted that the entire process seemed anti-democratic and rife with possibilities for abuse. These concerns are all well founded, but given the fact that Congress has gotten into the habit of delaying the work it needs to get done until after elections to the point where it is starting to become tradition, it's unlikely that we're going to see an end to these kinds of tactics in the near future.