The Petraeus Scandal Within a Scandal
The scandal that led to P4's downfall has many layers, none of them flattering to the most famous American general of his generation.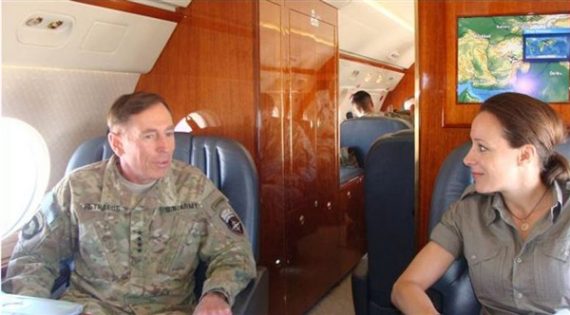 General David Petraeus' resignation as CIA Director after an adulterous affair is shocking news, although perhaps it shouldn't be. Yes, Petraeus has been in the public eye for years now and his reputation for moral decency has always been unimpeachable. Then again, the same was true of Tiger Woods. And Joe Paterno.
The affair itself is a moral failure. After 38 years of marriage and raising two children together, it's a horrible betrayal. But, while unacceptable, it's certainly understandable. Paula Broadwell, his alleged paramour, is the type of woman I'd expect Petraeus to be attracted to were he single. She's a fellow West Point graduate, counterinsurgency expert, fitness nut, and PhD. She's good looking and, alas, 20 years younger than his wife. Mix in a close working relationship and long periods of physical separation from his wife,* that the natural attraction got consummated perhaps shouldn't surprise us.
Less forgivable are allegations that Petraeus allowed Broadwell access to classified documents as part of the research for her book. That's not only illegal, it's potentially dangerous to the national security. That said, unless substantial evidence comes in to the contrary, I'm inclined to give the general the benefit of the doubt on this. Our classification system is something of a farce. A collection of clippings from the New York Times could become a classified document, potentially even a TOP SECRET document, if it's deemed that the combined work creates a narrative that would be dangerous for the enemy to possess. Further, a combined work that contains even a sentence of classified material is classified at the level of the most sensitive piece of information in the work. So, it's possible that Petraeus gave access to the work but redacted the sensitive material. For that matter, with low level documents at the SECRET level, he may well have decided that letting a former Army intelligence officer read them simply didn't constitute a threat.
Oddly, the thing that I find most troubling about the scandal thus far is something that's neither immoral nor illegal but just cheesy and dishonest: Petraeus' allowing a woman he's having an affair with publish a hagiography. Broadwell's book was widely panned, even by admirers of Petraeus, as over the top in its praise of the man. It was bad enough that he'd spent months of his time being shadowed for such a syrupy treatment, much less that he'd read and approved it. Even without a romantic relationship, he should have been embarrassed. But for the author to be someone who was secretly sleeping with the subject is just beyond the pale; it's a fraud against the reader in which Petraeus willingly participated.
Also: Under the circumstances, you'd think one of them would have decided that All In was an unfortunate title for the book.
______________________
*In my Army days, the term "geographic bachelor" was used to describe married men on unaccompanied tours overseas. Officially, it just meant that they were entitled only to quarters available to single soldiers of their rank rather than family housing. But it was also tacitly understood that they might emulate other lifestyle habits of unmarried men.