The Plan In Libya? There Is No Plan
It has become quite apparent that neither the White House nor our coalition partners have any idea what the path to an endgame in Libya even looks like. That's not good.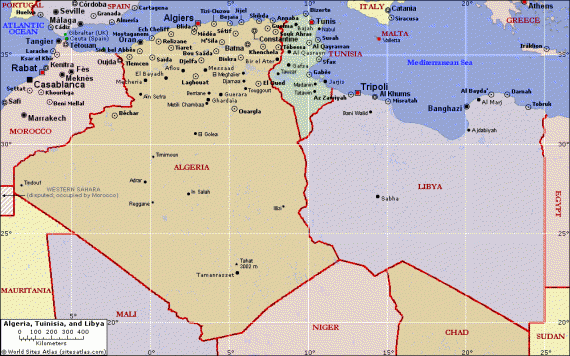 Four days into the United Nation's engagement/war/no-fly-zone in Libya, it's becoming increasing apparent that nobody thought this thing through before giving the go orders on Saturday. Consider,for example, these comments by President Obama during an interview with Univision last night in El Salvador:
In an interview with Univision Tuesday, President Obama re-defined the term "exit strategy," and said our exit strategy in Libya would begin this week.

"The exit strategy will be executed this week," President Obama said, "in the sense that we will be pulling back from our much more active efforts to shape the environment. We will still be in a support role. We will be supplying jamming, intelligence and other assets unique to us."

Planes in the air? Ships in the Mediterranean? Intelligence being provided? Doesn't sound like an exit strategy at all.

What it does recall is Lewis Carroll.

"'When I use a word,' Humpty Dumpty said, in rather a scornful tone, 'it means just what I choose it to mean — neither more nor less."
That pretty much sums it up, it would seem. At this point, the Administration  seems to be playing a desperate rear-guard action in which they're emphasizing the fact that American forces are not going to be principally involved in enforcing the no-fly zone, at least for the  moment. But that's not an exit strategy. Even if our role will shift to the background we'll still be involved and, if and when it becomes clear that the no-fly isn't working, someone is going to have to do something about. And guess who that someone will turn out to be?
It isn't really just Obama's fault, though. Even the British Armed Forces Minister can't identify what the exit strategy is:
The Government does not know how long the Armed Forces will be engaged in Libya, a defence minister admitted as debate intensified over the likely outcome, cost and leadership of the mission.

Nick Harvey, the Armed Forces minister, was asked how long Britain would be involved in the military operation in north Africa. He replied: "How long is a piece of string? We don't know how long this is going to go on for."

His admission, three days into the intervention, came as ministers faced mounting pressure to set out the limits of Britain's involvement and explain their eventual exit strategy.

MPs were becoming increasingly concerned that Britain would be "sucked in" to a prolonged conflict.
Adding to the sense of uncertainty, France and Britain remained at odds over a plan for Nato to take over command of military operations when the US winds down its involvement, a transition expected in days.
The dispute over who is going to end up being in charge of the mission over Libya has gotten so contentious, that Germany, which opposed intervention, has pulled its ships out of the NATO contingent in the Mediterranean Sea. Nobody knows who's in charge and, more  importantly, nobody seems to want to be in charge, least of all the President of the United States. That's nothing less than a recipe for disaster.
Update: If anything, I'm getting the feeling that the situation is worse after reading the comments made today by the Chief of Naval Operations:
The U.S. military does not know when it will hand off control of the intervention in Libya to an international coalition, or whether a transfer of power will allow it to reduce its role in the war, according to the Navy's top military officer.

Adm. Gary Roughead, the Chief of Naval Operations, said that he has received no guidance on the path ahead for command and control of the no-fly zone, no-drive zone, no-sail zone, arms embargo enforcement, and any other missions currently being managed by U.S. Africom Commander Gen. Carter Ham, who is in Germany. NATO has been battling internally over whether to take command, while the French government's latest proposal is to set up a "political steering committee" made of Western and Arab foreign ministers.

Diplomatic sources told The Cable that the United States has communicated to its European partners that it wants to hand off command of the Libya war by the end of this week. But the White House hasn't said whether it supports the French plan. Meanwhile, the Navy, which is conducting the bulk of the operations, has no idea what the transfer of control will look like, or when it might take place.

"We are very mindful of the transition to another command and control lead or structure," Roughead told a meeting of the Defense Writers Group, a set of reporters who interview senior officials over greasy eggs and bacon. "There are a lot of political aspects to it…. Obviously I'm interested in the transition to a different command and control structure."

"Do you have any clarity at all on what the follow-up transition command structure is going to be?"  Wired's Spencer Ackerman asked Roughead.
"They're still working that," Roughead said
I agree, as Dave Schuler notes in a comment below, that any war plan tends to get thrown out the window upon contact with the enemy, but in this case it seems rather apparent that we (and by "we" I mean not just the United States but the entire coalition) went into this without a coherent idea of what comes next or how we might realistically achieve it given the probably circumstances. Sort of the same way went into Iraq without a post-Saddam plan. And we know how that turned out.