The Politics of Vaccination
The science and ethics are not the hardest part of determining who should go first.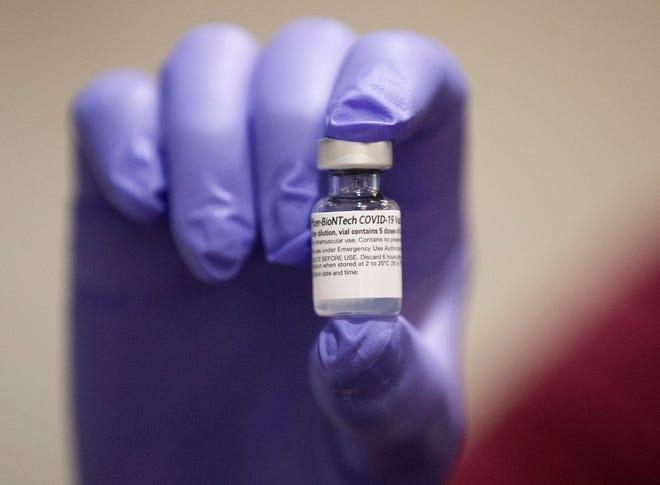 Despite months of President Trump and others downplaying the severity of COVID-19, there is more demand for the new vaccines than there is supply. Naturally, this has sparked a bitter fight over who deserves to get them first.
NYT ("Frontline Workers and People Over 74 Should Get Shots Next, C.D.C. Panel Says"):
Striking a compromise between two high-risk population groups, a panel advising the Centers for Disease Control and Prevention voted Sunday to recommend that people age 75 and older be next in line to receive the coronavirus vaccine in the United States, along with about 30 million "frontline essential workers," such as emergency responders, teachers and grocery store employees.

[…]

The panel of doctors and public health experts had previously indicated it would recommend a much broader group of Americans defined as essential workers — about 90 million people with jobs designated by a division of the Department of Homeland Security as critical to keeping society functioning — as the next priority population, and that older people who live independently should come later.

But in hours of discussion on Sunday, conducted remotely, the committee members concluded that given the limited initial supply of vaccine and the higher Covid-19 death rate among older Americans, it made more sense to allow the oldest among them to go next, along with workers whose jobs put them "at substantially higher risk of exposure" to the virus.

[…]

Other types of essential workers, such as construction and restaurant workers, would qualify for a third wave of prioritization under the panel's recommendations. The committee members acknowledged that they couldn't determine a timeline for that next group, because they did not know how much demand there would be for the vaccine among the earlier priority groups.
WSJ ("CDC Panel Recommends Covid-19 Vaccines for Front-Line Workers, People Over 75 Next") adds:
The decision to include the oldest people in the next priority group marks a shift for the ACIP, which last month considered giving priority to essential workers over the oldest generations for vaccines in early 2021. That position was based on the argument that, like health-care workers, essential workers are putting their lives on the line to keep the economy and society going.

In addition, many essential workers are older, have high-risk medical conditions, and are from racial and ethnic groups and lower-income populations that have suffered disproportionately high rates of severe illness, according to the CDC.

But some government officials, health experts and members of the public pushed back, arguing that the nation's priority should be to protect the oldest Americans.

People 75 years of age and older make up 8% of the population but 25% of hospitalizations and have the highest death rate of all age groups by far, according to the CDC. Their rates of hospitalization have also been climbing more rapidly in recent weeks than other age groups, the agency said.
All of that is simple cost-benefit analysis that scientists are more-or-less equipped to handle. But the politics of this makes prioritization much more challenging. Teachers may be less vulnerable than grocery store workers, for example, but there's a massive push to get them back in the classroom. Prisoners are among the highest-risk groups in the country but, well, they're convicted criminals. Moreover, there are serious economic and racial equity issues.
A NYT analsyis by Abby Goodnough and Jan Hoffman from earlier in the month ("The Elderly vs. Essential Workers: Who Should Get the Coronavirus Vaccine First?") dives into some of that.
With the coronavirus pandemic surging and initial vaccine supplies limited, the United States faces a hard choice: Should the country's immunization program focus in the early months on the elderly and people with serious medical conditions, who are dying of the virus at the highest rates, or on essential workers, an expansive category encompassing Americans who have borne the greatest risk of infection?

[…]

It's a question increasingly guided by concerns over the inequities laid bare by the pandemic, from disproportionately high rates of infection and death among poor people and people of color to disparate access to testing, child care and technology for online schooling.

[…]

Ultimately, the choice comes down to whether preventing death or curbing the spread of the virus and returning to some semblance of normalcy is the highest priority. "If your goal is to maximize the preservation of human life, then you would bias the vaccine toward older Americans," Dr. Scott Gottlieb, the former Food and Drug Administration commissioner, said recently. "If your goal is to reduce the rate of infection, then you would prioritize essential workers. So it depends what impact you're trying to achieve."

The trade-off between the two is muddied by the fact that the definition of "essential workers" used by the C.D.C. comprises nearly 70 percent of the American work force, sweeping in not just grocery store clerks and emergency responders, but tugboat operators, exterminators and nuclear energy workers. Some labor economists and public health officials consider the category overbroad and say it should be narrowed to only those who interact in person with the public.

[…]

Historically, the committee relied on scientific evidence to inform its decisions. But now the members are weighing social justice concerns as well, noted Lisa A. Prosser, a professor of health policy and decision sciences at the University of Michigan.

"To me the issue of ethics is very significant, very important for this country," Dr. Peter Szilagyi, a committee member and a pediatrics professor at the University of California, Los Angeles, said at the time, "and clearly favors the essential worker group because of the high proportion of minority, low-income and low-education workers among essential workers."

That position runs counter to frameworks proposed by the World Health Organization, the National Academies of Sciences, Engineering, and Medicine, and many countries, which say that reducing deaths should be the unequivocal priority and that older and sicker people should thus go before the workers, a view shared by many in public health and medicine.

[…]

There are about 90 million essential workers nationwide, as defined by a division of the Department of Homeland Security that compiled a roster of jobs that help maintain critical infrastructure during a pandemic. That list is long, and because there won't be enough doses to reach everyone at first, states are preparing to make tough decisions: Louisiana's preliminary plan, for example, puts prison guards and food processing workers ahead of teachers and grocery employees. Nevada's prioritizes education and public transit workers over those in retail and food processing.

[…]

One occupation whose priority is being hotly debated is teaching. The C.D.C. includes educators as essential workers. But not everyone agrees with that designation.

Marc Lipsitch, an infectious-disease epidemiologist at Harvard's T.H. Chan School of Public Health, argued that teachers should not be included as essential workers, if a central goal of the committee is to reduce health inequities.

"Teachers have middle-class salaries, are very often white, and they have college degrees," he said. "Of course they should be treated better, but they are not among the most mistreated of workers."

Elise Gould, a senior economist at the Economic Policy Institute, disagreed. Teachers not only ensure that children don't fall further behind in their education, she said, but are also critical to the work force at large.

"When you talk about disproportionate impact and you're concerned about people getting back into the labor force, many are mothers, and they will have a harder time if their children don't have a reliable place to go," she said. "And if you think generally about people who have jobs where they can't telework, they are disproportionately Black and brown. They'll have more of a challenge when child care is an issue."
There's a whole lot more, but you get the idea: the calculations are really difficult and depend on what it is you're trying to prioritize. And there's a lot of legitimate interplay with the social justice concerns that the 2008 recession and the current pandemic have highlighted.
And, as a USA Today op-ed by Juleanna Glover ("Don't cut in line for the COVID vaccine. Elites who do will be named and shamed.") makes clear, there is some deep-seated anger about the whole process.
The U.S. government is laying out broad guidance for vaccine distribution starting with health care workers (21 million), nursing facilities (3 million), high-risk people and those older than 65 (153 million) and essential workers (87 million). Well over 200 million complete vaccinations would have to be administered before the healthy, wealthy and under-65 clients who can afford high-priced concierge medical care should receive a dose if the U.S. health care delivery system were equitable and just.
For context, I should note that "well over 200 million" is two-thirds of the country. In fact, if her numbers are right, they come out to 264 million, or 80.5 percent of the estimated population. We're almost certainly defining "high risk" and "essential" too broadly.
There are already rumors of executives seeking special dispensation to have their workers newly designated "essential" in order to cut in line. Any new designations should be carefully examined, and governmental agencies should sequester their decision-making processes from undue political influence. The lives of those who have been risking theirs to care for our sick, work in our drive-thrus and stock our grocery stores and drugstore shelves should come first.
Probably. Although it's quite possible that, given the crudeness of the Labor Department's job categories, that a lot of people currently designated "essential" aren't and vice-versa.
Regardless—and it's a harder position to hold as the Trump era winds down than it was four years ago—it seems obvious to me that the Federal government, and not states and localities, should make these decisions. We should allocate the vaccine centrally, not based on population equities.