The Politics of Wealth
Romney says "We're the party of people who want to get rich."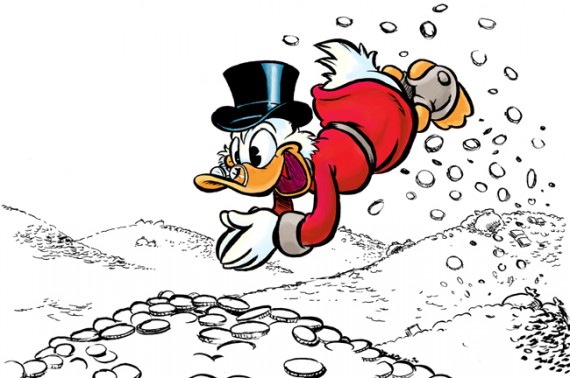 Earlier this week, presidential candidate Mitt Romney said the following (source):
At a fundraiser at a country club in Mississippi this evening that was expected to raise a record-breaking $1.7 million, Mitt Romney defended the Republican Party against its reputation as the "party of the rich" explaining that really, it is a party focused on helping the poor.

"We're accused, by the way – in our party – of being the party of the rich," Romney said. "And it's an awful moniker, because that's just not true. We're the party of people who want to get rich. And we're also the party of people who want to care to help people from getting poor. We want to help the poor.

"We also want to make sure people don't have to become poor," Romney said. "And we know what it takes to keep people from becoming poor."
Emphasis mine.
I find the statement interesting for a variety of reasons.
One is that statements like this underscore the entire predicament of the politics of wealth that Romney finds himself in.  He is not the first wealthy candidate to run for the office, nor is he the first to find wealth the be a campaign liability (for example, John Kerry had similar problems in 2004).   however, the amazing thing is that Romney is having an exceptionally hard time not being the Poor Little Rich Kid running for office, which is especially problematic in the aftermath of the Great Recession.  His identity seems more wrapped up in his wealth than anything else.  (Of course, part of his problem is that he can't run on his time as governor because of RomneyCare).
Another issue that strikes me about the statement is that, taken at face value, it has profound logical problems on a variety of levels.  For instance:  lots of Democratic voters would like to rich (and, in fact, many are).  Mores significantly, however, is the problem that no matter what, there is going to be a finite number of rich persons, and they will always be a minority.  This is not something upon which to build a political party (or public policy), therefore.  Of course, if taken at exact face value, he is claiming the GOP is for the wealthy and the aspirational, but there are two type of aspirational persons:  those who have a shot at succeeding and those who have no shot.  The latter group is therefore delusional.  As such, is Romney stating that the GOP is for the Rich + The Realistically Aspirational + The Delusional?  If so it is worth noting that it takes The Delusional under such a formulation for the party to be a mass-level enterprise.
In other words the bottom line is this:  there are only ever going to be  handful of truly rich persons in a given society, since "rich" itself is a relative term that derives from comparisons amongst various levels of income/wealth and general living conditions.  As such, that means that even a "party of people who want to get rich" is going to be made up of the rich (a small proportion) and those who seek to be rich, but won't be (the vast majority).  As such, one is left wondering if, ultimately that such a party is not, by definition, ultimately a party of the rich.   I say this because the rich in that party will seek to promote policies that favor the rich (e.g., a low top marginal tax rate) and then tell the wannabes that they, too, will enjoy the fruits of said rate when they, too, are rich (even though logic dictates that not everyone can make that kind of money.
What might be useful is a party that recognizes that while being rich would be nice and all, that most people won't be rich, so policies have to consider not the best case scenario (i.e.. riches for everyone!) and rather one that looks to the needs of the middle class.
It also make me wonder why, if the Republican Party is to be "the party of people who want to get rich," that the party doesn't recognize that the main path to mass improvement of living standards is education, including pre-K, K-12, and higher ed.  If the goal is to help people improve their lots in life, some attention (and funding) might be helpful in these areas.
Ultimately, Romney is tapping into the guiding mythos of modern conservatism:  that all that matters is hard work and getting the government out of the way.   The problem is that it is not so simple.   On the one hand, one can certainly find example of hard work paying off.  On the other, lots of people work very hard their entire lives and wealth is nowhere to be found.  And if we were from the planet Edos, we could further note on yet another hand that a lot of rich people did not start out in life poor, even if they did end up richer than they started (two names that come immediately to mind:  Mitt Romney and Bill Gates).
Again:  certainly we want a system that promotes the ability of people to improve their lives.  However, since we aren't going to all be rich, we need policies that take this fact into account instead of pretending like we can all be part of the top tier (with only the lazy left behind).