The Return of Hitler
And we return, yet again, to specious comparisons to Hitler (and Lenin).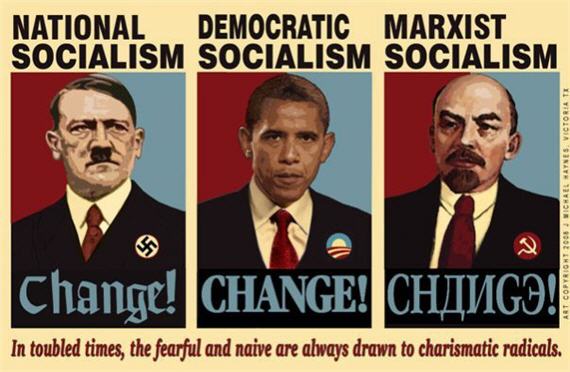 Since the North Iowa Tea Party is bring it up again, as per the AP:  Iowa billboard compares Obama to Hitler; draws criticism, may I again point out my post on this exact topic:  Hitler Comparisons and Bad History.
The billboard uses the graphic displayed above, btw:  photo at the link above.
And I know that I am largely shouting into the wind with some people, but National Socialism is not the same as Marxism which, in turn, is not same as democratic socialism.  Moreover, while social democrats do, indeed, roam the earth in many European countries, Barack Obama, even with the health care reform bill, hardly qualifies as one.
Seriously, there are a plethora of  books out there on questions of history, political theory and ideology, European politics and so forth and so on.  If one is getting one's definitions for these terms from talk show hosts, movies, or foggy memories of high school/college it might be time for a bit of a refresher.